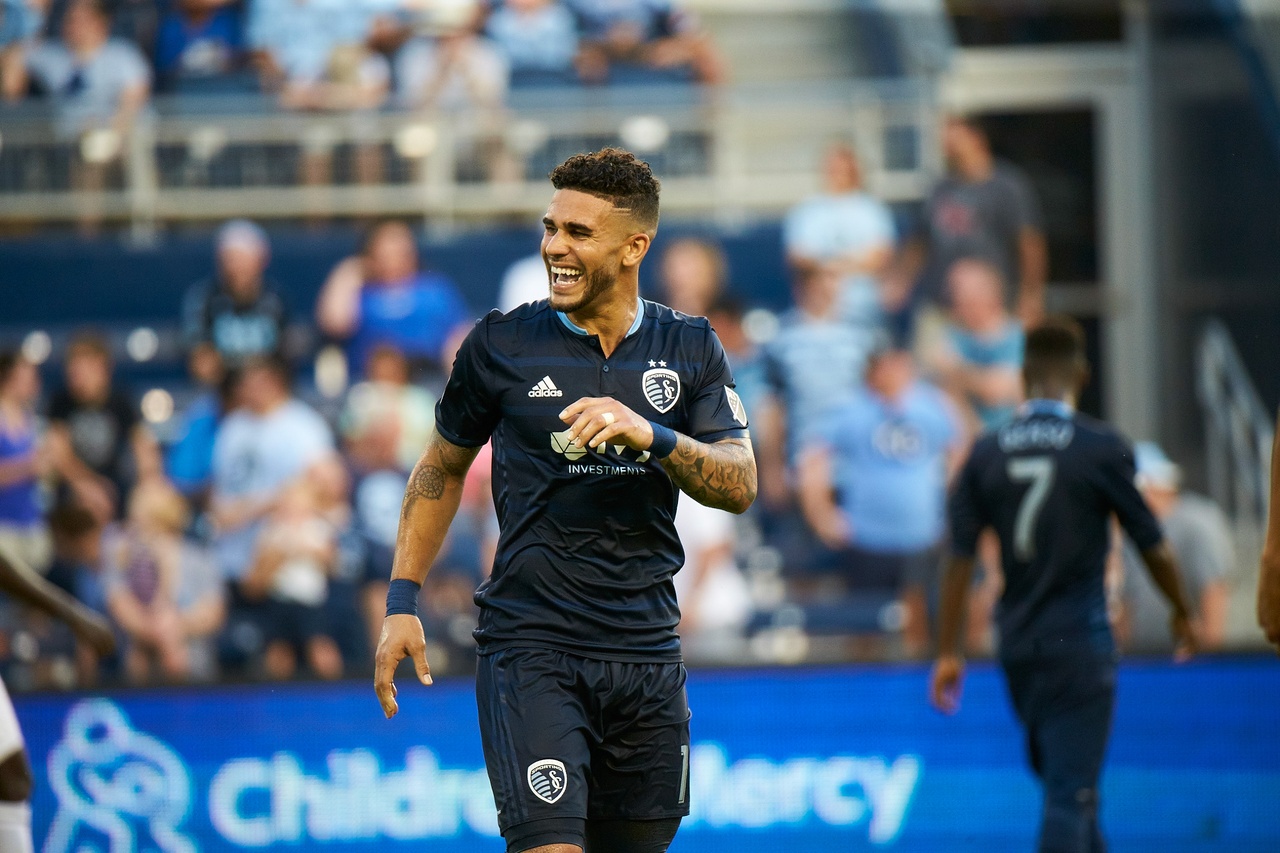 The first major domino of the MLS summer transfer window fell on Tuesday afternoon, and instead of it being a splashy big-name signing from Europe or elsewhere, one of the best forwards in the league has traded blue for purple.
Dom Dwyer was traded from Sporting Kansas City to Orlando City in exchange for $400,000 in general allocation money, $500,000 in targeted allocation money and up to $700,000 in allocation money based off Dwyer's performances with the Lions.
On the surface, this could go down as a game-changer in the league as a record amount of allocation money has been sent in one direction for a player. In all reality, we won't know the true impact of the deal for another year or two, just like we're still waiting to honestly grade the Dax McCarty trade from the offseason.
But the trade will have an immediate impact on the Eastern and Western Conference standings. Dwyer enters an attack that already includes Kaka and Cyle Larin, while Sporting KC are sitting on a ton of allocation money, but with no striker currently on the roster that they can trust as much as Dwyer.
Let's start with Orlando because we know for certain who the Lions have on their roster. There is no excuse for Orlando City to miss out on the postseason with the three-headed monster of Dwyer, Larin and Kaka headlining the attack. The true question is how Jason Kreis will line up his team in order to get the best out of the trio of playmakers.
Ideally, you would have Dwyer and Larin play together in a two-forward system with Dwyer dropping behind to do the dirty work and hustle we're accustomed to seeing from him. With Dwyer roaming a bit behind Larin, Kaka would have more flexibility to dip out to the wing and then cut in to create scoring opportunities. Giles Barnes and Carlos Rivas will man the wings with your choice of Will Johnson, Antonio Nocerino and Cristian Higuita in the other central midfield spot. With this attacking setup, the Lions could easily make up their -8 goal differential and lock into one of the six playoffs positions in the East before October.
Orlando started the wheels in motion on this process back in the offseason. They might not have had Dwyer's homecoming in mind when they shipped Kevin Molino to Minnesota United for $650,000 in allocation money, but those funds helped do the trick and now they will benefit Sporting Kansas City, who can't waste any time spending the fun money.
If you're a Sporting KC fan trying to make sense of all of this, take a deep breath. Peter Vermes would not have made this deal unless he had a plan waiting in the wings. It appears Vermes is going to call on some familiar faces to help push Sporting KC into Western Conference supremacy in a down year in the West. FourFourTwo reported Sporting KC are after the No. 1 spot in the allocation order, currently held by the Columbus Crew, in order to bring back Krisztian Nemeth. Kei Kamara's name has also been dangled out in potential trade talks, and he's even hinted at a move out of New England, especially after the game on Saturday night, per MLSSoccer.com.
Both players would be reliable fits in the Sporting KC system and known quantities to Vermes as the stretch run of the MLS season heats up. If he bolsters the roster with one of these players, it's a good start, but Vermes has to make sure he acquires a proven scorer. If Sporting KC can bring back both Nemeth and Kamara, they should have enough on the depth chart. Latif Blessing, Gerso Fernandes, Diego Rubio and Daniel Salloi have all chipped in at points of the regular season, and Benny Feilhaber is always capable of producing moments of magic.
The potential replacements for Dwyer in Kansas City also shakes up the allocation list. The New England Revolution recently acquired the second spot in the allocation order from the San Jose Earthquakes. With Kamara's time in New England on the rocks, and Sporting KC reportedly looking at Nemeth, they could have their pick of the litter that includes Americans Aron Johannsson and Rubio Rubin and a few other potential impact players.
The dealings of Tuesday afternoon will also have an impact on the league as a whole. With the continued introduction of targeted allocation money, teams will have more leverage to trade for big-name players within the league, and if they have a willing partner like Orlando had with Minnesota and Sporting KC, it could become more common as the amount of talent rises.
Orlando's splashing of cash also affects the bottom half of the Eastern Conference table as teams like D.C. United, Philadelphia and New England are essentially playing catch up in order to even have a crack at the top six in years to come. The moves made by the Lions and the rest of the heavy hitters in the East this year show that you can't be afraid to spend money on players to get better, and if you don't have the stones to do so, you'll be left further behind than you already were.
Tuesday's deal for Dwyer only makes the top half of the Eastern Conference more intriguing in the stretch run of the regular season, but after it's immediate impact on the field, it could set a precedent for transactions to follow in the coming years. But when it's all said and done, it'll only be a good thing for MLS that money is being spent. MLS has always been a competitive league filled with parity, and it's now it's upgraded to a bizarre league with most of its unique features, only with better players and teams not wanting to be left out when others swing for the fences.