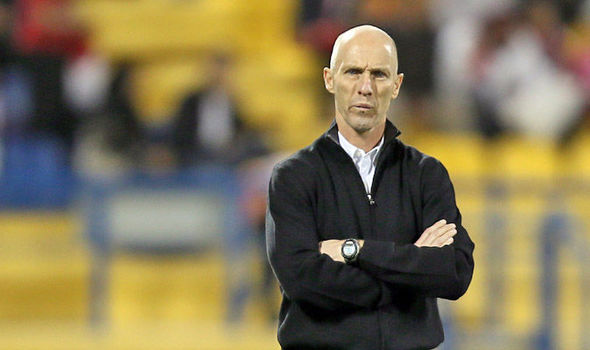 Bob Bradley has never been one to back away from a challenge. Just look at his tenure at Swansea City. He was not afraid to take a risk as the first American to manage in the Premier League.
In his view, the timing of his firing from the Welsh club was unfair, but that hasn't phased the former U.S. Men's National Team boss in the time since his departure. In fact, it's motivated him more to find the right fit and achieve success alongside an ownership group and front office that his vision aligns with. Bradley found that in LAFC, who will start play in Major League Soccer in 2018.
"I came out of Swansea more motivated and more excited than ever to try to find a club where my ideas, my vision, my experiences would fit with what that club wanted to be about," Bradley said. "When you take on different challenges, as I've done, there are times you go into situations where you're just trying to put your arms around everything as fast and in the best way possible and see if you can turn it into something. Throughout all these experiences, I'm more determined than ever to take my ideas and experiences and put them into action.
"As I got a little bit of an idea of what LAFC was about, the ownership group, the vision , the incredible passion and energy of all of the people that came on board and started reaching out into the community and starting to basically spread the word about what LAFC was about, I got an incredible feeling that this was the place where everything I was thinking about would fit with what they had as their vision."
Bradley has plenty of experience dealing with expansion teams. He was at the helm of the most successful expansion side in league history, the 2008 Chicago Fire. The experience from building that team from scratch and winning two trophies in the club's first year give Bradley a backbone for where to begin with LAFC.
There's also a newer model of how to mold an expansion team in place now thanks to Atlanta United, who wasn't afraid to spend from the start and bring in a world-class manager like Gerardo "Tata" Martino. The combination of what Atlanta has done in the past year and what Bradley put together in Chicago should serve as a perfect combination for LAFC to sign the right players and have success right away.
"I'm impressed by what Atlanta has done, but I also think that the experience in Chicago where you have a possibility and a challenge of putting something on the field that can immediately connect with the city, with a city that was diverse and trying to understand how you balance out the team and where do you get players from," Bradley said. "This doesn't come out of a book. You start with an open sheet and then you start to think who can be some big players who are the guys that maybe do things that make them unsung heroes." 
"This idea that you have a picture in your mind of what a good team needs, all the ingredients and then you go to work every day and use all of the opportunities that exist," Bradley said. "This part has changed because the scouting I think can be more developed, the way you use money is different. The idea that you constantly have this picture of what you're trying to build and now looking for opportunities to put the right guys in play. I think that part is the same." 
There's no doubt the signing of Bradley to run the team is a statement of intent from LAFC to challenge the LA Galaxy right away in their market.
"You have to find the right starting points," Bradley said. "You have to fill in your roster and so it's an incredible balance to get all of that in play right away but there's a fascinating part of the group dynamic and team building and you start every day to get across your idea on the game and what you want to be about." 
More statements will occur in the weeks and months to come, and while there's nothing yet to report on in terms of players, excitement is brewing inside the club now that Bradley is on board.
"If you look around the world, rivalries where there are two teams in one city," Bradley said. "There's a unique part of football and I lived in Cairo for two years and so when everybody lives that every day and the idea that that is what we are working towards in Los Angeles. As the new club, yeah, we've got a lot to take care of, but I'll tell you what, it's exciting."