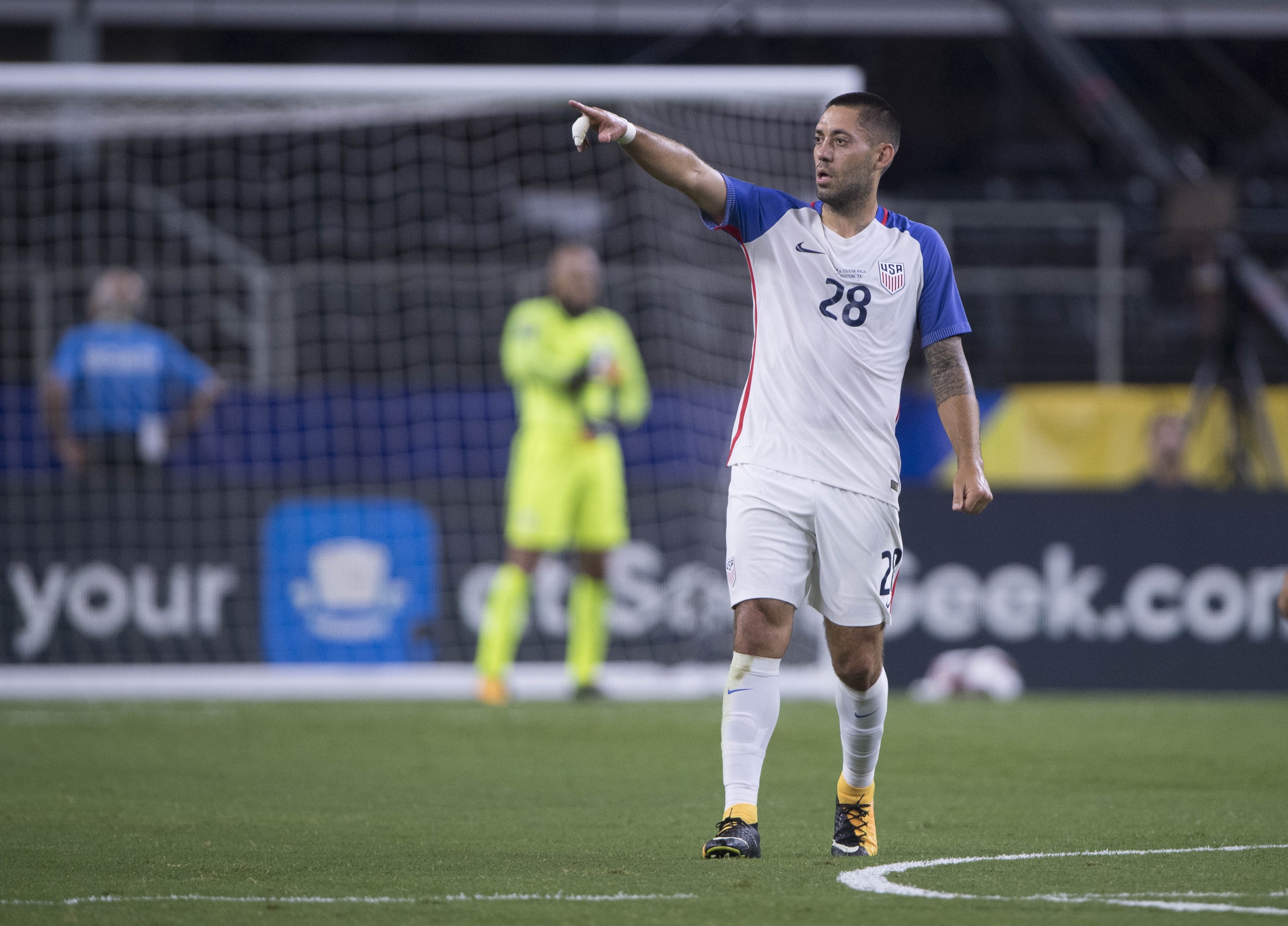 Before the ball even trickled into the back of the net, Clint Dempsey was off and running. He knew what he'd done before anyone else had. Years of experience give you that premonition, that feeling where you just know.
Dempsey knew his second half shot was rolling into the back of the net, beating Patrick Pemberton to all but lock up a 2-0 win and a spot in the Gold Cup final. He also knew what that goal meant for both himself and his team. He was tied with a fellow great as the U.S. Men's National Team's greatest ever goalscorer and his team was also bound for a Gold Cup final.
Playing in front of one of the closest things to a hometown crowd in Arlington, Texas, Dempsey fired his 57th USMNT goal to tie Landon Donovan atop the all-time rankings, and he did so in spectacular fashion. Just 10 minutes after assisting Jozy Altidore on the game's opener, Dempsey pinpointed a free kick into the bottom corner, leaving the Costa Rica goalkeeper unable to prevent another career-defining moment from the 34-year-old forward.
It was one that, just a few short months ago, looked like it would never come. Diagnosed with a heart issue back in the fall, Dempsey looked like he may never complete his push for his record but, given everything that's gone on in the months since, the fact that he did so in front of a Texas crowd made it all the more fitting.
"For me, the biggest thing is being able to come back from two heart procedures, man, and still playing at this level," Dempsey said after the win. "You didn't know if you had too much time left playing this game. To be able to tell my kids that, right now, I'm tied for most goals ever scored for this country, that's something.
"When I grew up in Nacogdoches, that was a big dream: to try and get there. It was always trying to play in a World Cup and represent your country, but to be able to play in three World Cups and say that I'm one of the leading goalscorers all-time for the U.S., that's something that's very special."
Dempsey's effort on Saturday was also special. In a game where the USMNT lacked decisiveness and pure creativity, Dempsey was brought into the fray in the second half. Head coach Bruce Arena said the plan was always to bring the forward in around the 60th or 70th minute, giving him time to drive at the Costa Rica defense.
At that point, Los Ticos were tired from chasing the USMNT around. The possession was there, but the final goalscoring touch wasn't. Moments after coming on, Dempsey fed Altidore for the eventual game-winning goal. Just a few minutes later, he was on the scoresheet himself.
For many, it was the ideal performance demonstrating just what Dempsey can be. At this age and with this many miles in his legs, Dempsey seems an ideal super-sub and even Dempsey knows that may be his role going forward if he's to remain a vital part of the USMNT. He still has a part to play, that's for sure, but it may come in spurts rather than extended runouts.
"It's fine. He understands where he is in his career," Arena said. "I had a conversation with him yesterday and he understands that there are games where he'll start, games he'll play the role he played tonight. Things can change in other directions, but that's the plan right now.
"It's always difficult," Dempsey added. "Three days after playing 90 minutes to try and start and play another 90 minutes when you're 34, it's difficult. Bruce told me that the game was going to be tight and that, in the second half, it would open up. He was right. When I went out there, I had to play with confidence, move the ball forward, create for myself and create for others. I got in good spots tonight."
Altidore, his strike partner for many years, admitted that he felt something special from the moment Dempsey stepped onto the field. In that situation in that state with that crowd behind him, it seemed to be the right time for Dempsey to provide. He did, and those who have been along with him throughout this 57-goal ride were far from surprised.
"It's definitely a luxury to bring in a guy who can break a record, one of the all-time great players we've ever produced," Altidore said. "To bring him off the bench when he still has something left to give, I think that's pretty good."
"Couldn't be happier and couldn't be more proud to be on the field with him," Michael Bradley added. "He's a guy who leaves his heart and soul on the field every time he plays for the national team. For me personally, to be on the field with him for so many big days is something I'll always remember. The fact that he was able to get this goal tonight, in Texas and he had so many friends and family here, it was really special."
That atmosphere was certainly special for Dempsey. He spoke highly of the ovation he received and said it was an amazing showing for soccer in Texas. Like many places throughout the U.S., Texas is seeing the game grow by leaps and bounds, and Dempsey is proud of how far the game has come.
Now, the name Dempsey is more than synonymous with Texas soccer; it transcends it. On Saturday, Dempsey became his national team's all-time leading goalscorer and, if all goes as planned, he sees plenty more coming on the horizon.
"You always think that (you're going to score)," Dempsey said. "You always want to create opportunities for your teammates and for yourself. If you get an opportunity in front of goal, you want to shoot your shot. If you don't buy a lottery ticket, you'll never win. I was happy to get a good shot on goal. "