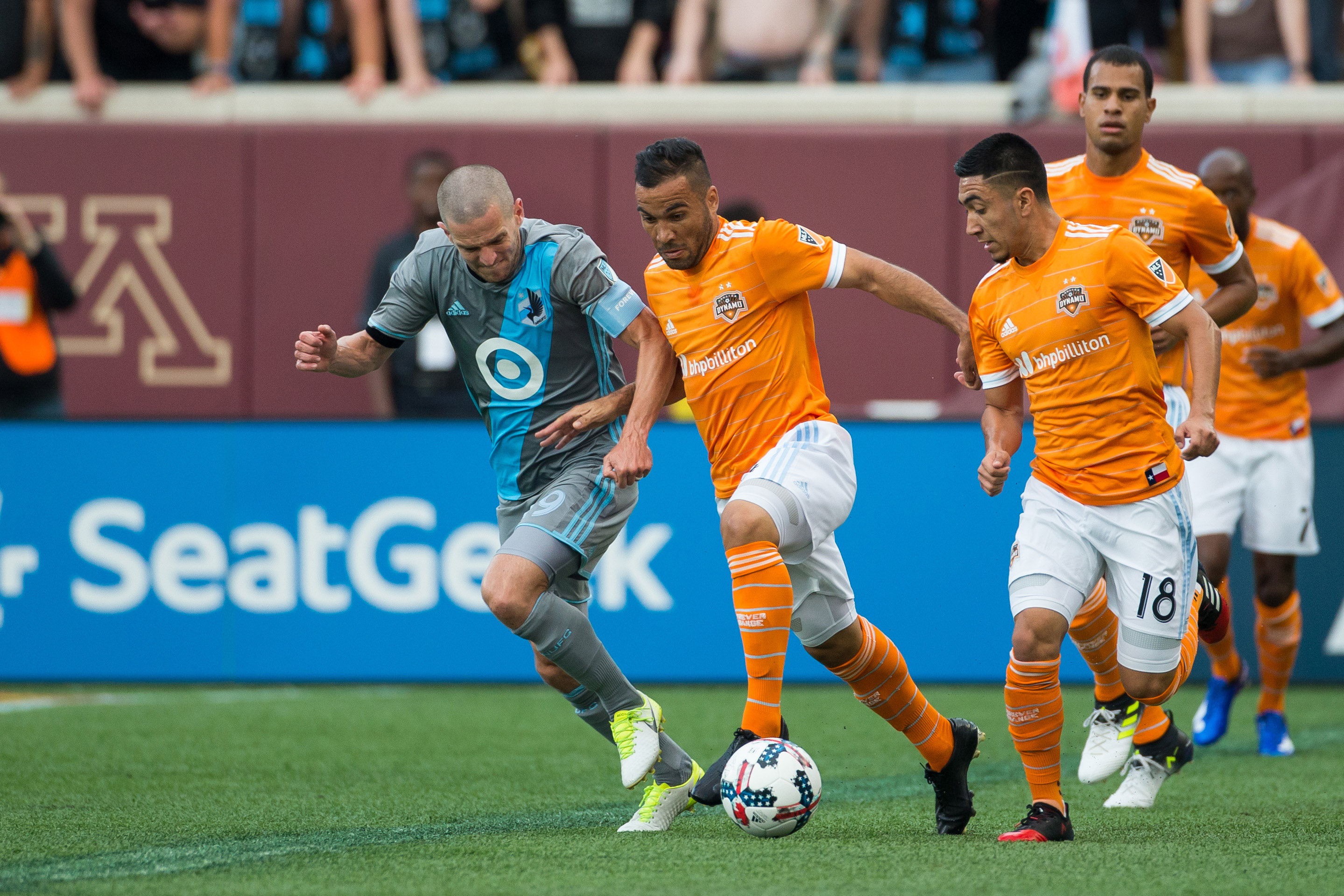 Playing on the road continues to be Houston Dynamo's single biggest enemy this season.
Following their 0-0 draw against Minnesota United at TCF Bank Stadium on Wednesday night, Wilmer Cabrera's side are now winless after ten when playing away from Houston.
Despite the poor record on paper, the Dynamo have frequently put together superior performances to their hosting opponents. On Wednesday night, the story remained the same, as a total of 19 shots were not able to earn the visitors all three points.
It took only seven minutes for the visiting side to establish their dominance over the Loons. Andrew Wenger had the first clear chance at goal for the Dynamo, but the midfielder's diving header flew wide right of Bobby Shuttleworth's near post.
Only three minutes later, Wenger delivered some deja vu. The 26-year-old, once again, found himself unmarked inside the box as a lofting ball came in from the left flank, but was headed short of goal.
Kevin Molino put one of the Loon's three chances to waste in the 62nd minute. The Trinidad and Tobago international's shot was cleared at the goal line following a heavy counter attack. The chances for the home side would be scarce to none after Molino's miscue.
Vicente Sanchez was going to make himself the hero for the Dynamo in the dying minutes. The Uruguayan veteran led a counter-attacking charge from the heart of the midfield, and managed to shake two defenders inside the box only for his short cross to be shanked wide by Mauro Manotas.
The Houston Dynamo still have a chance to snap their streak as they travel to the nation's capital to take on D.C. United on Saturday, while Minnesota United host the New York Red Bulls on the same day.
MAN OF THE MATCH
Houston's homegrown midfielder Memo Rodriguez took advantage of the Gold Cup related absences, and delivered an exceptional game in the attack.
MOMENT OF THE MATCH
The Dynamo's goal-line clearance on Kevin Molino driving shot saved coach Cabrera from a headache and a half.
MATCH TO FORGET
Despite his hot goal scoring streak, Christian Ramirez lacked a major presence for the Loons.