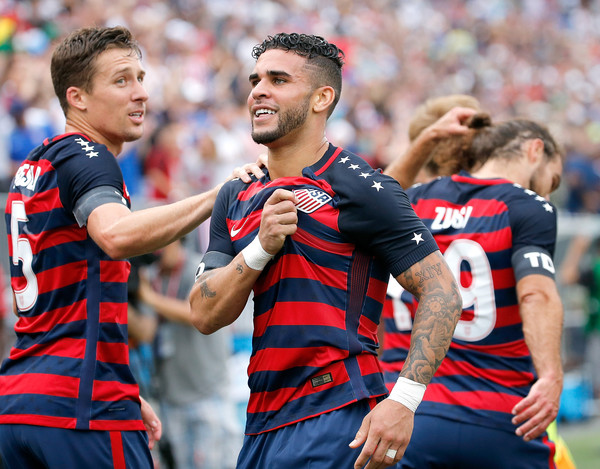 The celebration said it all. As Dom Dwyer flipped his way all over the Rentschler Stadium field, you could see the joy on his face. You could see the grind it took to get to that very moment. You could see how much it truly meant to him as he scored his first U.S. Men's National Team just 19 minutes into his international debut.
Eventually, his feet landed firmly on the ground and, when they did, Dwyer reached down and kissed the USMNT crest on his shirt as an American.
Finally.
An eight-year journey saw Dwyer bounce from England to South Florida to Kansas City before finally becoming a U.S. citizen back in March. In just 19 minutes, those eight years paid off as Dwyer fired the game-opening goal to help lead the USMNT to a 2-1 win over Ghana.
"It meant a lot to me," Dwyer said after the match. "It's been a long road to get here. I really wanted to show the fans and show the country that I'm very passionate about this country and that I'm very honored to play for this team. Hopefully, it's something we can build on.
"That was a pretty big high right there," he added. "There's a lot of passion and work and effort put into that. I'm very pleased to get a goal tonight."
It wasn't the prettiest sequence Dwyer has been a part of, but it was certainly one of the more memorable. A strong defensive challenge from Jorge Villafana sprung the attack, and the Santos Laguna fullback drove at the defense before finding Joe Corona. The ensuing shot hit Villafana and flew into the air. Dwyer waited patiently, watching the ball fall to his feet before volleying an unstoppable shot past Ghana goalkeeper Richard Ofori.
The moments prior, though, were a bit more rocky. Dwyer says he wasn't nervous for his first USMNT cap, but he certainly battled through some early missteps. His first shot was little more than a dribbler that did little to test Ofori.
Eventually, the real chance came, though, and Dwyer made sure to seize it.
"We were inches away from getting a few chances right early on," he said. "I'm excited to be with this group of players. It's a lot of talented guys. Joe Corona, I think, is a fantastic player and I'm really excited to be around him.
"You're going to get chances here and there and it's important to try and hit the target on the first one, which I did, but it wasn't very hard. You just pick that one up. I just got back on there and I knew I'd get some chances. I'm on a very good side and hopefully I can get a few more next time. "
The amount of next times will depend on USMNT boss Bruce Arena, but if Saturday's match was anything to go by, Dwyer could be a major piece in the weeks to come.
Arena admitted that he's still learning about the Sporting KC forward, who's only been in camp with the team for a number of days. He's only had three real training sessions with Dwyer and there is still plenty to learn about one another as those sessions continue.
Still, Arena was certainly pleased. The USMNT boss pointed to Dwyer's work rate, a valuable asset at this level of international soccer. Dwyer held the ball and pressed the backline while firing three shots, each of which was on target.
"He's been around a little bit. He's 26 years old and had many games as a professional," Arena said. "I know this was certainly a big opportunity for him. He became a U.S. citizen in February and that was outstanding so I know he was looking forward to it.
"You never know what happens in a game like this," Arena said. "I thought, for the first 10 minutes or so, he looked a little nervous out there. He got a hold of the game, did well and I'm real pleased with him."
"The guys have been really welcoming through the whole week," Dwyer said. "It made me feel comfortable in the side. Bruce told me that I deserve to be here. Everyone has been instilling confidence in me all week. It was just more excitement coming out. I really just wanted to show myself well and put in a good performance and win the game."
After the match, Dwyer reflected a bit on what he'd done. He scrolled through the countless text messages he'd already received just moments after the final whistle. He was looking forward to answering to the most important one from his wife and U.S. Women's National Team star, Sydney Leroux.
He joked that he still has plenty to do before catching up to her, in games and goals. Thirty four more goals to be precise. They've made little bets along the way, and Dwyer is looking forward to holding up his end of the bargain.
The process began on Saturday, and it continues right on through the start of the Gold Cup. There's less than a year before the 2018 World Cup kicks off and Dwyer is hoping Saturday's effort is a springboard to more memorable USMNT moments in the weeks and months to come.
"It's always an opportunity any time you step on the field for a national team," Dwyer said. "You take it a game at a time and see if I can impress this week in training and see if I can get back out on the field to help the team out. It's really exciting to be a part of this squad. Collectively, together, we want to win this tournament.
"I was always confident in my ability. I don't know if I ever expected it this way, but it's a great story and hopefully it can continue."