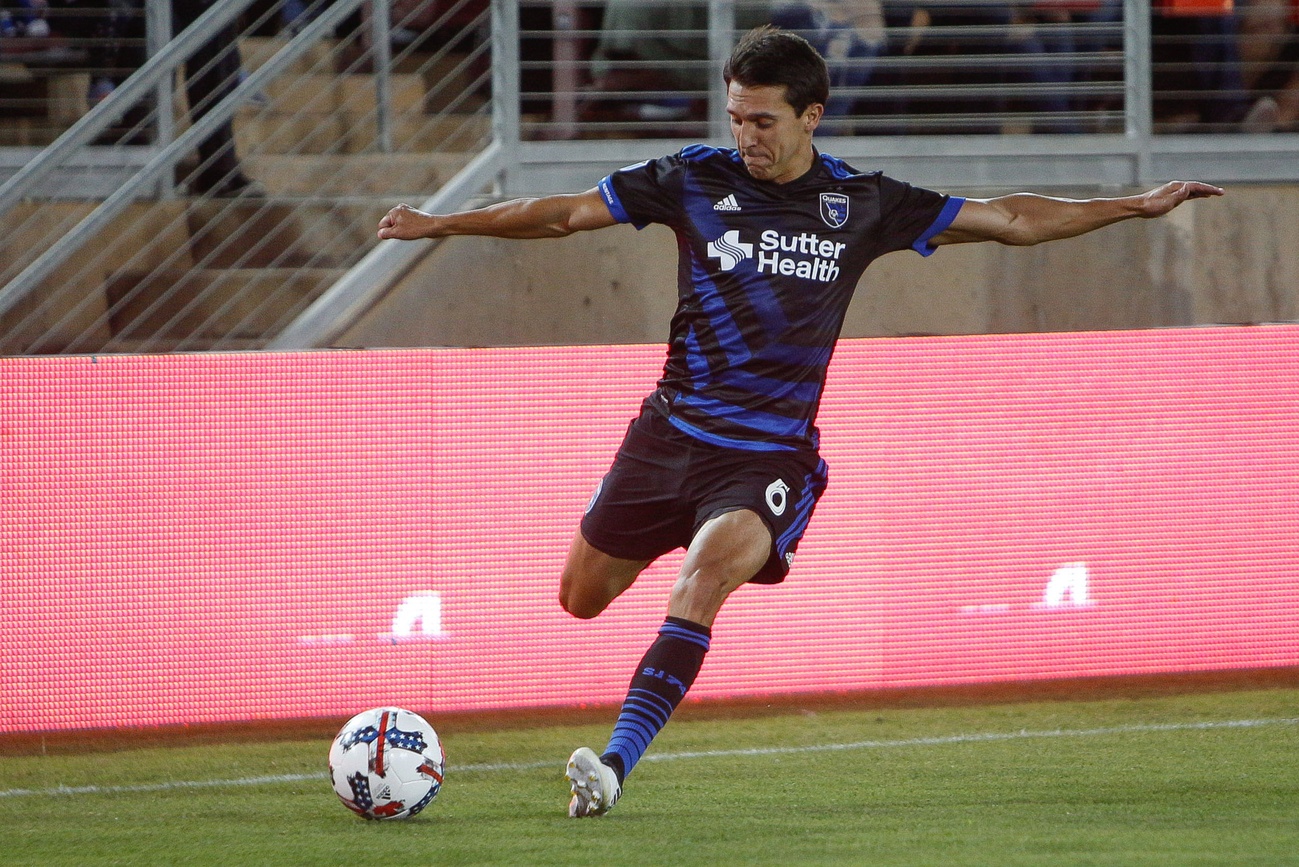 SAN JOSE, Calif. – It is the 90th minute, the scoreboard at Stanford Stadium reads: Earthquakes 1-1 LA Galaxy. If California Clasico's have been your cup of tea for several years, you know there is some late magic bound to happen.
Shea Salinas knows this very well, and on Saturday, he probably knew a little too much. The San Jose Earthquakes' midfielder's wild celebration at death may have seemed natural, but for the 31-year-old, it was just an exaggerated reenactment of what he did in the locker room moments after pre-game warm-ups.
"To be honest, Shea (Salinas) called the shot," Quakes captain Chris Wondolowski said. "He warmed up that celebration, he literally ran through here (locker room) took his shirt off, waving it all through here; calling that goal. He's Nostradamus."
Almost 200 appearances into his career, Salinas has seen it all at California Clasico's. Wondolowski's back-heel goal in 2012 to make it 4-3, Alan Gordon's historic header in 2013, to name a few. Yet, Salinas had never been the lone protagonist, but that all quickly changed when his right-footed rocket strike was no match for the Galaxy's Clement Diop. The stoppage time goal from the substitute, erupted all fifty thousand souls in nearly the same fashion as years prior.
"I think it goes as an understood statement when you get subbed in for California Clasico's," Salinas said. "You got to have a last minute goal or assist, that's what this game has seemed to breed. You just get so pumped up scoring in front of this many people. We wanted to win this game really badly not just because we wanted to beat LA, but it's a big game for us in the standings.
In his 25 minutes on the pitch, the 31-year-old exhibited moments of brilliance that had been absent all year. Overcoming his lingering injury was in the books, but unearthing the missing confidence from the technical staff would have to wait only seconds before taking the field. Leitch, his former teammate and now coach, made it possible for the Quakes veteran's jolly pre-game celebration to turn into a freaky happenstance.
"Chris Leitch told me to go out there take the guy on, get the ball in the box and be dangerous," Salinas told SBI. "Just getting a lot of confidence (from him), thankful for that."
"Chris has been great, just given guys a lot of confidence. Telling us to go at guys, (and) if you make a mistake try it again. (To) be confident and (to) take risks, I think that's been fun to play for."
The Alan Gordons" and Steven Lenharts might be long-gone from San Jose, but the magic, the drama may never fade. On Saturday, Salinas and Wondolowski wrote history. In less than a week it might be Jackson Yueill's and Tommy Thompson's taking a stab at it in the U.S. Open Cup quarterfinal California Clasico.
"We like that, not necessarily chip on our shoulder but that blue collar attitude," Wondolowski told SBI. "We have guys that want to fight, and we fight together. That's always been our message, I think that's one thing that is never going to change."
"We are going to continue to possess it. One thing that should never and will never change is our attitude and our fight."