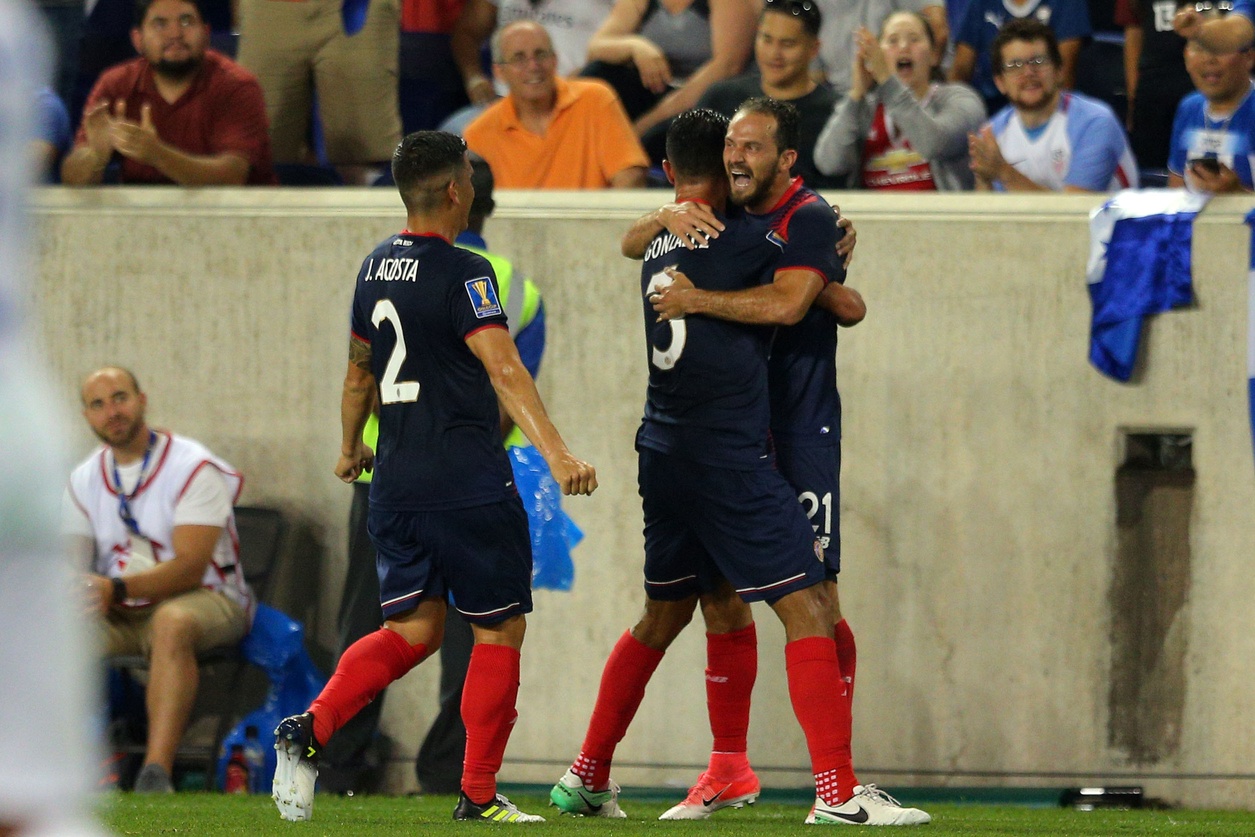 The first marquee match of the CONCACAF Gold Cup lived up to expectations on Friday night.
Costa Rica downed Honduras 1-0 on a Marco Urena strike in the 39th minute in front of a sold out crowd at Red Bull Arena. The win tied the Ticos on points with Canada at the top of Group A.
Urena's goal was produced by some exquisite buildup play, starting with a long ball from Giancarlo Gonzalez. Rodney Wallace latched on to the pass on the left wing and sent it in Urena's direction. With his first touch, Urena sent the ball into the back of the net past Honduras goalkeeper Luis Lopez.
The lone tally of the contest came minutes after Honduras had a golden chance of its own. However, Romell Quioto whiffed on a ball in the middle of the box and the game remained scoreless until Urena's strike.
Honduras created its share of chances throughout the contest, but Patrick Pemberton was solid in between the pipes for the Ticos over the course of 90 minutes.
Canada wins wild six-goal affair over French Guiana
Canada won its first game at the Gold Cup since 2011 in a 4-2 win over French Guiana in the first game of the night at Red Bull Arena.
One month and one day after receiving his Canadian citizenship, Alphonso Davies produced a two-goal performance, becoming Canada's youngest ever goal scorer.
Canada struck first in the 28th minute, as Scott Arfield found Dejan Jakovic with a free kick from deep on the right flank. Jakovic extended his leg to score his first goal for Canada.
Canada added another goal in the lone minute of first-half stoppage time. Arfield was moving forward in the final third, but his pass was deflected away by a defender. Luckily for Arfield, the ball bounced right back to him and he capitalized on the opportunity to double the lead.
Davies took the second half by storm, scoring in the 60th and 85th minutes for Octavio Zambrano's men. Sandwiched in between the pair of Davies goals were two strikes from the Gold Cup debutantes. Roy Contout and Sloan Privat bagged a goal each in a three-minute span to provide some intrigue to the match before Davies' second finished off the contest.
All four Group A teams will move on to Houston, where Canada will play Costa Rica and Honduras takes on French Guiana on Tuesday.