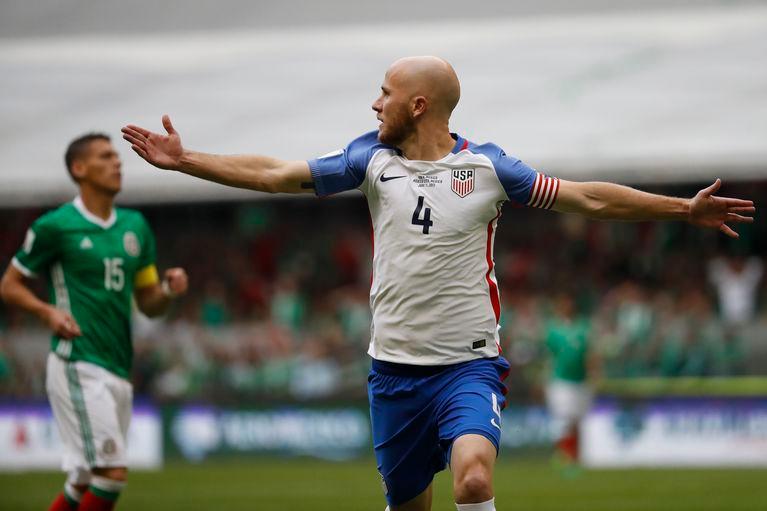 SANTA CLARA, Calif. – The USMNT have relied on Michael Bradley as their talisman in the midfield for the last number of years with his success eventually leading him to a permanent captain role from 2015 onwards.
That specific role has fit 29-year-old to perfect size. There is an apparent elevation in his level of play, more so in his manner of leading as a captain, which has all parts of the USMNT side reaping in benefits.
"Well he makes my job easier," coach Bruce Arena said on Bradley's influence on the team, "because we have a really focused individual, a focused captained and a person that wants to play in the World Cup in 2018.
"Since I've had Michael from January on, he's been a great leader in the program," Arena added. "(He's) very focused and makes my job easier and the players follow his lead, so he's been fantastic."
Five of the 23 players going into Wednesday's final are 22 years of age and have minimal experience. But for Tijuana's Paul Arriola, what Bradley and the rest of the veterans have done over the course of eight months, has been an experience like no other. They've provided an added hope to the team's immediate and longterm future at a memorable stage.
"For me its awesome, it's awesome," Arriola told SBI on Bradley's influence. "The way that not just Bruce, but the players have warmed up to younger guys (who) have treated us like we've been here for years, and I think that's the easiest thing.
"Like I said, I have experienced at club level where a lot of veterans they do their own thing. 'You're a kid and we don't really trust you,'" Arriola added. "Here it's completely different. You come in you're welcome all the time, on and off the field. And I think that's the most important and look it allows us to play and here we are in the final hopefully getting some minutes."
As far as for Bradley, the captaincy has granted him the ability to feel comfortable not only as a player, but as a leader, the exact leader that the USMNT wants to command the team out of Levi's Stadium's tunnel on Wednesday night.
"Very, very enjoyable," Bradley said on his experiences the past eight months. "We knew we had to look in the mirror and also know that we had let ourselves down in many occasions.
"And when Bruce and his staff came in January, I think the tone they set in the beginning in terms of creating an environment where everyone feels a part of it everybody is all in," Bradley added, "creating an environment where players are challenged and pushed to take big roles in terms of what goes on everyday. The environment, this part has been great."
It's only fitting for Bradley to lift a trophy sporting the red, white, and blue during the high's of his career. His last taste of glory with the USMNT came in 2007, when the midfielder was bossing the center of the field for Bundesliga side Borrusia Mönchengladbach and when on international duty, it mean being under his father's command. Unfortunately then, an injury kept him from featuring in that Gold Cup final, but things will be different in Santa Clara. It's a final in which he hopes to repay the man that has revived his dominant traits.
"Again, for me, I've enjoyed the opportunity to play for Bruce again," Bradley told a gaggle of reporters Tuesday. "I certainly appreciate the trust and confidence he's shown in me in this stretch.
"For any player when you have a coach that gives you that, you want nothing more than to repay that every single day," Bradley added, "and ultimately in the biggest moments."