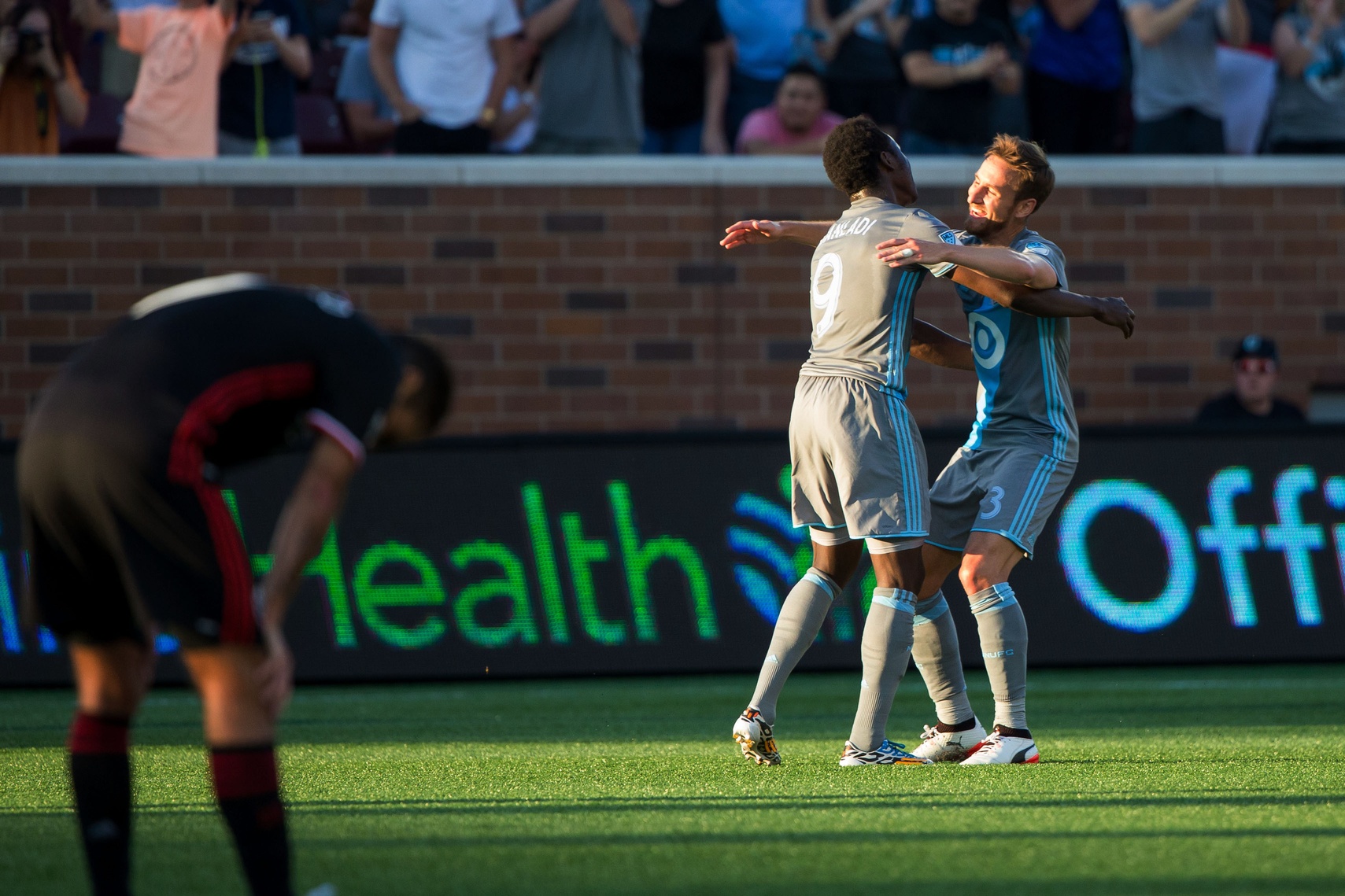 After not scoring in more than three games, the floodgates opened for Minnesota United on Saturday night.
In the battle of the bottom feeders, the Loons convincingly got the better of D.C. United with a 4-0 win at TCF Bank Stadium.The Loons were in a tough stretch coming into the game with a 351-minute scoreless drought, but it took the team just eight minutes to snap the scoreless streak.
In the eighth minute, after an aggressive start to the game, Kevin Molino saw Christian Ramirez making a run on the right side. The Trinidadian international sent Ramirez an over-head through ball and the striker took his opportunity to open the score early for Minnesota United.
The Loons added a second goal off of a counterattack in the 38th minute. Molino brought the ball from midfield and let the ball for Abu Danladi on the right side, and the rookie forward beat Bill Hamid to give the hosts a 2-0 lead.
Picking up an injury, Ramirez  was forced to substitute off in the first half. He came out for Miguel Ibarra, who was back from an injury himself.
In the 57th minute, the sky kept falling down on D.C. United. Ibarra, from his right flank, tried to cross the ball for Molino but the ball was a little too high. However, the ball fell right to Jarred Jeffery who kicked the ball right into his own net to give a third goal to Minnesota United.
Finally, in stoppage time, Ibarra got a goal of his own. Johan Venegas found the winger on the left side, and Ibarra proceeded to shoot from inside the box. Hamid got his fingers on the shot but the ball still found its way in the net after hitting the right goal post.
Man of the Match
Kevin Molino was convincing throughout the game. Early in the match, the Trinidadian had the assist to snap a 359-minute goal scoring drought and he added a second for Abu Danladi's third goal of the season.
Moment of the Match
Kevin Molino located Christian Ramirez running on the right side and sent him an overhead through ball. Ramirez controlled the ball and beats Bill Hamid to clear a 359-minute score-less drought.
Match to Forget
After coming back from winning the Gold Cup with the U.S. Men's National Team, Bill Hamid had a difficult return to the office. With D.C. United fans thinking his return in net would make a difference, Hamid let in four goals against a team that had not scored in over three games.