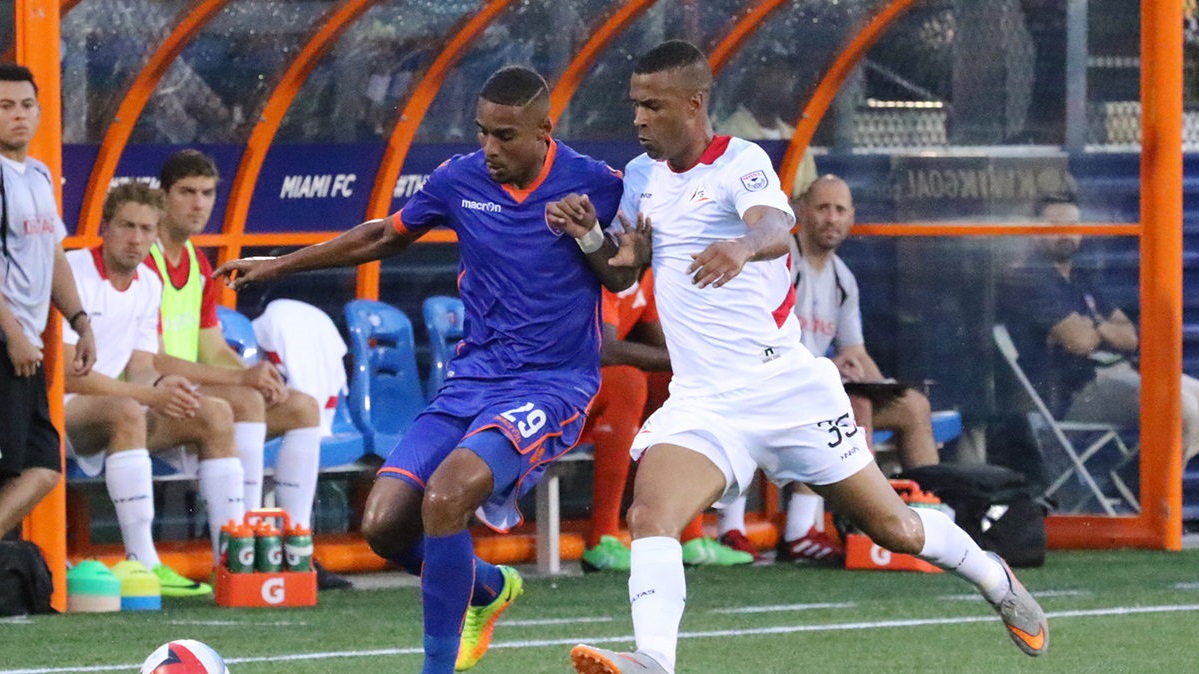 The Spring Season is coming to an end. This weekend is the last of Spring Season play, and although Miami FC clinched the season title last time out, there is still a lot to play for with playoff spots on the line.
On Wednesday, the Jacksonville Armada came back to secure a draw against Puerto Rico FC, thanks to a 90+ minute goal by forward Derek Gebhard. The draw saw the Armada stay in the hunt for second place in the league table, heading into the last weekend of the season. The draw also meant that Puerto Rico FC would stay at the bottom of the table for the spring season. The result showed Jacksonville's grit, scoring late and putting on pressure through Zach Steinberger and Charles Eloundou. Puerto Rico FC will not reflect on the match kindly however, and will be looking to bolster their defense in the impending transfer window. 
Also on Wednesday night, Miami FC's U.S. Open Cup match was postponed against FC Cincinnati due to serious rain and lightning. The match's date has been labeled as "To Be Decided" but to many NASL fans, Miami FC is still surely the favorite.
As for the league, the top and bottom of the table have been decided for the spring season, but spots two through six are potentially still in flux. This weekend will be big for a number of teams, as they look to position themselves strongly to close out the first half of the year.
Here's is a closer look at this weekend's matches:
Jacksonville Armada at Indy Eleven (Saturday, 6:30 p.m., ESPN3)
The draw that the Jacksonville Armada secured on Wednesday night against Puerto Rico FC will feel like win, given the late drama that ensued, and will surely provide some momentum for the team as they travel to play an in-form Indy Eleven on Saturday night. The Armada have the league's second-best defense, which will help them try to stymie a red-hot Justin Braun. Zach Steinberger and Jemal Johnson will also be in the spotlight on Saturday night as they try to score on a very talented Jon Busch in goal for Indy Eleven.
The Indy Eleven have been playing well and will be hoping to carry that into their home match against the third best team in the league. As the spring season wraps up, form and quality of play will be a focus, and players like Englishman David Goldsmith might see more minutes on Saturday night. Defender Colin Falvey has also been good this season, and will be hoping to prove his longevity and ability in NASL as he creeps on 33 years old. The Eleven have a good amount of young talent on their bench, and they might be able to help against a strong Armada team on Saturday night. 
Puerto Rico FC at North Carolina FC (Saturday, 7:30 p.m., beIN Sports)
Puerto Rico FC is coming off of a disappointing 1-1 draw with the Jacksonville Armada, which showcased their shoddy defense, especially against organized attacking teams like the Armada. Although they are on the road, North Carolina FC might be a fortunate test for Puerto Rico FC – they are a struggling side with a relatively leaky defense which Puerto Rico FC might be able to exploit. Players to watch for this match will be Giuseppe Gentile and Jordi Quintilla, the two offensive spark plugs on the team – if they can make things happen in the attack, Puerto Rico FC might be able to secure an away win.
North Carolina FC saw a glimmer of success when they beat Miami FC two weeks ago, but that win has been surrounded by rough results. Losing to Miami FC and then FC Edmonton most recently, North Carolina FC has not seen a stretch of success for over a month. Midfielder Lance Laing has also been quiet for the team in the past few weeks, not registering a goal or an assist after starting off the season in good form. North Carolina FC have a burgeoning youth movement, and will need to tap into that pool of players for some much needed energy in the side – right now they are not in a good way. Perhaps a struggling Puerto Rico FC will be a good matchup for the Carolina side.
New York Cosmos at FC Edmonton (Saturday, 9:00 p.m., ESPN3)
After taking a loss to the Indy Eleven last weekend, the New York Cosmos will travel to Canada to play FC Edmonton on Saturday night. While relatively consistent, the Cosmos have been overall mediocre this season, with Emmanuel Ledesma being the only reliable goal scorer on the team. Winless in their last three, the Cosmos will be looking to break that poor run on the road on Saturday. 
Almost the opposite of their opponents, the Eddies have been very inconsistent this season. FC Edmonton have a number of quality attacking players in Tomi Amoebi and Sainey Nyassi, and players in the midfield like Ben Fisk who can engineer the attack. Their form in front of goal, however, has not been clinical, which explains for their league-worst 11 goals on the season. It might be an issue of team chemistry, but the Eddies will hope to get it right against the Cosmos. 
Miami FC at San Francisco Deltas (Saturday, 10:00 p.m., Twitter)
With Miami FC's U.S. Open Cup game being cancelled on Wednesday night due to serious weather, the San Francisco Deltas will have to face a fully rested Miami FC on Saturday night. Last weekend, Miami FC demolished the San Francisco Deltas by a 7-0 scoreline at home, clinching the Spring Season Championship in stunning fashion. This time around, Miami will hope to repeat last weekend's impressive performance, and keep their form up for their rescheduled cup match. 
The San Francisco Deltas have already moved forward from last weekend's loss to Miami FC, with head coach Marc Dos Santos stating "In every moment, I stand with this group of players. This game needs to make us better and grow as a team. Now we need to think about Saturday." The final scoreline is not a reflection of the second place team's form this season, as they have been great defensively for much of the year. Saturday night will be a test of their resilience and ability to bounce back, as they face a Miami FC side which was geared up to make an Open Cup semifinals appearance on Wednesday night.