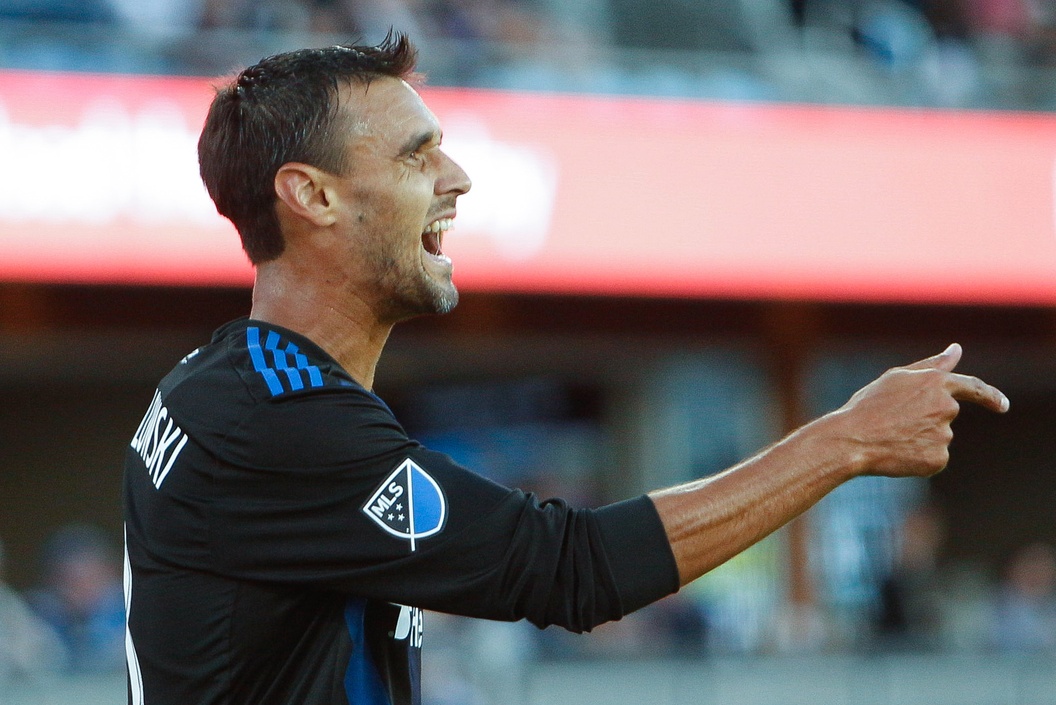 The San Jose Earthquakes picked off right where they left off last week, and earned a hard-fought victory over a Federico Higuain-less Columbus Crew.
With goals from Chris Leitch's first-choice forwards, the Quakes edged past the Crew, 2-1, at Avaya Stadium on Saturday.
Chris Wondolowski bagged his ninth of the season in the 56th minute following Tommy Thompson's dazzling moves inside the box and a simple, yet sublime assist. His finish places the Quakes captain only four goals behind Jeff Cunningham's second spot in MLS' all-time scoring chart.
A minute after receiving a warm welcome at Avaya, Crew substitute and former Quake Adam Jahn shook things up in the 75th minute. Following a whipping corner kick, the striker put his poaching skills to work, and struck ball into the net inside the eight-year-box. The forward's goal marked his first of the season, and gave Gregg Berhalter's men a reason to hope for a point.
The Crew established dominance in possession from the initial whistle up until the final 10 minutes of the first half. With the possession came scoring chances, but the Black and Gold failed to to take advantage of San Jose's disjointed back three.
Minutes before halftime, Quakes' Marco Ureña brought Leitch a sense of comfort after leaving Danny Hoesen on the bench once  again. The Costa Rican powered on the left flank following a Crew turnover, and received a well placed, timed through ball from Shea Salinas. The forward then made an exquisite move past Crognale, and placed it nice and tight into the bottom right corner of Steffen's goal.
The Quakes have little time to ramp up for arguably the club's biggest game in the past five years as they travel to Kansas City midweek to take on Sporting KC in the Open Cup semifinal while the Crew look to bounce back at home against a red-hot Chicago Fire in MLS play next Saturday.
MAN OF THE MATCH
Chris Wondolowski continues to be the difference for the Quakes, and his contributions along the way have him sitting just four goals shy of second in the all-time MLS scoring list.
MOMENT OF THE MATCH
The Quakes no. 8 tapped in a goal could go a long way for the playoff-seeking Black and Blue.
MATCH TO FORGET
Despite having the upper hand in the midst of the midfield, Crew's Juka Raitala struggled in the center of the field, causing turnovers while he was continuously outperformed by Jackson Yueill and co.