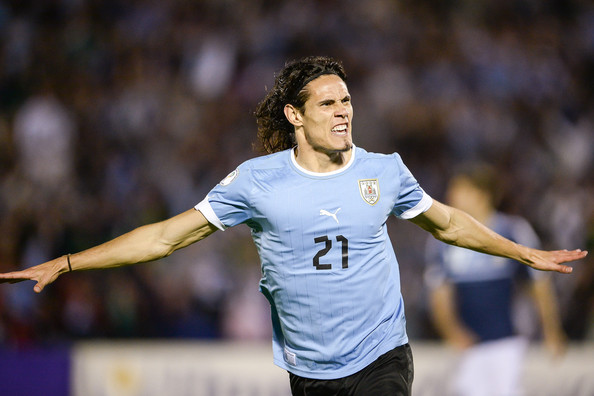 It's been just over five months since the last round of CONMEBOL World Cup Qualifiers, and there is still a lot to play for as many teams are still alive. Thursday begins Round 15 of qualifiers with four more matches for each country to play.
Brazil has already clinched a spot in next year's World Cup, while seven other sides duke it out for four spots. The premier match to watch on Thursday will take place in Montevideo as third-place Uruguay welcome fifth-place Argentina to town. Uruguay would like to halt a bad run of form in qualifiers, while Argentina would like to inch out of a playoff place.
Elsewhere on Thursday, fourth-place Chile hosts eighth-place Paraguay, while sixth-place Ecuador travel to group leaders Brazil.
Here's a closer look at each of Thursday's five CONMEBOL World Cup Qualifying matches:
VENEZUELA VS. COLOMBIA (5:00 P.M. BEIN SPORTS EN ESPANOL)
The early match of Thursday's qualifying matches takes place in San Cristobal as Venezuela entertains Colombia. The hosts are eliminated from qualification and will look to play spoiler against a top side in Colombia. Venezuela is winless in their its three qualifiers, with the only win coming against Bolivia back in November. Striker Josef Martinez leads Venezuela with five goals, while Romulo Otero is closely in second with four.
A pair of victories has Colombia sitting pretty in second place. Back-to-back clean sheets over Bolivia and Ecuador has Colombia sitting on 24 points, and in the driver's seat to finish behind Brazil. Bayern Munich midfielder James Rodriguez leads the team with five goals, and is one of the top playmakers in South America. The player to watch is Radamel Falcao who comes into this match on fine form after netting seven goals so far this season domestically with Monaco.
CHILE VS. PARAGUAY (6:30 P.M. BEIN SPORTS)
Fourth-place Chile will look to inch closer away from the red line, as they host Paraguay in Santiago. The hosts defeated Venezuela, 3-1, in their last qualifier back on March 28, using goals from both Alexis Sanchez and Esteban Paredes. Chile is 5-1-1 at home in WCQ and should have zero problem with Paraguay on Thursday evening.
With only four matches left, Paraguay will need to give it their all for a chance to qualify. Sitting only four points behind fifth-place Argentina, Francisco Arce's side know they have it all to do. Striker Derlis Gonzalez leads the team with two goals, while playmaking midfielder Miguel Almiron will need to replicate his club form in order to help his team.
URUGUAY VS. ARGENTINA (7:00 P.M. BEIN SPORTS EN ESPANOL)
The primetime showdown in this round of qualifiers takes place from Montevideo as Uruguay hosts Argentina. Only one point separates these sides in the standings, and both know what a victory would do for their chances of moving on. Uruguay are strong at home, posting a 6-0-1 record for 18 of their 23 points. Despite losing their last three qualifiers, they will look to in-form striker Edinson Cavani (nine goals) to carry the weight.
Argentina suffered a humiliating 2-0 road loss in Bolivia their last time out, and will look to get back to form in a big way. Lionel Messi leads the team with four goals, but the supporting cast needs to pull their weight. Argentina is ranked third in road points during these qualifiers, and will look to add to that lead with three points on Thursday.
BRAZIL VS. ECUADOR (8:45 P.M. BEIN SPORTS)
Ecuador will look to boost themselves back into things as they travel to Brazil on Thursday. Gustavo Quinteros' men have lost their last two qualifiers against Paraguay and Colombia respectively. The key will be for Felipe Caicedo (seven goals) to continue his strong form for the team. Wingback Antonio Valencia (three assists) is a player to watch, leading the team in assists so far.
Brazil is unbeaten at home in qualifying, posting a 6-1-0 record so far. Despite already booked their spot to Russia, expect the hosts to look for three points in front of the home crowd. PSG's Neymar has six goals and six assists while Manchester City's Gabriel Jesus has five goals. For Ecuador to have a chance, they will need to limit Brazil's chances offensively which is very hard to do.
PERU VS. BOLIVIA (10:15 P.M. BEIN SPORTS, BEIN SPORTS EN ESPANOL)
In the late match of the round, Peru welcomes Bolivia in a battle of seventh versus ninth. Anything less than a victory eliminates Bolivia from qualification, while Peru looks for three points to stay in touching distance of fifth place. Bolivia earned an impressive win back in March against Argentina, and will look to build on that. Midfielders Juan Carlos Arce and Pablo Escobar each lead the team with three goals apiece.
Peru is unbeaten in their last two matches, including a 2-1 home success over Uruguay back in March. Striker Paolo Guerrero leads the team with five goals, while three players are tied with three goals apiece. Peru rolled to a 3-0 win in La Paz back in 2016, and will look to do the same on Thursday.