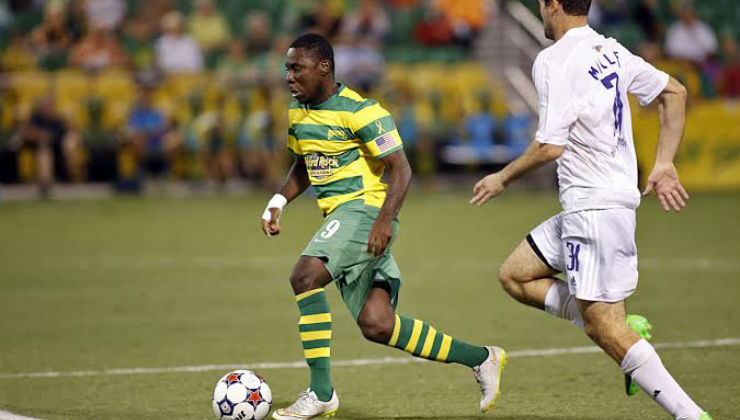 While Freddy Adu's search for a new team continues, he departs Poland confidant he made the right decision to walk away from his latest possibility.
The 28-year old American was recently on trial with Polish first-division newcomers Sandecja Nowy Sacz, but quickly found that he was unwanted, at least by the team's manager Radoslaw Mroczkowski, reports Goal. The coach apparently had no knowledge of Adu's trial, which was organized by sporting director Arkadiusz Alexander, and was less than pleased, to put it mildly.
"It's a joke," Mroczkowski told Polish website Sportowefakty.pl. "I read in the media about his trial. I asked the sporting director why he did not tell me anything [about Adu]. After all, he sent me a text message that there 'will be a player on trial' and that they all knew. Marketing knew, the staff at the club knew. Only the coach did not know who the trialist was."
Adu knew the trial was off to a bad start immediately after disembarking from his plane. His requests for a lack of media presence were ignored, and it became obvious to Adu that the primary reason for his visit was not a serious offer of playing time, but publicity.
"As soon as I walked out of the airport I knew something wasn't right because I was told to take a picture with a team scarf," Adu told Goal. "I made it clear I wanted no press or pictures or anything but that went ignored. A few hours later I found out the coach made some comments about me which was pretty clear that he didn't know I was coming … or I was not the player he asked for."
"I waited three hours at the stadium just to meet with the technical director who was in a meeting with the coach, and that's when I found out that they weren't all on the same page. I couldn't be in a situation like that because I've been there before and it's a recipe for disaster."
To Adu, it was a familiar situation. After news of the failed trial spread, Adu took to Twitter to explain the similarities of this situation to others he had experienced in his journeyman career. Adu announced that he wouldn't be signing with the Polish club, stating it shared commonalities with "a situation like this before in Moncao" which ended poorly, and that he needed to "find the best situation for my career". He then posted a short note explaining his quest for stability and a fair crack at playing time.
— Freddy Adu (@FreddyAdu) August 2, 2017
For Adu, the search for a home now continues. He last played professionally for the USL's Tampa Bay Rowdies in 2016. Knowing that his name can attract many publicity offers, Adu instead searches for a serious offer to get some playing time and contribute to a team in a meaningful way.
"I know I haven't played in a while and need to sort out a club and play, but it has to be the right club and the right situation," Adu said. "I can't rush into another situation and not get the playing time I need."