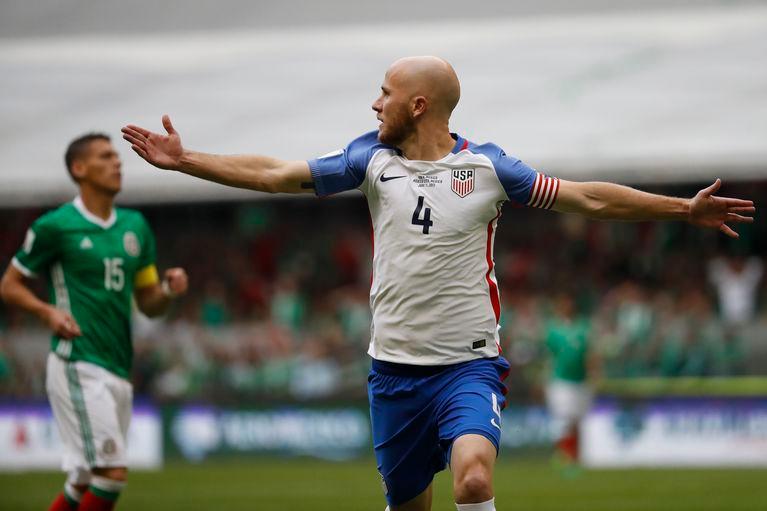 By the time 2016 came to a close, Michael Bradley had reached a low point. The midfielder had been a part of two teams that ended the 2016 campaign with heart-wrenching moments, two groups of players in need of a spark to regroup, rebuild, and push on.
As captain of the U.S. Men's National Team, he'd been a part of a group that had failed to earn a point from the first two matches of World Cup qualifying, putting the team's chance at Russia in major jeopardy before that push even truly began. On the club level, he'd watched as Toronto FC fell to the Seattle Sounders in penalty kicks to squander a chance at an MLS Cup.
Bradley was eager to move on from 2016, and understandably so, but he wasn't eager to forget the frustration of failure and the feelings that came in its aftermath.
That makes the 2017 campaign all the more special, at least so far. The USMNT is unbeaten under head coach Bruce Arena and back on track when it comes to booking a ticket to Russia next summer. TFC is cruising through the Eastern Conference, well on the way to a Supporters' Shield crown. The nightmares of those nights in Columbus, San Jose and Toronto are all but gone in more ways than one.
"Yeah, I did envision it this way," Bradley said at a press conference on Tuesday. "When you go through moments where things don't go your way, there's no time to feel sorry for yourself. There's no time to stop. We had conversations in Toronto on the training ground the morning after we lost the final. When you looked around, you could see in guys eyes that we wanted the season to begin the next day.
"There was a similar feeling in January camp with this group. We understood that we let things get away from us at the end of the year and there was big motivation to put things right. We all understand that getting to a World Cup is pass or fail, and at the end, it doesn't matter who the coach is. Nothing else matters. It's up to us players to step on the field and make sure that we find the right ways to do whatever it takes to qualify."
So far, Bradley has done whatever has been required of him for both club and country. With Toronto FC, the USMNT midfielder has reached a level previously unseen during his MLS tenure. He's evolved into that deeper role that many envisioned him in for years, helping a deep TFC squad become, at their best, a dominating force. His play in the center of the field has been vital to TFC's surge, one that sees the club maintaining a nine-point gap atop the Eastern Conference.
Bradley's form has carried over to the national team as well. His goal against Mexico in June was unforgettable, a memorable moment to highlight another chapter of CONCACAF's big rivalry. He was recognized with the Golden Ball at the Gold Cup as one of several USMNT stars to step up en route to a statement tournament win. Throughout the USMNT's unbeaten run, Bradley has provided a certain presence in the heart of the midfield, even as a series of younger pieces like Christian Pulisic, Darlington Nagbe and Kellyn Acosta have joined the fray around him.
Even Bradley's biggest detractors, and they're out there, cannot deny that something is just a bit different with the USMNT captain this year. There's something more fluid, more confident. Simply, there's something better, and it's been a major benefit that has helped vault two different teams to a brand new level.
"This is the same Michael Bradley that I've known for a long time," said longtime teammate Tim Howard. "He's been on an upward trajectory. As captain of your club and captain of your country and a son of a national team coach, there's a lot of criticism that falls on your shoulders, and I think he's handled it magnificently. He's been one of the greatest captains I've played for. He's just always there putting in the work and grinding. It's great to see him get player of the tournament and see him lead his team to the top of the league and see him lead this team where we're going. It's good to see a guy get his just rewards for the effort he puts in."
"You understand that not everything is always going to go your way," Bradley added. "There will be ups and downs and difficult moments, and nothing is ever going to get handed to you. When you have a group of guys that understand and embrace that and come in every day to leave everything and give everything they have of themselves to make the group better, that's when it starts to get fun."
"Fun" is one way to describe 2017 so far. After all, Bradley has taken the field for just two losses all season between TFC and the USMNT. Every player hates losing and, thus far, Bradley hasn't done much losing this year.
However, he knows that the criticism and frustration is always just a game away. The USMNT is just one loss away from spiraling back into doubt. Toronto FC's entire season doesn't culminate with a regular season trophy, and another postseason defeat would likely be even more painful than it was the last time around.
Knowing that, the key is avoiding complacency, and Bradley has been around long enough to be well aware. The 2017 campaign has been special so far, but the year won't be defined by everything that happened before the summer turned to fall. Instead, the season and cycle will be defined by the next three months, for better or worse.
"I've tried to take it 90 minutes at a time," Bradley said. "Whatever team I'm playing for, in that moment, to leave everything else out and focus on whatever I can do to make guys around me better and to make sure I give the team the best chance to win. The chance to captain the national team and my club, it's a huge honor, and it's been a good year so far, but I also understand that we haven't done anything yet.
"We haven't done anything yet in terms of qualifying, even though the Gold Cup was a big moment for us. We haven't done anything yet with Toronto. The biggest games are still to come. The big prizes are still coming, and as long as that's the case, I'm going to keep going."