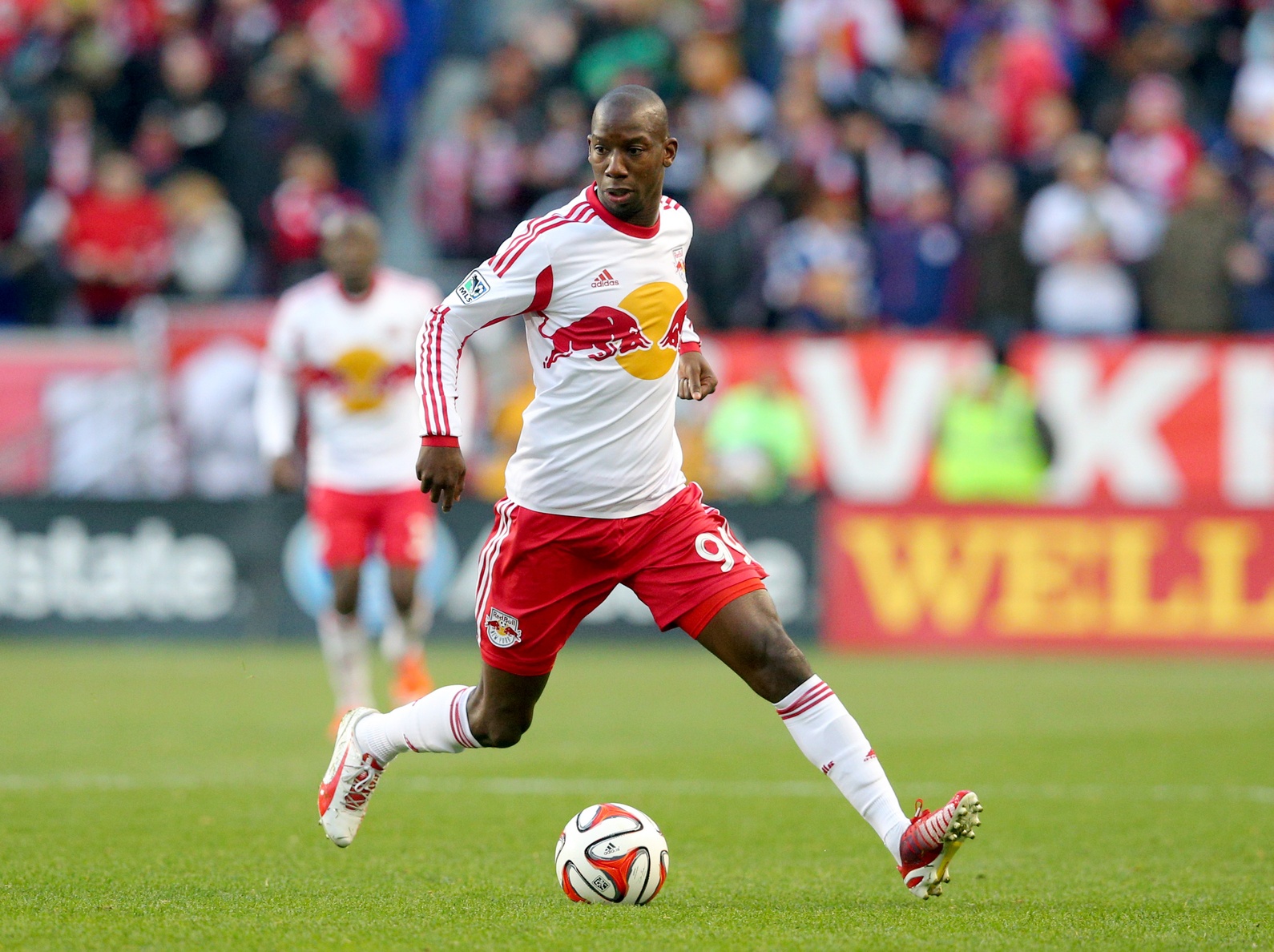 Major League Soccer is moving into a brave new world this weekend, one that some players are reluctant to enter.
Whether you like it or not, the VAR era is upon us, and it could have an effect on the 11 top-flight games across North America this weekend.
The biggest match on the schedule is the penultimate contest of the weekend at Yankee Stadium, where the New York Red Bulls and New York City FC partake in this season's second edition of the New York derby on Sunday.
Here's a further look at all of the games being played in MLS this weekend:
Toronto FC at D.C. United (Saturday, 7 p.m. ET, TSN/MLS Live)
Toronto FC made a statement on top of the Eastern Conference on Sunday with a dominant victory over New York City FC and now they get to beat up on lowly D.C. United on Saturday night. The Reds come into Saturday with a +19 goal differential, while D.C. has a -24 goal differential.
D.C. can only go up from here, and it feels like we've been saying that for the last couple weeks. Ben Olsen needs his team to respond to all the losing, especially after being thumped by Minnesota United a week ago. A loss would extend the league's worst losing streak in 2017 to seven games.
FC Dallas at Philadelphia Union (Saturday, 7 p.m. ET, MLS Live)
FC Dallas and Philadelphia come into Saturday's clash at Talen Energy Stadium bruised and battered from last weekend. FC Dallas were caught off guard at home last week in a 4-0 defeat at the hands of the Vancouver Whitecaps. More pressure will be on Kellyn Acosta in midfield on Saturday as he'll try to diffuse the Union's chance creation in midfield without the suspended Carlos Gruezo.
No one's exactly sure what Union team will show up in any given week. After downing Columbus on Wednesday at home, the Union dropped a road result to the New England Revolution on Saturday. Jim Curtin's men can ill afford to drop more points at home, but it will be difficult with a determined FC Dallas team coming to town.
Orlando City at Montreal Impact (Saturday, 7:30 p.m. ET, MLS Live/TVA Sport)
Orlando City had a great start as a franchise against the Montreal Impact, but in their last two games against the Quebec side they've dropped points at home. The Lions can return the favor on Saturday at Stade Saputo with their reinvigorated three-headed monster in attack. A win is important for Orlando as well as it tries to bury Montreal further down the Eastern Conference standings.
Saturday is an opportunity for the Impact to make a statement in the cluster of teams beneath the red line in the East. With a game upcoming against the Union next week, Mauro Biello's men have a real chance to wade through the murky waters and reach the edge of the top six.
Seattle Sounders at Minnesota United (Saturday, 8 p.m. ET, MLS Live)
Seattle makes its inaugural trip to Minnesota in terrific form and with a new weapon in the final third in Victor Rodriguez. On paper, the Sounders' talented attack should have a field day against the struggling Loons. Even if their starters don't do much, the Sounders can count on Will Bruin, who is the joint top scorer on the team with seven goals alongside Clint Dempsey.
Minnesota finally had a chance to beat up on a weaker team last week when D.C. United came to town. Now the task to dig out of the Western Conference cellar becomes even more difficult. The Loons have only won four of their 14 games against Western opposition in 2017 and a loss all but assures they won't sniff the postseason race in September and October.
New England Revolution at Chicago Fire (Saturday, 8:30 p.m. ET, MLS Live)
Is this the start of the Revolution's annual fight back toward the playoff positions? The Revs have won their last two games, albeit at home over LA and Philadelphia, If they are able to test the second-place Chicago Fire, we could start believing that Jay Heaps has this team inspired.
The Fire are back at home at Toyota Park for the first time since July 1, and they need the comforts of home badly. Veljko Paunovic's men fought to a 2-2 draw in Portland before falling to NYCFC and Sporting Kansas City during their three-game road swing. The Fire have won their last three contests against the Revs, including a 2-1 win on June 17 at Gillette Stadium.
Vancouver Whitecaps at Colorado Rapids (Saturday, 10 p.m. ET, MLS Live)
After flying under the radar for the first half of the season, the Vancouver Whitecaps caught our attention with their performance against FC Dallas. If they can ride the momentum into Dick's Sporting Goods Park and keep Fredy Montero hot in front of the net, they'll pick up their second straight road win.
Colorado has just been too up and down to be considered for a repeat berth in the postseason. The Rapids also haven't gotten a ton of production out of their attack, with Dominique Badji being the leading scorer with six goals. In addition to those struggles, Vancouver has already taken three points out of Commerce City this season.
Houston Dynamo at Real Salt Lake (Saturday, 10 p.m. ET, MLS Live)
A week after earning their first road win of the season, the Houston Dynamo slipped up at home and drew with the Timbers. They have rotated between win and draw in their last four games, and although it's better than not losing, the Dynamo have to pick up the pace a bit.
Real Salt Lake continue to print out results with Mike Petke in charge, but they have fewer games left to make up ground in the West as they've played a league-high 23 games. With Yura Movsisyan working his way out of the picture, the combination of Albert Rusnak, Luis Silva, Joao Plata and Jefferson Savarino have performed well during the four-game unbeaten streak.
Columbus Crew at San Jose Earthquakes (Saturday, 10:30 p.m. ET, MLS Live)
Columbus and San Jose come into Saturday with the same mindset in search of a playoff position. The Crew are in sixth place in the East, but there is a hoard of teams circling like vultures beneath them if they stumble, which they very well could at Avaya Stadium.
The Earthquakes responded from a rough week on the road with a victory over the Rapids a week ago. Saturday would be a perfect opportunity for all of the flashy new signings to make an impression with the team one point out of the playoffs and with an Open Cup semifinal coming up on Wednesday.
LA Galaxy at Portland Timbers (Sunday, 2 p.m. ET, ESPN)
The Galaxy ended their five-game losing streak with a draw at home against the Sounders in Sigi Schmid's first game in charge. However, the final product still has to be much better to match the Galaxy's lofty standards. The good news is the Galaxy are one of the better road teams in MLS. If they can somehow take a point out of Providence Park, it would be a massive confidence boost for the struggling club.
The Timbers impressed last week by stealing a home from the Dynamo at BBVA Compass Stadium. Now, it's time for them to use their home field to their advantage and knock off the stumbling Galaxy. With four ties in their last six games, the Timbers need a win to keep up with the three teams in front of them in the West standings.
New York Red Bulls at New York City FC (Sunday, 6 p.m. ET, Fox Sports 1)
This is the big one of the weekend. The New York Red Bulls are the hottest team in the league and they posses the hottest scorer in Daniel Royer, who has fired six goals into the back of the net in the last four games. With revenge fresh on their minds from the derby loss at home earlier in the season, the Red Bulls shouldn't lack any motivation on Sunday.
NYCFC got run over by Toronto a week ago in a clash where they should've been able to make a statement at the top of the East. A perfect rebound would be the second win over the Red Bulls in a season, an achievement that would alter the landscape of the rivalry.
Atlanta United at Sporting Kansas City (Sunday, 8 p.m. ET, Fox Sports 1)
Don't sleep on the final game of the weekend as you're coming down from your New York derby hangover. Atlanta United are embarking on a road trip that will last until early September when Mercedes-Benz Stadium opens. The talented expansion squad faces a big test on Sunday in Kansas City, and a result at Children's Mercy Park would be a perfect start to the road swing.
Sporting Kansas City proved life without Dom Dwyer is manageable last week against Chicago, and they'll continue to need Daniel Salloi, Latif Blessing and others to step up in the final third. Worth watching on Sunday is the matchup between Ike Opara, Ilie Sanchez and the Atlanta attack. It may be the toughest test they've faced all season.