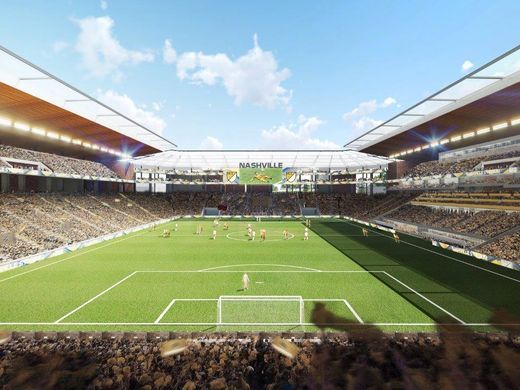 The Music City is dancing closer to an MLS team of their own, with only a couple of months of hard work putting them outside of being leading contenders for one of the four expansion spots.
The good thing: a proposed 30,000 spectator soccer-specific stadium has been unveiled by Nashville's Soccer Club Holdings chairman and leading bid figure, John Ingram.
"Having a stadium that is approved by MLS is an absolutely essential part of ultimately being successful," Ingram said. "We've tried to put together something that we believe represents a great partnership between our MLS-in-Nashville group and the city."
Stadium financing is still up in the air, but Ingram and co., are heavily supported by Nashville's mayor office, who are set to ramp up the process and have negotiations finalized within 60 days. In addition, the city and the private group are aiming to file legislation for the stadium deal in October; placing them as serious contenders for December's expansion call. All, with minimal damage to the taxpayers pockets in what is referred as a "private-public" deal, with an emphasis on the private by Barry.
"We think that an opportunity to bring an MLS team to Nashville is very important to our community," Mayor Megan Barry's Chief Operating Officer Rich Rebelling said, adding that a final proposal "has got to minimize the impact to the taxpayers.
"We know that going into this, and that's one of the parameters that we've been using in our discussions," Rebelling added.
The stadium, which is set to be built on the city's rundown 117-acre fairgrounds, is visualized as a "dual-purpose" stadium in case Vanderbilt University and their football program are willing to share with MLS. If completed, the HOK designed stadium will be in the league's upper-tier based on capacity.
"It has many features that will make it one of the best in the league while reflecting the true spirit of Nashville," Ingram said. "It will be customized for the rich history of the surrounding area and highlight the unique architecture and design found across this city."