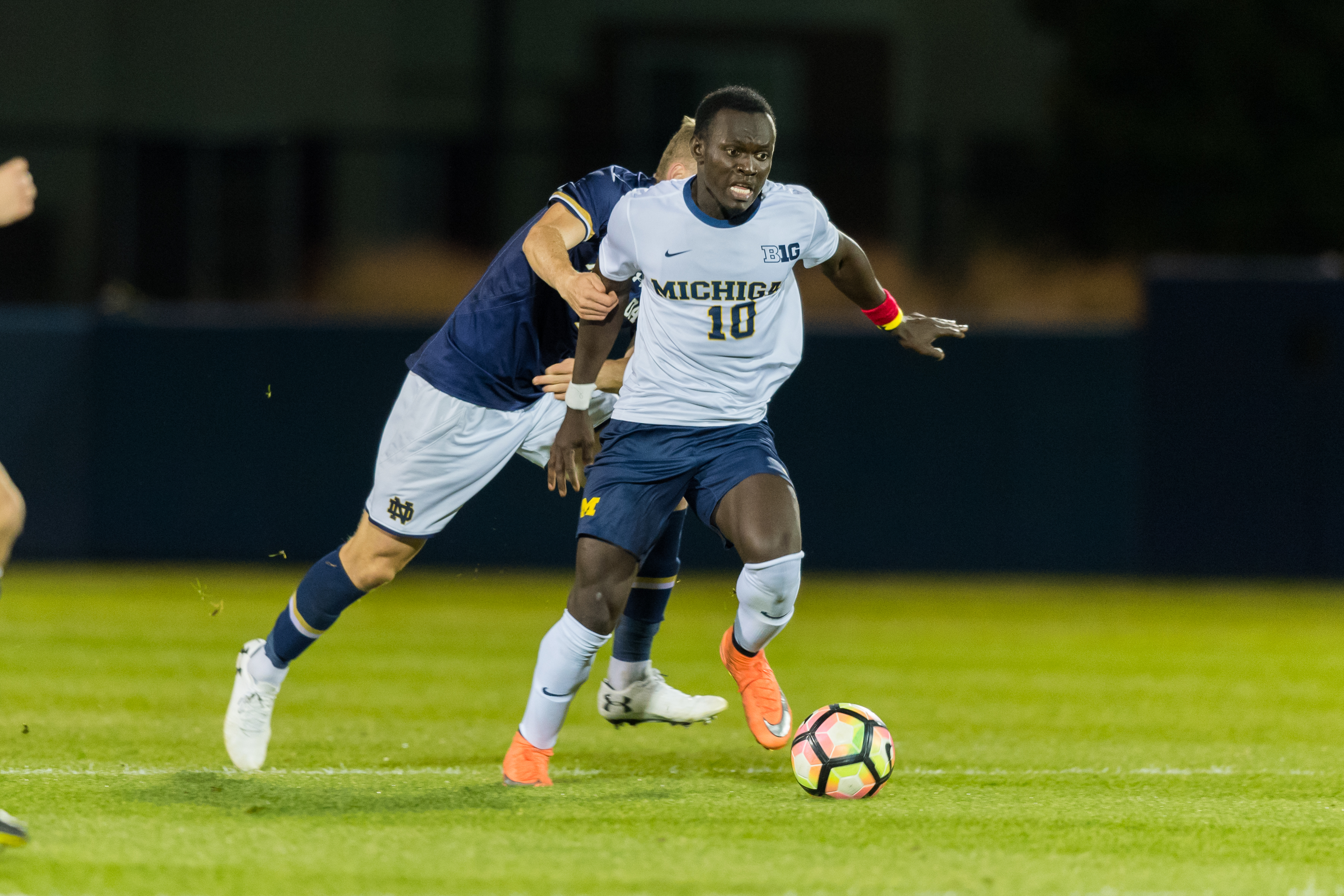 Francis Atuahene remembers what it's like to feel starvation. He also remembers the day his life changed, and the frustration that preceded it. He remembers sitting on the sideline and waiting for his name to be called, wondering if it was all worth it. He thought about turning home, heading back towards the hunger while accepting his fate, but he also thought about what it could mean if he could simply find a way to push on.
Now, several years later, Atuahene is one of the brightest prospects in college soccer and a budding star at the University of Michigan. His life has changed in ways he couldn't have envisioned all of those years ago when he began his path on the fields of Ghana. He no longer feels the hunger he fought through as a child, at least not physically. But, to this day, he does feel his own type of internal hunger, one that's driving him to be the latest in a long line of Ghanian stars to come to the U.S., find a better life and emerge as a professional star.
Atuahene is entering his junior year with the Wolverines and, due to his blistering pace and nose for goal, the hype has followed. He heads into the 2017 college season as one of the top pro prospects in the nation, and a leading candidate to sign a Generation adidas contract. If he signs with MLS, Atuahene could be the first player chosen in the 2018 MLS Draft.
Before he begins his pro career, Atuahene feels a responsibility to create something "special" for both himself and the program that has helped him grow into a top college star.
"I learned how to appreciate how fortunate I am and all of the things I have: to be here, playing for Michigan, just living in the U.S.," Atuahene told SBI. "In a way, it was a tough life when I was little and growing up and coping with a difficult life. It gives me a strong foundation on how to work hard and focus and want to do my best, not only for myself, but for my family back in Ghana, my community and just setting an example for everything around me.
"Soccer was the go-to thing. It pushed me through everything that I faced."
Atuahene's journey to the U.S. began with the Right to Dream academy, much like several Ghanaian stars before him. When he was 11, Atuahene got his chance to join the program, and it was one he didn't want to waste. At the time, he was living with his grandmother in one small house with his three cousins. His mother would come "once in awhile", Atuahene says, but it was his grandmother that was the key influence that pushed him to work towards his education. Still, Atuahene remembers struggling to focus in class due to the hunger that felt like a constant presence throughout his childhood.
On the soccer field, though, he didn't feel hunger; just passion. The Right to Dream program was a chance to combine his soccer aspirations with his grandmother's wish for a better education.
"Everyone has a unique story with Right to Dream. I like to think I was very, very fortunate," Atuahene says. "When Right to Dream came to my town in Ghana, I remember there were about 200 kids that showed up from my village. I was sitting there and, for me to get on the field, I got there at 6 a.m. in the morning and I didn't get on the field until the last practice at 6 p.m. All of this while I was sitting down hungry and starving. I assumed that, if I left, I would miss my opportunity to get on the field. I was lucky enough to come on in the last minute.
"Of the 200 kids that showed up, they took five. I was fortunate to be one of those kids."
While at the academy, Atuahene met several mentors that continue to guide him to this day. Joshua Yaro, now of the Philadelphia Union, was always an older brother figure, the Michigan star says, as is the LA Galaxy's Ema Boateng. He watched as they moved on to the U.S. and began their own careers that led them to the professional ranks.
After a few years of shining within the academy, Atuahene received his own chance: a scholarship to go to the Hotchkiss School in Connecticut. While there, he shined in both soccer and track and field due to his speed, an attribute that separates him from his peers to this day. The transition was hard, he said, leaving his family behind in search of a new life within a new country and new culture, but he knew what he was in for and what it would take to succeed.
Then came the scholarship offer came from Michigan. In his freshman season, he led the Wolverines with 10 goals. In his sophomore campaign, he fired eight more while earning honors as a All-Big Ten first teamer for the second time in as many seasons. Throughout those two seasons, Atuahene became an unquestioned attacking leader within a Michigan program still looking to gain ground on the nation's elite.
Even with Atuahene's contributions, Michigan finished just 4-11-4 in 2016 and 7-7-4 the year prior. Now, Atuahene is looking to elevate both his profile and his team's standing within the college soccer scene as he leads a Michigan program that's beginning to recruit some of the country's elite.
"Most of the coaches that tried to recruit me, UVA, UNC, all these places, they made it sound like they had a big program and had won all of these national championships, and I wanted to do something different," he said. "I wanted to start at a school that was trying to build a program. I wanted to be a part of something new. That was one of my main reasons. I wanted to help a new program get to greatness. I wanted to be a part of that.
"And it's Michigan," he adds with a laugh. "I can't complain."
Growing up, Atuahene looked up to Ghana's biggest stars like Asamoah Gyan and as he went through the Right to Dream program, he looked towards his mentors like Yaro and Boateng. But now, he looks towards another Ghanaian thriving in MLS: David Accam.
Like Accam, Atuahene is blessed with pace and power and, like Accam, he can play anywhere along the frontline. He can take people on and score. Atuahene admits he likes to play on the left wing over a more central position, but he's learned a lot from watching Accam's game with the Chicago Fire.
But, admittedly, Atuahene didn't understand the nuances of the sport until he got to Michigan and began to play under head coach Chaka Daley. He didn't know when to exploit space or when to slow it down. He knew how to play, but he didn't know the game.
"He's working on his consistency and being a consistent threat throughout a game and being a bit more fluid," Daley told SBI, "but certainly he's as difficult to handle as anyone in college soccer when he's in the mood. It's making sure he understands that he needs to be in the mood on a consistent basis, which he does.
"He's got a little bit of everything. It's more making sure he stays in a good rhythm throughout the season and is constantly a danger. On his day, he's as dangerous as anyone. When he went against (Maryland forward) Gordon Wild, it was fun to watch. One was going at one way and the other was going the other. It was fantastic to see the spectacle… I think he's got the makings to play at the next level, but you have to dominate this one before you can move on. He's worried about the present and giving back to Michigan for everything it's given to him."
This summer, Atuahene got a taste of his professional dream. He got to play in the PDL, where he scored a ridiculous U.S. Open Cup goal for the Michigan Bucks. He got to train with the Columbus Crew and their contingent of Ghana stars while also enjoying a stint with Sporting KC.
The experience was "eye-opening", he says. He watched how pros reacted in the locker room, how they acted on the field, how they took care of their bodies. He felt he played well during his time, and he hopes to have impressed within an environment he hopes to be in within the next few years.
He isn't thinking that far ahead right now, though. His goal has always been to play as a professional, whether it's in MLS or in Europe, but he hasn't nailed down the specifics quite yet.
His focus remains on the short-term. His dream can wait a little while longer as he becomes a better player and person at Michigan. But, when the time does come, Atuahene knows he will be ready to etch his name as the latest young Ghanaian to fight his way to a dream that seemed so far away just a few short years ago.
"I just want to be that role model to kids that follow me and come up to me," Atuahene said. "I know a lot of people back in Ghana at Right to Dream, they still keep tabs on me and others here in the U.S. During the season, they follow us and look up to us. I want to be a role model and set an example. Even though I came here for an education, I do want to become a professional one day and that's what I want to do. I just want to set an example.
"I don't think I'm under pressure at all. I look at it the other way," he added. "I just want to enjoy my game and have fun on the field. I just want to lead my team in a way where I help produce on the field and help my team on the field. I don't feel that responsibility of that pressure at all. I want to embrace it and just enjoy the game and play and lead this team to a championship, and I think we have a good enough team to do that."