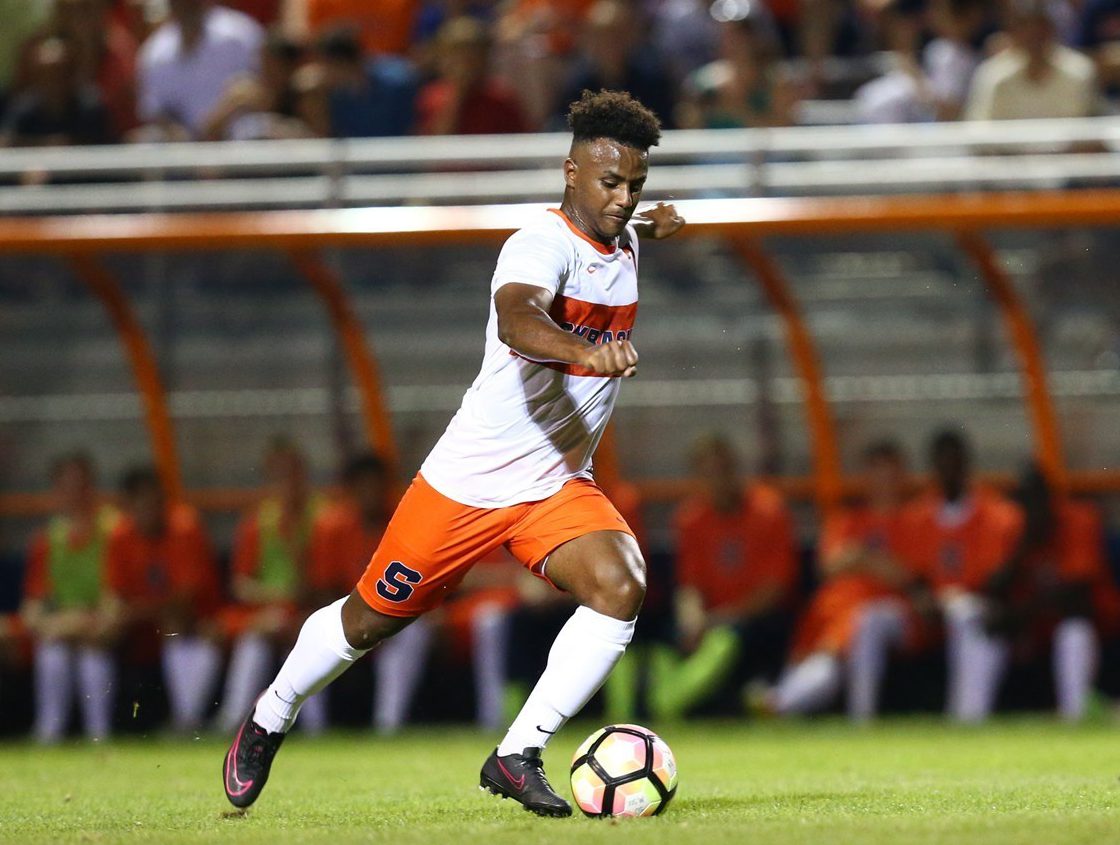 Just a few short years after the club released him from its academy, Mo Adams returned to Derby County this past winter. It was one of several clubs he had stopped at during his childhood journey through the English academy system, and it was a journey that, like many cautionary tales, ended in tragedy and without a professional contract.
But Adams wasn't returning to Derby as a cautionary tale. He wasn't returning to reminisce or wonder aloud about what might have been if that opportunity had come his way. Rather, he was returning as a success story, the latest in a growing trend of English players finding their own way after their Premier League dreams seemingly dried up.
Entering his sophomore season, the Syracuse defensive midfielder is seen as one of the top young players in college soccer. He was included on the MAC Hermann Trophy preseason watch list, a big honor for a player just 19 games into his college career. The hype is intensifying and the expectations are rising for a player that could have called it quits when he was chewed up and spit out by the English system like countryman Luke Mulholland and Dom Dwyer before him.
"During Christmas break, I went to a number of clubs," Adams told SBI. "I went to Derby County, who actually released me. They wanted me to hold a lecture in front of their scholarship players that would be facing decisions whether they get a contract or not. I spoke to them and told them that just because one person says 'no', it doesn't mean everyone says 'no'.
"It's a big world, and there are many different countries. I told them about my experience in the states and how it's the best decision I ever made."
Like many English players, soccer was "a religion" to Adams as a kid, and he was good enough to practice that religion at a high level as he got older. At eight years old, he began taking the game more seriously, playing for his district and county before joining Nottingham Forest at the age of 10. He was with the club's academy for five years, featuring as high as the club's U-18s as a 15 year old.
Adams was offered a scholarship to continue within the academy setup, but he was also targeted by fellow Championship club Derby County, who was developing a reputation as a club that brought more players through the youth team and into the professional ranks. It was a club that truly gave young players a chance, and it seemed the perfect time to make the switch from Nottingham to Derby to further his own dream of earning a pro deal.
That offer never came, at least not from Derby, which opted not to offer him a professional contract. That prompted Adams to leave the club's system. His next move? Joining Blackburn Rovers on trial for one final shot. During his stint with Blackburn, the club thought highly enough of the young midfielder to offer him opportunities to train with the first team.
He was finally offered that pro deal before an ankle injury struck as torn ligaments in his left ankle led to a lengthy spell on the sidelines. His long-awaited deal was promptly taken off the table by Blackburn before he could sign, leaving Adams in no-man's land when he was finally healthy.
He could have stayed and continued with the non-league route, playing semi-professionally while hoping to catch lightning in a bottle like Jamie Vardy. But he didn't want to play with 30-year-old men that are past their prime and trying to hold on to one final thread of a career. Adams saw it as a "deep hole" that you can never really get out of and he wanted to forge a career of his own, one much bigger than anything England could offer.
The journey brought him to Syracuse through an agency, Vertex Soccer, that helps place players in the U.S. He looked at Dwyer and Mulholland as examples that there was a road less traveled and that, if things bounce your way, it can put you where you want to be.
"One thing about me is I won't give up," Adams said. "I'll play this sport until I physically can't anymore. I believe that everything happens for a reason. You go through these adversities and it makes you a better person and a better player. It's just a case of bouncing back and not letting something keep you down like that.
"I'm not going to lie: I was devastated. I was absolutely heartbroken, but it's just a case of thinking of it as a minor setback for a major comeback. I think it worked out well for me."
It worked out well for Syracuse, too. Adams started all 19 matches as a freshman, instantly becoming an integral part of the Orange midfield. Playing on a team featuring future MLS Draft picks in Miles Robinson, Liam Callahan, Chris Nanco and Øyvind Alseth, Syracuse advanced to the third round of the NCAA tournament for the third consecutive year.
Adams was a key part of that squad, earning ACC All-Freshman Team honors and the Cuse Award for Male Rookie of the Year. But this year, his role will be much, much bigger. The Orange lost seven starters, including their star centerback Robinson, making Adams's role as a defensive midfielder all the more vital.
His game isn't flashy, and he isn't a player that has shown the ability to drive forward and provide goals. He envisions himself as more of an N'Golo Kante or a Paul Pogba, players that use their athleticism to dictate the game from a deeper position. He make simple passes. He defends. He closes down gaps. It's not sexy, and you may not notice it that much if you aren't watching intently, but he'll need to be effective if Syracuse is to make a run again this season.
Adams isn't a finished product, though, and he'll need to improve several aspects of his game to help Syracuse thrive. He pointed out his long passing as a weakness that he's continuously refining. Syracuse coach Ian McIntyre is looking for Adams to add balance to his game and maybe provide few more goals, and that aspect will help him become the player he needs to be if he wants to thrive at the next level.
"With all young players, he's going to get better with experience and games," McIntyre told SBI. "His ability to know to slow the game down or speed the game up and with all players, his technical range can get better. He's a good player. He understands how impactful he is from an emotional perspective out there. He's the thermometer from this team and, when he's playing well, we're playing well.
"For a young player, that's a big responsibility. He's looking forward to that challenge and embracing that challenge. We think he's going to have a very good season."
Adams says he's constantly getting messages from English players on Instagram and Twitter, as he has already become the latest example to the up-and-coming generation. Someday he may inspire a player like Dwyer and Mulholland inspired him. He may show them that there is another way, even if it isn't easy to see when everything crashes down around you.
For now, Adams isn't worried about a big picture. He's focused about his own personal journey. It's one that's taken a more winding road than he anticipated, but it's also one that's prepared him for the next step, one that seemed so unlikely just a few short years ago.
"Looking back at it now, I'm kind of glad I never signed that professional contract," Adams says. "Now, I'm here living the dream and, hopefully I can play in MLS. It's a fantastic experience. I can't complain.
"It shows that a little kid from England can make their dreams come true in the states. It's a big world, but there's plenty of opportunity out here."