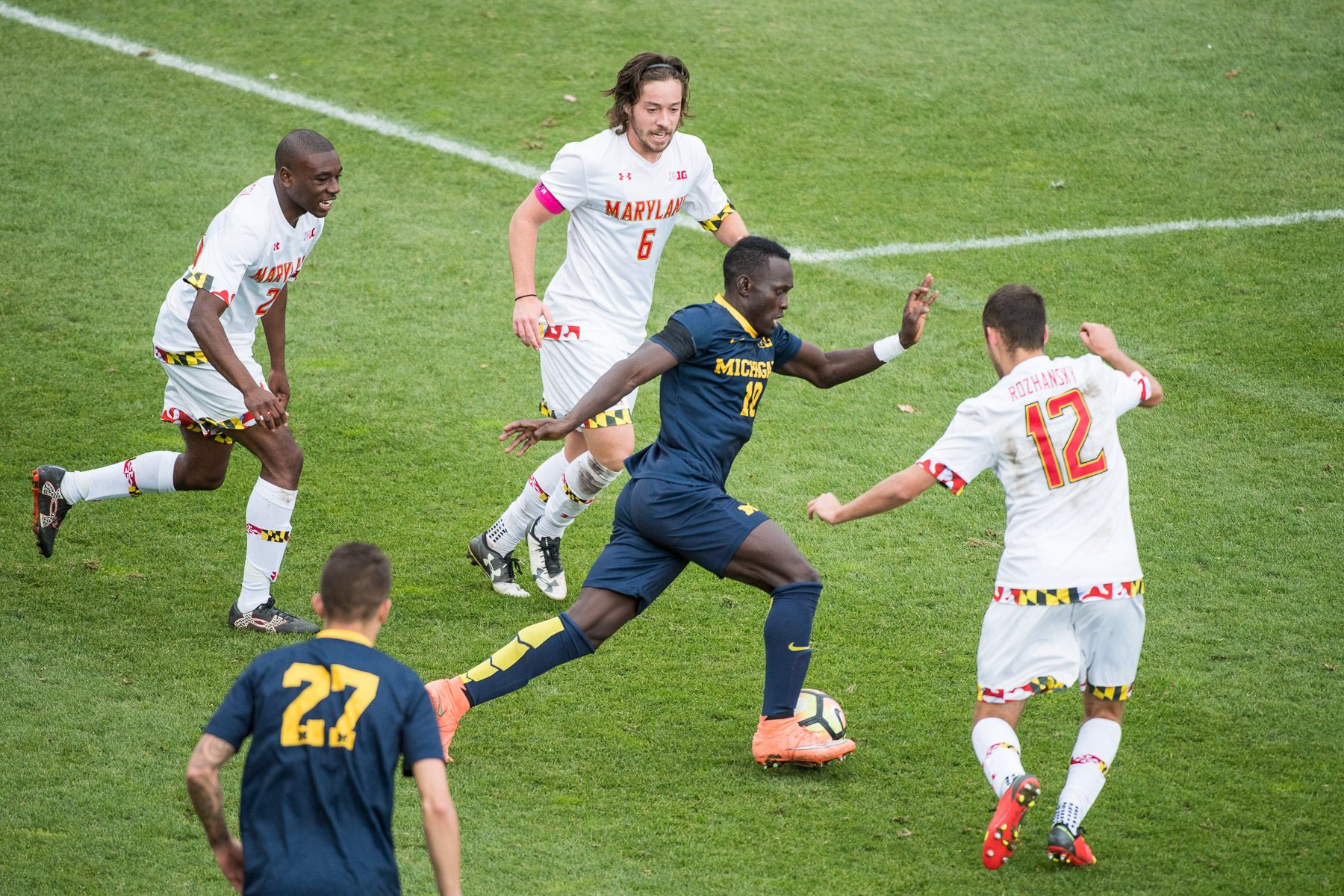 The Michigan Wolverines are not yet counted among the nation's elite. Following a four-win season, it's impossible they could be. The Wolverines sputtered through the 2016 campaign, losing several close calls and overtime matches while missing the NCAA tournament altogether.
However, head coach Chaka Daley believes the Wolverines are on the right path, and the roster the team has assembled certainly has the ability to make some waves throughout the 2017 campaign.
The Wolverines are led by highly-touted Ghanaian star Francis Atuahene, who could push for the top spot in next year's MLS Draft. He's joined by U.S. Under-20 Men's National Team Marcello Borges and reigning High School Player of the Year Umar Farouk Osman, giving Daley plenty of talent at his disposal heading into the new season.
Will it be enough to compete with the Marylands and Indianas of the world? It remains to be seen, but Daley has seen enough to believe this team will be much, much better than the groups of years past.
"We've learned a lot about the resilience it takes to win games in college soccer," Daley told SBI. "While I'm excited about the young group coming in, I'm equally excited about the returners and the maturation process they've all gone through as a result of last year and their commitment and determination to help lead and help grow this group this year and in the future."
The Wolverines won just one conference game a year ago, but that's poised to change thanks to what should be a very solid attack.
Atuahene is the star, and is widely projected as a player that will make a big leap to the professional game at some point. The Ghanaian forward brings a ton of pace and a nose for the big play, and he'll have plenty to prove throughout the season as he looks to build on two consecutive all-conference selections.
Sophomore Jack Hallahan, previously a member of West Brom's academy, returns after scoring four goals in his debut season while midfielder and captain Robbie Mertz will look to build on four goals and three assists from last campaign. Mark Ybarra, a freshman from Ann Arbor, could also earn valuable minutes in a midfield alongside captain Ivo Cerda.
The key, though, may just be Osman. Daley says Osman is one of several freshman that he believes are "ready to go" and contribute from day one.
"He's lively, has a great engine, is excellent one-v-one, is dynamic," Daley said of Osman. "He scores goals and he's got a little bit of everything going forward. We're certainly excited about him. He can play in three different spots: the right, the left or as a 10. Where he matches up will depend on the game and how he complements the team and how much he can figure out. We play against some top teams, so it's never easy, but we expect him to be on the field.
"We're not waiting for a maturation process. We're hopeful they can do that at a very young age and can learn with a trial by fire.
The defensive set up is a bit more questionable. The Wolverines will be rotating four centerbacks new to the program, giving the defense an all new look. Transfers Daniel Makuna and Peter Brown bring experience, even if it's not Michigan experience. Meanwhile, the team also adds freshman in Montreal Impact defender Abdou Samake and Canada U-20 defender Joel Harrison. Billy Stevens, meanwhile, will serve as captain while providing senior leadership in the back.
Borges is the big name, though. A frequent contributor during CONCACAF qualifying, the fullback missed the U-20 World Cup due to injury but, now healthy, Daley expects him to be the leader out of the back.
"We moved him around the first few years because he's an excellent footballer," Daley said. "He played wide left and a little bit centrally, but he's most comfortable, in the moment, as being a fullback. We'll start the season with him there and we're going to ride him there. He can combine effortlessly and he can move out of the back really well into the final third and then in the final third. For us, it's a great quality to have, especially with central defending that will be newer and greener to college soccer at Michigan. He'll be great for the group."
Daley says the big key is to remember that every year is different. This isn't the Michigan team that lost nine times in overtime, including five defeats in double OT. This isn't the Michigan team that faltered all the way towards the bottom of the Big Ten.
That said, he isn't thinking too far ahead. The Wolverines still have to take care of business. A series of five straight home games open the season, giving the team a chance to build up to a major Sept. 13 visit to Indiana. That will be the litmus test of how far this team has come and how far they have left to go. A match against rivals Michigan State follows shortly after while visits to Ohio State, Notre Dame and Maryland are games circled on the schedule.
"I think that's why we do this. As college soccer programs, we're competitive. We want to continue to build the pedigree of Michigan soccer nationally. We want to build that name of playing quality football, build that name by becoming very resilient defense. It's being strong, being aggressive, being resilient, having an outstanding work ethic and playing quality football. We want to be fluid and dynamic and entertaining in attack.
"It's a different prospect because college soccer has so many different styles and so many different venues, certainly in the midwest. But we're up for the challenge and we're looking forward to it."