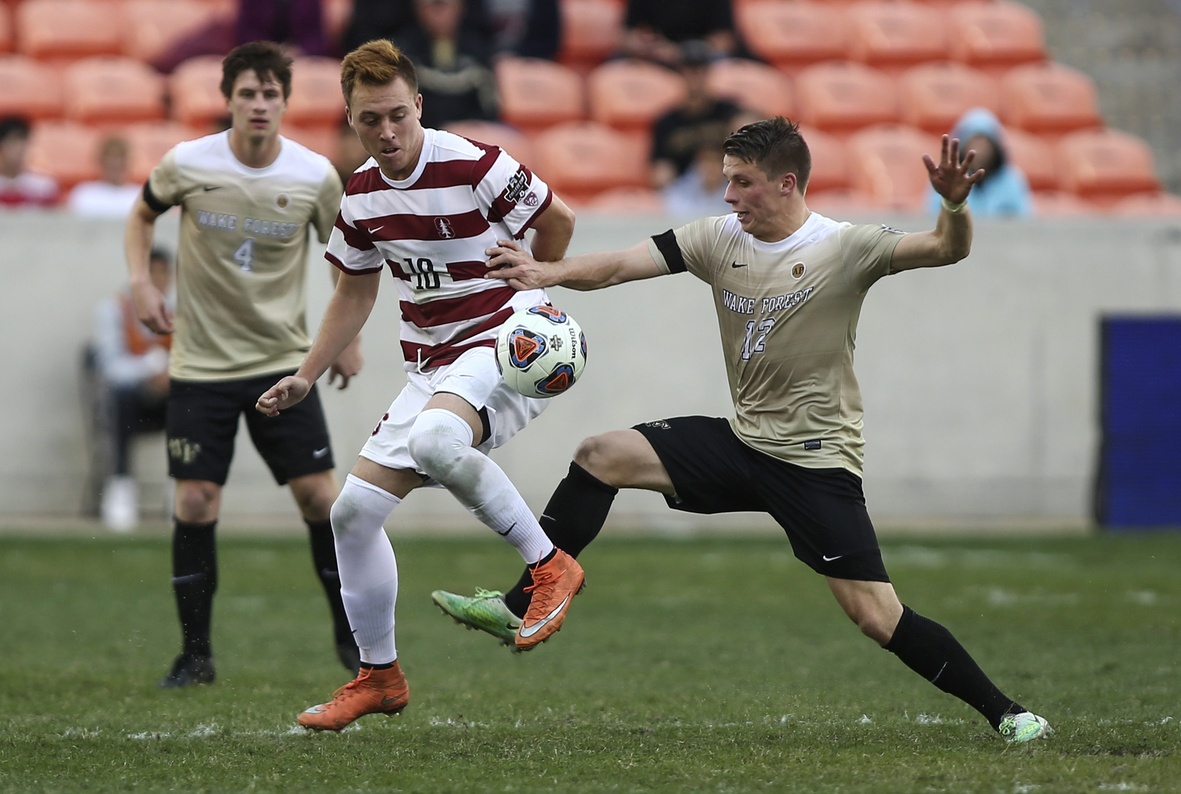 College soccer has boasted the same king for two straight seasons, and as tough as a three-peat seems, the Stanford Cardinal have the remaining firepower to make a third straight NCAA title a reality.
Stanford lost some key pieces to graduation, but with star defender Tomas Hilliard-Arce and midfielder Corey Baird spearheading the charge for a third title, the Cardinal can be considered fully deserving of the top spot in the new season's first SBI College Soccer Top 25.
Leading the charge among teams that could unseat Stanford is North Carolina. The Tar Heels were an impressive team last season, led by a strong cast of underclassmen. With many of those same players back, such as Cam Lindley, Mauricio Pineda and Alan Winn, along with a top-notch incoming freshman class, North Carolina has the weapons to make a title run.
Last year was supposed to be Maryland's year, but the Terps fell short after an undefeated regular season. Luckily for Sacho Cirovski, his leading goal scorer is back as Gordon Wild fended off opportunities to turn pro, choosing instead to return to College Park for another run at a title. With U.S. Under-20 midfielder Eryk Williamson leading arguably the best midfield in the nation, the Terps will be right back in the ACC and NCAA title hunts.
Looking for a darkhorse title contender? Louisville boasts one of the best forwards in the nation in Mohamed Thiaw, as well as one of the best defenders in German-born pro prospect Tim Kubel.
Several teams looked ready to climb toward the elite in 2017, including Wisconsin, which could surprise people outside the Big 12 this season, and Portland, which has added a strong recruiting class to a stacked group of returning starters.
The team that could have the biggest turnaround? Try Michigan, which won just four matches in 2016, but boasts dangerous speedster Francis Atuahene, standout fullback Marcello Borges and dangerous freshman midfielder Umar Farouk Osman, the reigning Gatorade national high school player of the year.
Here is a look at the SBI College Soccer Top 25 heading into the new season:
SBI COLLEGE SOCCER PRESEASON TOP 25
1- STANFORD (15-3-5)
2- NORTH CAROLINA (14-3-4)
3- MARYLAND (18-1-2)
4- INDIANA (12-2-7)
5- WAKE FOREST (19-3-3)
6- NOTRE DAME (12-7-2)
7- VIRGINIA (11-4-5)
8- LOUISVILLE (14-6-2)
9- CLEMSON (14-4-5)
10- SYRACUSE (12-4-4)
11- DENVER (20-1-3)
12- VIRGINIA TECH (13-5-2)
13- WISCONSIN (11-4-4)
14- PROVIDENCE (15-7)
15- PORTLAND (12-5-2)
16- CREIGHTON (13-7-3)
17- WASHINGTON (14-7)
18- UCONN (10-5-1)
19- MICHIGAN (4-11-4)
20- FLORIDA GULF COAST (14-4-3)
21- AKRON (13-6-3)
22- COASTAL CAROLINA (10-7-3)
23- UCLA (10-8-2)
24- UTAH VALLEY (15-4-1)
25- SAN DIEGO STATE (9-4-6)