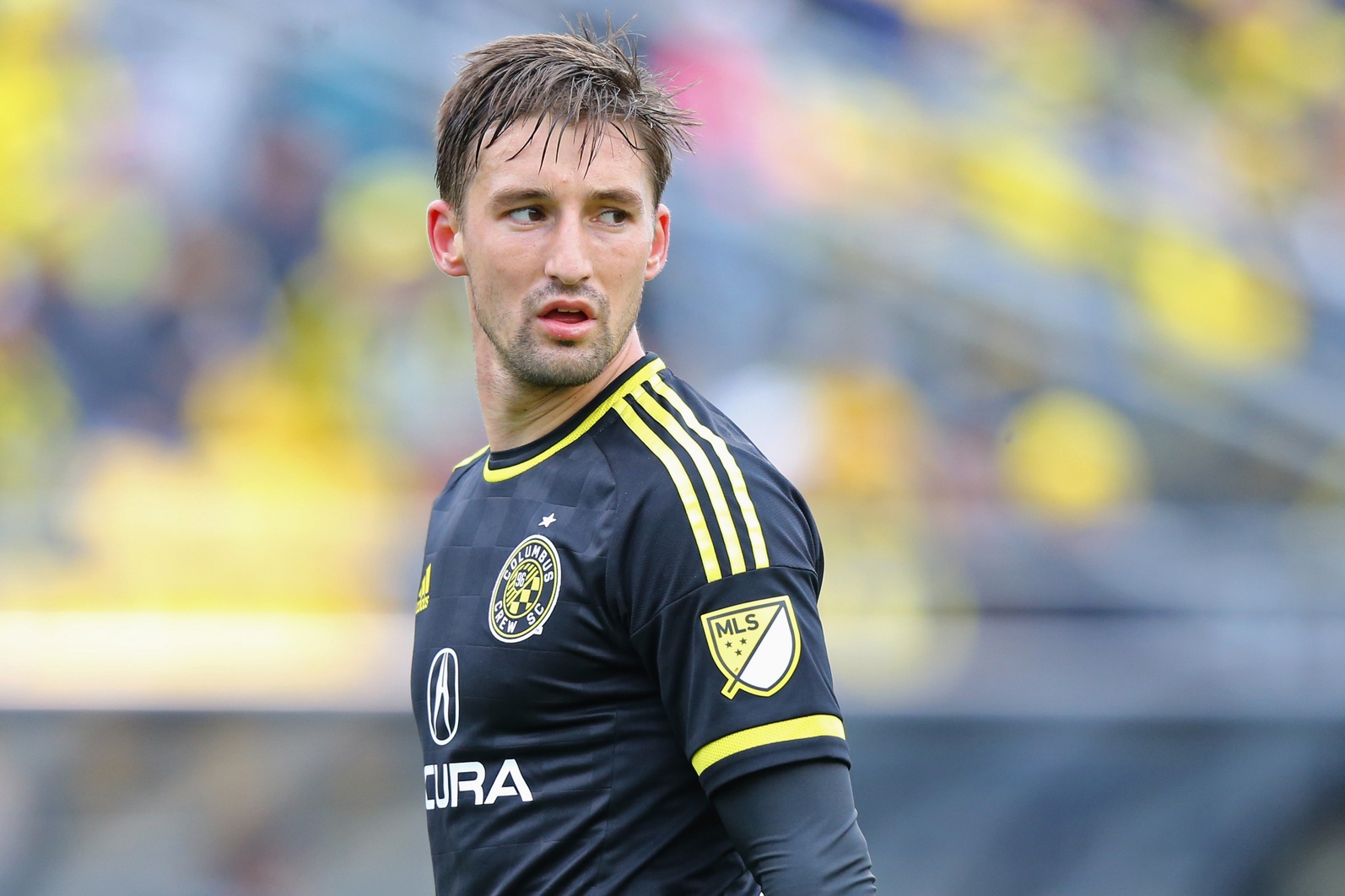 There's something special about going home, especially in professional sports. So often, athletes travel far and wide to find their professional home, a city and club where they feel truly at peace both on and off the field.
Ethan Finlay found that throughout his six seasons in Columbus, growing from first round MLS Draft Pick to MLS All-Star. Over the past few weeks, though, it became apparent that Finlay was in need of a new home and, fortunately for him, he found it by going back to where it all started.
The 27-year-old winger was traded on Wednesday in one of the biggest moves of the MLS deadline. After featuring for the Columbus Crew for the first five-and-a-half seasons of his professional career, Finlay was traded to Minnesota United for a total haul of $425,000 of combined Targeted Allocation Money and General Allocation Money. The trade ended Finlay's time with the Crew, but it did begin a new chapter for the winger who was born in Duluth, Minnesota and spent several years living on the Minnesota/Wisconsin border.
For Finlay, the time was right. In the midst of one of the most difficult spells of his professional career, he was in need of a change one way or another.
"Our careers are short," Finlay told SBI. "A lot of people work until they're 65, right? For us, it's more like 35. For me, I had to ask myself what I want for the next step of my career. It's been a great run but maybe the time was gone. Two days ago, originally, I wasn't ready to go mentally. I didn't wake up that morning and say, 'Okay, today is the day I'm going to go,' but one thing led to another.
"It seemed like the right time to make that transition. At first, I thought, 'Do we wait until the end of the year or wait this out because injuries can happen, anything can happen,' but I felt this was the right time. The fact that Minnesota came in as strong as they did, there were other suitors as well, but this was the right time. You want to be somewhere where you're wanted and Minnesota wanted me, and they wanted me bad."
Finlay began to see the signs several weeks back when the Crew were linked to Portuguese winger Pedro Santos, who was announced as the team's latest Designated Player signing earlier this week. Finlay liked to have a good idea of what a locker room is and where it's going, and he heard "alarm bells" when he saw Santos linked to the club. He wasn't afraid of what was next or the potential competition, but he also knew he had to look out for what could be a next step.
In many ways, Finlay admits he's fortunate that the Minnesota project came up, simply because he felt connected with it before it even began. Growing up in the Twin Ports of Duluth, Minnesota and Superior, Wisconsin, he has fond memories of the region. One parent worked in Duluth, the other in Superior, while he had plenty of family in the Minnesota city of East Prairie. He remembers going to the Holidazzle parade every year, and he even remembers being in it one year, helping form his bond to the state he now calls home.
Still, he'll need to prove himself. A trade isn't just about feel-good stories or homecomings; it's about production, and that production hasn't quite been there for Finlay in recent times.
A 12 goal, 13 assist campaign vaulted him to an All-Star nod in 2015, earning Finlay three caps with the U.S. Men's National Team. Playing in an attack alongside Kei Kamara, Finlay rapidly became one of the league's best wingers statistically as his nose for goal and crossing ability vaulted the Crew to the 2015 MLS Cup final.
The stats haven't been there in the two seasons since. The 2016 campaign brought a respectable haul of six goals and nine assists but, in 2017, Finlay provided just one goal and one assist in 19 appearances for the Crew.
"It was absolutely frustrating," Finlay said. "The one thing that kept me positive was that I was still creating opportunities. Maybe there was a guy who missed an opportunity and I had plenty of those where I could have had a goal or two and I missed an opportunity. It just wasn't there for me. You need a little luck sometimes and you need to find your goals. I definitely think the move is coming at a positive time for me in my career. "
Finlay wants to boost his stats with this fresh start in Minnesota. He wants to lead the team to wins, even if a postseason push is an uphill battle at this point. Most of all, he wants to contribute to the team for years to come by stretching the lines and moving off the ball.
He thinks that skill-set fits with this current Minnesota United group. Finlay sees Kevin Molino, the Loons' primary playmaker, as someone who learned a lot from Kaka during his Orlando City days. He's followed Christian Ramirez since his NASL days when he played alongside Finlay's former college teammate Greg Jordan. Sam Cronin is one of the league's top veterans, Finlay said, one that is a valuable anchor in the midfield.
Finlay says his goal is to stretch the field and create more space between the lines. If he can wreak havoc out wide, it creates space for Ramirez in the middle. If he can pull defenders to him, it opens the door for Molino to slip passes in. The winger believes his off-the-ball movement fits perfectly with the attacking core assembled and, if he can rediscover his goalscoring form, he'll add another weapon to what is already a dangerous attack.
"I did this with Kei, I did it with Ola [Kamara] and I do it with all of my strikers," Finlay said. "I do my best to have one-on-one conversations with them and say, 'Hey, where do you like the ball? Where do you want to be in the box? What are your tendencies that I can start to read off of? The game is fast. How can I start to, not just react, but anticipate what you're going to do?'.
"That's why Kei and I were so good for so long I think. We had a great rapport and I understood what he wanted. He's a freak athlete but that's what I'll do. I started watching some game film and had things I've tried to pick up on where guys are going to be, where they like to get the ball and what they like to do with it."
In several ways, the past 48 hours have been bittersweet for Finlay. Any new beginning will do that. There are bonds and friendships that are developed, and it's hard to break them even when you know you must.
On Finlay's way out, Crew head coach Gregg Berhalter did something Finlay felt was "unprecedented". Usually fairly stoic, Berhalter opened up in the hours before the deal went final, calling the trade "one of the harder things I've had to do as being a leader in this organization".
It was a move that benefited both parties, a rarity in this game, and Finlay is looking forward to the part that now lies ahead. His time in Columbus was certainly memorable, and the task is now to make sure his Minnesota homecoming becomes something just as special.
"You rarely have it that you trade a guy and the whole team's around him wishing him goodbye and he's saying goodbye, and I can't picture tomorrow without him," Berhalter said, according to the Columbus Dispatch. "He's been such an important piece of what we're doing and tomorrow when we're training, he's not going to be here and it's going to be strange. He was a huge part of this group and for me personally I'm going to miss him."
"It's tough to leave because of that and it makes it that much tougher, but it does validate that he does feel like he's losing a piece and that I do have more ahead of me," Finlay said. "That's a little of what we saw. He knew he was losing a good player and a good person, so that allows me to hold me head high as I leave the building and that we're both going to be okay. We're going to move forward as a group. I'm moving on to a new team and a new franchise, and they're excited about me. That's what you want."