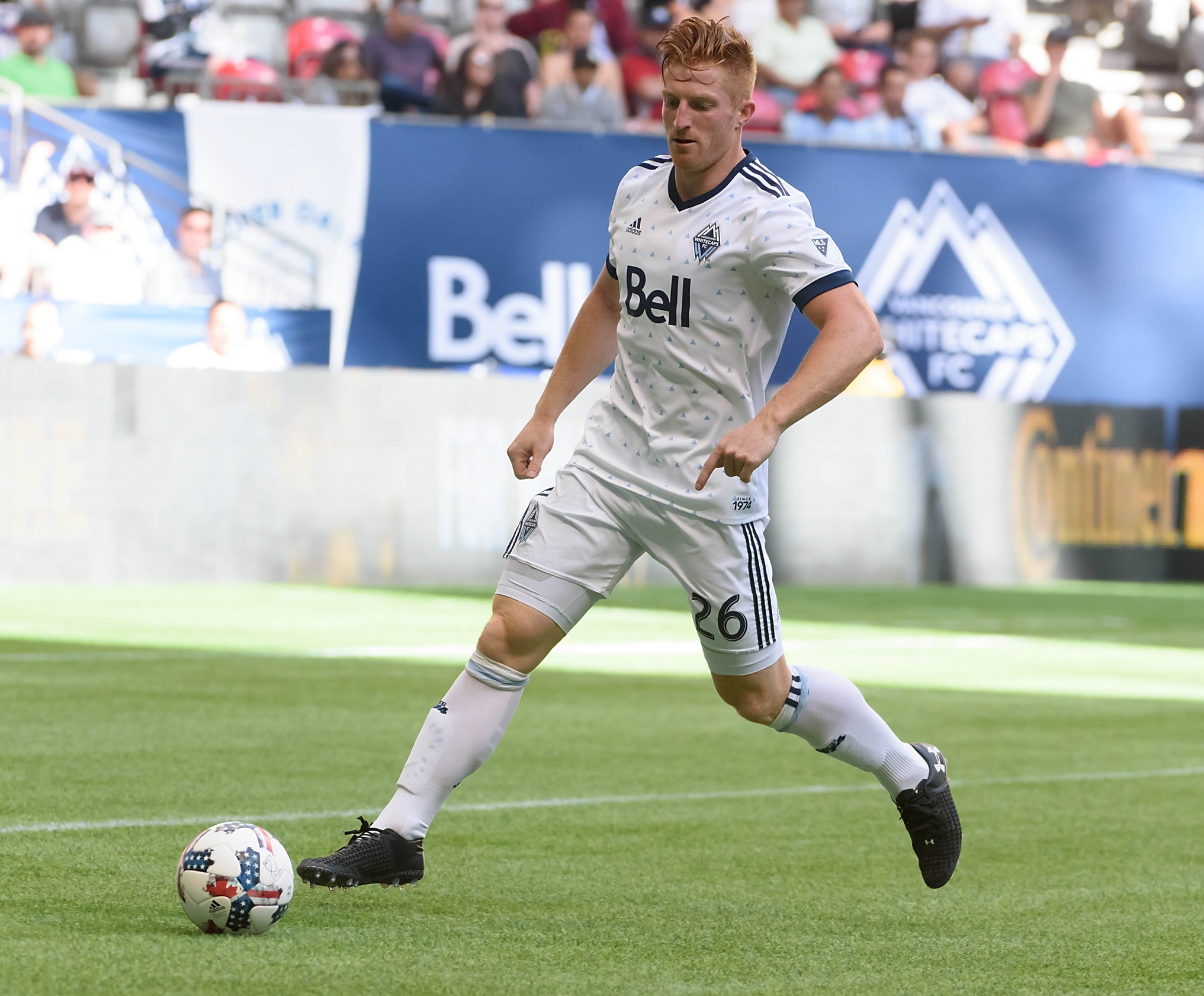 In his third season as a professional, Vancouver Whitecaps center back Tim Parker has established himself as a starter, but he wouldn't be in that position if it wasn't for the advice he received as a rookie.
Parker made one of the tougher transitions in North American soccer going from his native New York to Vancouver after being selected by the Whitecaps with the 13th overall pick in the 2015 MLS Draft out of St. John's. Although the transition was tough, he found a mentor in an older center back right away.
"It was completely different from what I'm used to," Parker told SBI "I grew up on the East Coast and went to school in New York as well. For me, it was a big change at first and dealing with the Vancouver winter wasn't easy for me, but ever since then, I think I've been able to call Vancouver my second home.
"It was very hard. I learned a lot my rookie year from some of the veterans, mainly Pa Modou Kah," Parker said. "He took me under his wing my rookie year and taught me a lot of things about being a center back and being that stalwart and workhorse in the back. So I think for me to have him my first couple years in this years were detrimental to me." 
Parker made his 64th career appearance on Saturday against the Colorado Rapids. The 24-year-old ranks fifth in appearances among members of the 2015 draft class behind Cyle Larin, Cristian Roldan, Matt Polster and Fatai Alashe.
The New York native has only missed one contest for the Whitecaps in 2017 and he's developed a great chemistry with the other members of the back line, mainly center back partner Kendall Waston.
"It's fun. I really enjoy playing with Kendall," Parker said. "He does offer all of those physical strengths. He's very very good at it. Having that and knowing I can rely on him for those traits and aspects of the game is something I take advantage of." 
Parker also has a goalkeeper he can trust behind him in David Ousted, who may not get the attention he deserves because of where he plays.
"When we need him to bail us out, he always does," Parker said. "He's a veteran guy who really wants to help the young guys out. I definitely enjoy playing with David as well." 
Attention hasn't been something the Whitecaps have received in 2017 despite their spot in and around the top six of the Western Conference, but they did catch some after a 4-0 win over FC Dallas on July 29.
"I don't think you can ever expect a turnout like that, but I think we knew we were going to be prepared for that game," Parker said. "We had some guys in the team that were ready to take opportunities that were given to them and did a pretty good job of that." 
The renewed energy and success coming out of Vancouver can be attributed to the new faces in the locker room and the personality of manager Carl Robinson, who Parker enjoys playing under.
"I think we have taken on a new kind of shape with everything," Parker said. "There's a different mentality in the way we want to attack and get after teams. I think that everyone in the locker room this year has bought into that." 
"I think he's a very good player's coach and he knows how to get the best out of the guys around him, "Parker said. "For us, it's vital that he does that and then at the same time he's brought in guys that want to have the same mentality that he has." 
Of course with the consistent playing time and success at the back comes conversation about the U.S. Men's National Team. Competition is strong with the young center backs in the talent pool and Parker could be one that receives recognition in the next year or two if his strong play continues.
"I think obviously it's all relative," Parker said. "I want to just keep doing what I'm doing and keep my head down and work hard and hopefully I get recognized for it as well. Definitely you have to look at anyone at your position you have to consider competition but it's all healthy competition as well." 
But for now the focus for Parker and the Whitecaps is earning a playoff spot in the congested Western Conference. Currently they sit seventh in the standings, but they're only six points back with two games in hand on most of the top six.
"I think overall we've been having a pretty good year," Parker said. "As of late, we've kind of come to realize that we have something special with this group. So we're excited to take that opportunity. I think for us we just need to keep continuing to get points. Right now we're on a little bit of a road stretch, but come September we have a good stretch at home that we need to continue to get points from."