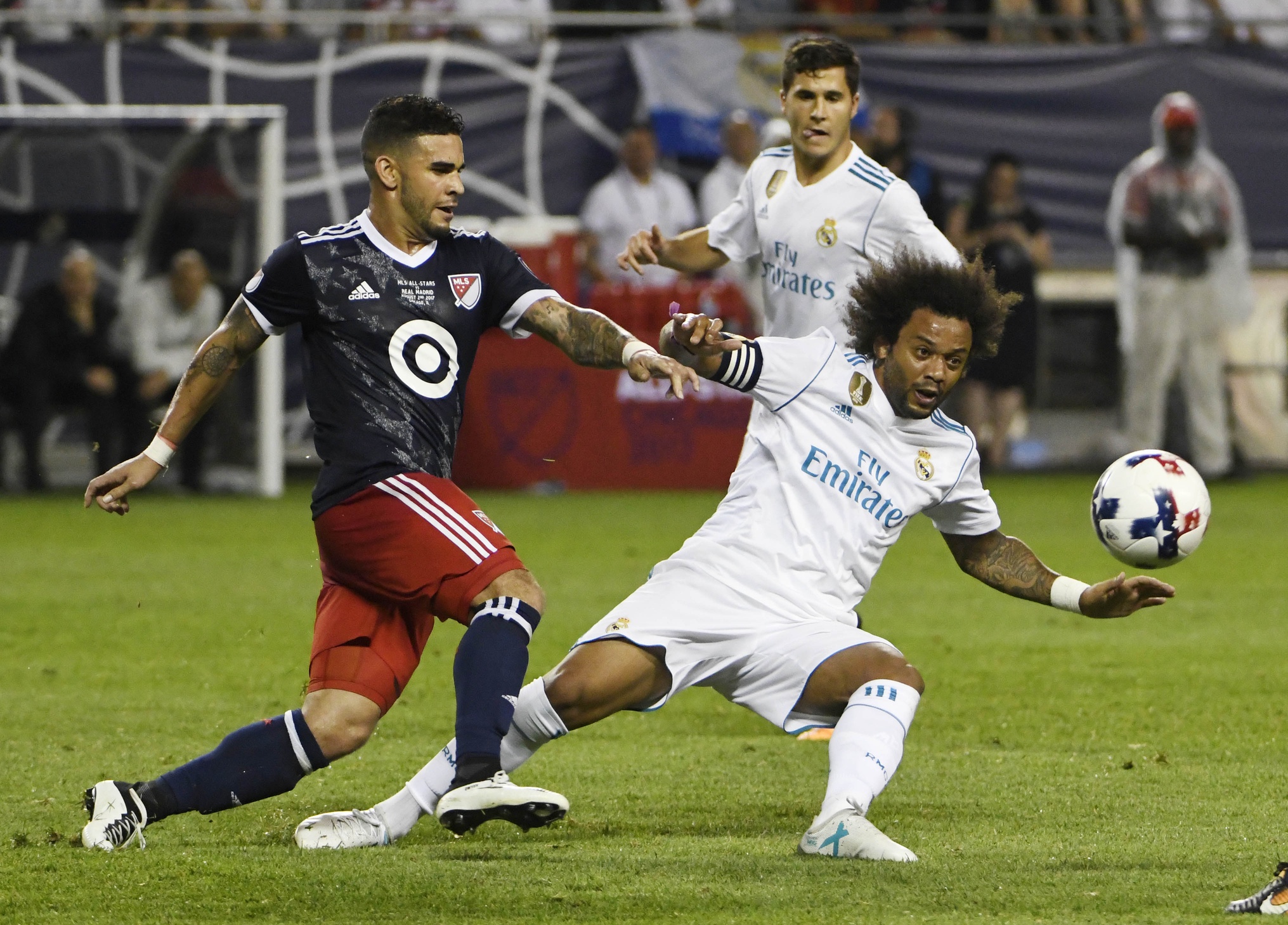 There will always be debates surrounding the MLS All-Star Game, and the 2017 iteration of the midsummer showcase was no different. Every summer, the suggestions and critiques resurface. Is this the best format to display the best MLS has to offer? What can change? How should we view an event that holds a different sort of meaning to all involved?
But, at the end of the day, the MLS All-Star Game is about the spectacle of it all. It's about fun. It's about a fantasy matchup combining the best the league has to offer. Wednesday night's match against Real Madrid offered that and, at least for the players on the field, the message was consistent: All-Star Games aren't about grand statements and league characterizations; they're about amusement and enjoyment within a once-a-year spectacle.
That's not to say Wednesday's match was the most exhilarating exhibition in recent memory. It wasn't. There was no Cristiano Ronaldo or Luca Modric. There were plenty of missed chances from a Real Madrid side playing within a mindset somewhere between preseason and playground. There weren't goals aplenty as many would have hoped. There was even an unfortunate injury to Greg Garza, one which will have the Atlanta United brass fuming.
Still, there were fun moments. There was another Dom Dwyer goal in a summer where he just keeps popping up. There was the chance to see David Villa go against his former bitter rival. There was the opportunity to see Bastian Schweinsteiger play alongside Kaka, a historic pairing of two of the generation's best midfielders.
For those involved, Wednesday was about fun and, despite the penalty kick defeat, the MLS All-Stars found it that way.
"I think it was a very interesting game for the spectators. Lots of chances," Schweinsteiger said. "Ultimately, in the end, it went to penalties. Hopefully, they were entertained and that's the most important thing."
"It was a bit surreal. It was exciting," Dwyer added. "We were unfortunate to lose on penalties, but it was a fun night."
That's not to say they didn't care. The MLS All-Star Game isn't all about fancy flicks and dream matchups. At the end of the day, any player at this level wants to win in everything from training drills to World Cup matches.
The MLS All-Stars wanted to win. Real Madrid, fresh off three preseason losses, wanted to win as well. There's a relaxed atmosphere, certainly, but there's still a desire to show well for yourself no matter what scenario you're in.
For a majority of the match, it was Madrid that showed well. The reigning European champions fired shot after shot, 18 of which came in the first half. They conceded chances, too, with Sebastian Giovinco and Villa creating the best of them, but Madrid was certainly the aggressor on the day.
Borja Mayoral finally broke through with a second half goal, and the introductions of Gareth Bale and Karim Benzema threatened to break the game open a bit more from there. Still, the MLS side found their goal as Dwyer fired home on a Dax McCarty rebound to level the match and force a spectacle within a spectacle in penalty kicks.
"What was good for me was the reaction," head coach Veljko Paunovic said. "We showed character and I think that the effort was appropriate and, overall, the image was good. At the end, when you get to the point where you have to go to PKs, it's not easy for guys that expended a lot of energy and that's it. So, I think they tried their best for sure. "
At the end of the day, what takeaways can you truly walk away with following Wednesday's match? It wasn't an indictment of the league, just like it wouldn't have been a true sign of progress if the MLS side thumped Real Madrid. It wasn't a true display from a real team because, at the end of the day, the MLS All-Stars aren't a real team. If you want to see where MLS stands, look at the CONCACAF Champions League, not a glorified friendly against a team trying to find the balance between getting fit and putting on a show.
What you can take away is the idea that the All-Star game is whatever you make of it. For many, Wednesday night offered a chance to bridge the gap between Europe an MLS, a chance to introduce new fans to a league still fighting for its own place among the Real Madrids of the world. It's a chance to offer something different, something unique and, hopefully, something fans enjoy.
One just has to think about how far the game has come. From a few thousand spectators watching an East vs. West showdown to over 60,000 fans packing Soldier Field to watch the world's best team, the All-Star Game has grown and grown, much like the league hosting it. If there is a sign of growth within this whole experience, it's that a Cristiano Ronaldo-less Real Madrid and an MLS All-Star Team can sell out a football stadium. No matter what your view is on the game in this country, aside from the league's first ever All-Star event,  that wasn't happening a decade or two ago.
There will be more All-Star Games and there will be more debates and people will discuss ad nauseam how much they care or don't care about the game. Now, the focus rightfully turns back to the regular season and the playoff push following a midsummer spectacle that provided another new experience for all involved.
"MLS is a really good level [of soccer]," Real Madrid boss Zinedine Zidane said."We've seen really good players tonight. We saw a good game. The fans enjoyed it and that's the most important thing."
"On the other side from my experience in soccer, when you lose the game in PKs, sometimes it returns," Paunovic added. "Hopefully, with the Chicago Fire in the final of MLS Cup."