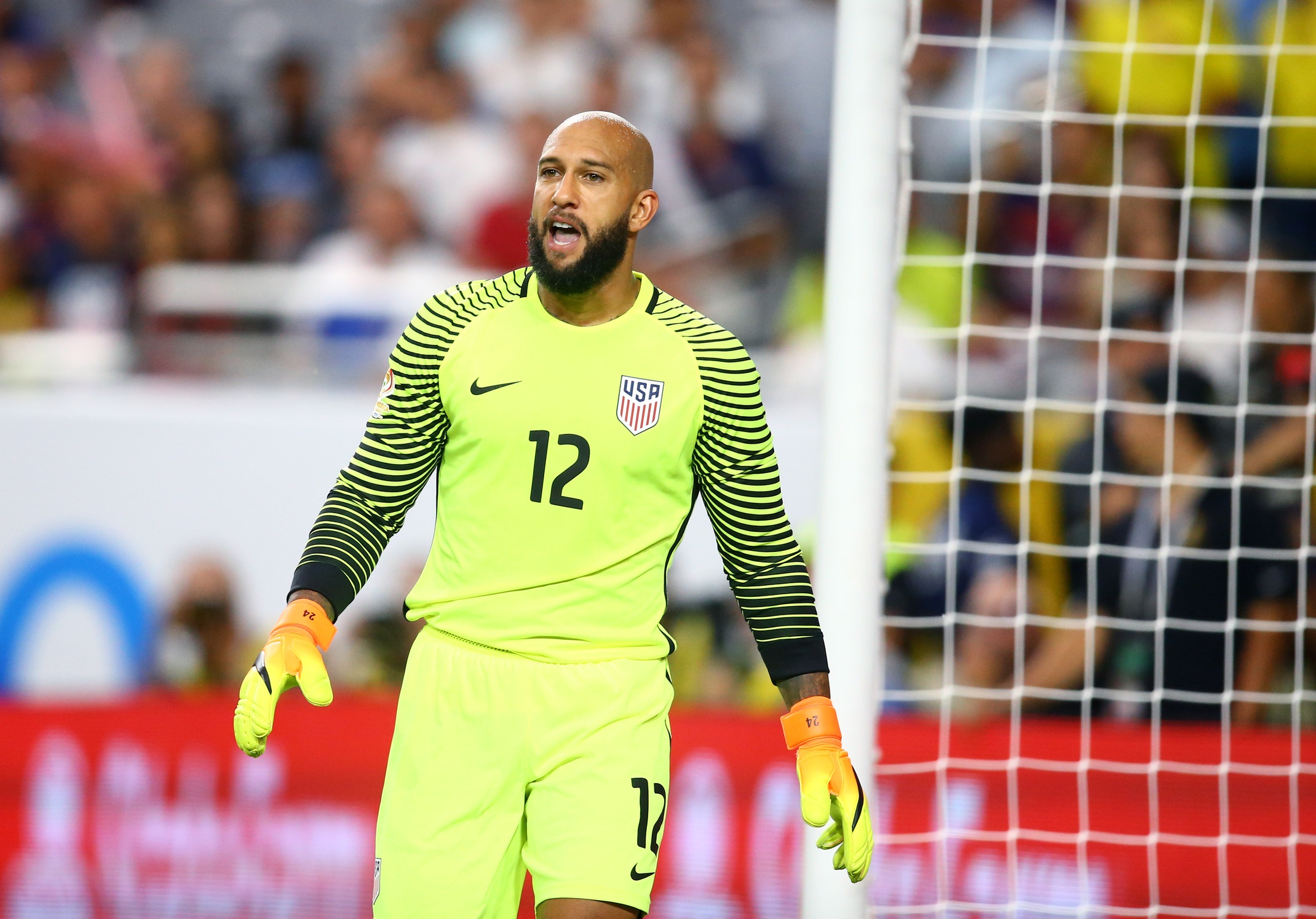 Tim Howard is 38 years old, and it's not a stretch to say he's nearing the end of his U.S. Men's National Team career. The man himself admits it. Time waits for no man, even at the goalkeeper position.
For now, though, Howard remains a vital part of the USMNT. He's the likely starter heading into vital matches against Costa Rica and Honduras, and it isn't just because of his experience or presence. Howard's role is about his current abilities in the here and now, as he remains one of the USMNT's two best goalkeepers despite his age.
The day will come, though, when he does have to step aside. As of now, he's not fully sure when that is, but he's also not dwelling on the idea either.
"With regards to my club career, I have two more seasons after this," the Colorado Rapids goalkeeper said. "That sounds about right. I'm sure there will be some people who want me out before that but if I can keep myself fit and healthy, at this stage, it's just about trying to stay healthy and being on the field. It takes up my time trying to do that.
"Internationally, I'm just trying to get through this game and the next. It's all about getting selected. It's all about getting this team to a World Cup and, hopefully, being in a World Cup. After that, who knows?"
Here's a closer look at some more USMNT news and notes:
ARENA, BRADLEY REFLECT ON TRANSFER MADNESS
This summer has been as wild as any in recent memory as transfer madness has taken over the European game.
Neymar's big move to Paris Saint-Germain was the first major domino of what turned out to be a wild summer. Ousmane Dembeme's big-money move to Barcelona came in its aftermath, taking away one of Christian Pulisic's close friends and teammates. It's been a summer of big money following several summers of big money as the transfer record was shattered yet again.
Michael Bradley has experienced the European transfer market, albeit on a much smaller scale. He was sold to Heerenveen from MLS before making the move to Borussia Monchengladbach in 2008. After joining Italian club Chievo Verona in 2011, he was then sold to Italian powerhouse Roma for a fee of  €3.75 million.
"(I have) great answer for you," Bradley said of the recent transfer drama. "It's the reality of the game and the world today. I'd imagine prices are going to keep going up."
Bruce Arena added that the transfer escalation "makes no sense" to him. It's a lot of money to move around, and a lot of pressure for players to live up to the major price tags.
That said, there are good parts to it all, according to Arena: the paydays.
"I'm sure Michael would like to play with that tag on his head," Arena joked.
"There are some good problems that come with it," Bradley added. "That's for sure."
HOWARD FULL OF PRAISE FOR COSTA RICA'S NAVAS
Tim Howard knows what it's like to be at a big club. He's experienced the pressure, the criticism and the politics of Manchester United. He's felt all of the off-the-field pressure that comes with everything that happens between the lines.
On the opposite side of the field on Friday, the USMNT faces another goalkeeper that's currently plying his trade at a big club, and Howard is certainly excited to see another shot-stopper from CONCACAF step up to that level.
Keylor Navas has had his ups and downs with Real Madrid, but those ups have been as high as they come. The Costa Rican star is a two-time UEFA Champions League winner, a two-time Club World Cup winner and a La Liga champion. Not bad, by any stretch.
During his time in Madrid, though, Navas has experienced everything that comes with playing for a world's top team. He's been linked with moves away from the club and battled for a starting spot, but he's lasted through it all. It's something Howard appreciates, having experienced something similar himself.
"They packed my bags and kicked me out of a big club," Howard joked of his time at Man United. "It was impressive for a guy from CONCACAF to go to a team like Real Madrid. In my position, I thought it was brilliant. Of course the jury is always out on how he's going to perform. He's only gone and won a couple of Champions Leagues. He's done very well there.
"He's a very good goalkeeper and he continues to grow in stature. I sit back and watch and I'm very impressed by what he's been able to achieve there."