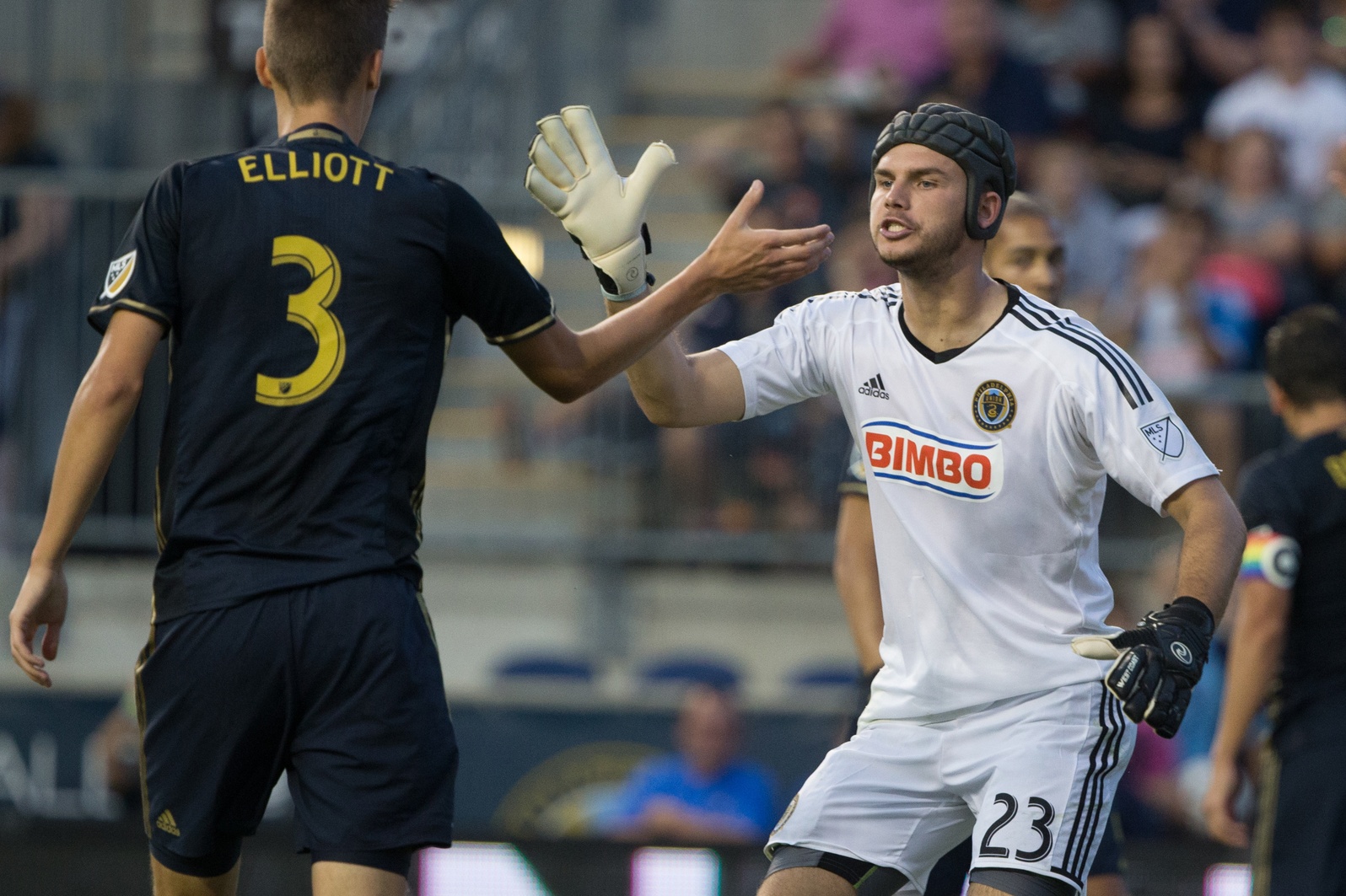 CHESTER, PA– When Andre Blake went down injured during the CONCACAF Gold Cup Final, John McCarthy was one of the few players left in the Philadelphia Union locker room that gasped at the play involving Blake and Kellyn Acosta.
Although Blake's injury meant McCarthy would be starting at least another two games in net for the Union, he felt bad for the Jamaican netminder, who has become one of his closest friends during his time at the club.
"I actually just stepped into the locker room," McCarthy said. "I was watching it for two or three minutes and he went down and then four or five guys were still left in the locker room and we all stepped up to the TV and went 'Holy Crap, this isn't good' because you could tell he was rolling over in some pain and he was covering his face. You could tell it was something serious and I felt really bad for him. You never wish that upon anybody, especially one of my good friends." 
Over the last month, McCarthy has filled in admirably for Blake while he was out at the Gold Cup. His first start of the season came in the 1-1 draw with Sporting Kansas City on July 6, a performance that was arguably the best of his career.
During his five-game starting span, which will move to six on Saturday against FC Dallas, McCarthy has earned praise from manager Jim Curtin, and even the player himself has noticed the difference from a year ago.
"I feel like I'm a better goalkeeper all around," McCarthy said. "I've learned to manage myself and not worry about other people and whether they are in the right or the wrong. I think it's been really good for me to control my emotions and never got too high or low on yourself because things happen. I think that's been a huge key for me to manage myself day in and day out and Oka Nikolov has been great with me about that. He's put a lot of confidence in me. I think that's been key for me." 
If he does continue to play well in goal, McCarthy might pick up interest from elsewhere, especially with plenty of expansion teams popping up in MLS and USL. He has considered the possibility of moving away from his hometown team because of playing time with Blake in front of him, but he's only focused on the playoff hunt at this point in the season.
"For me, you can't look too far ahead because I go back to my first year with the team," McCarthy said. "I came in as a third string and Rais MBolhi didn't work out too well here and lucky for me, but unlucky for Andre, he picked up an injury. I went from being third string to first string three games into the season and then I picked up a ton of games. If we were winning at that point in time and maybe we picked up a few more shutouts, it could've been a whole different story for me. It was a great time for me. I never expected to play and I got games. The same thing could happen in any point in time.
"You have to take it practice by practice, game by game, minute and minute and if the opportunity comes my way and it's the best thing for me and best thing for the club and we agree upon it, maybe I would take an opportunity somewhere else, but right now I'm enjoying my time playing with my hometown team," McCarthy said.
But for now McCarthy is enjoying his relationship with Blake and working on fixing the Union's current form, and with two home games in a row coming up, the opportunity is still there for the club.
"We're two games out of the playoffs," McCarthy said. "In my mind, that could be a lot or it could be a little. It depends on how you look at it. We have two huge games at home against FC Dallas and Montreal. You can't look past Dallas because that's the biggest game for us now. We have to get three points. There's no other way to put it."