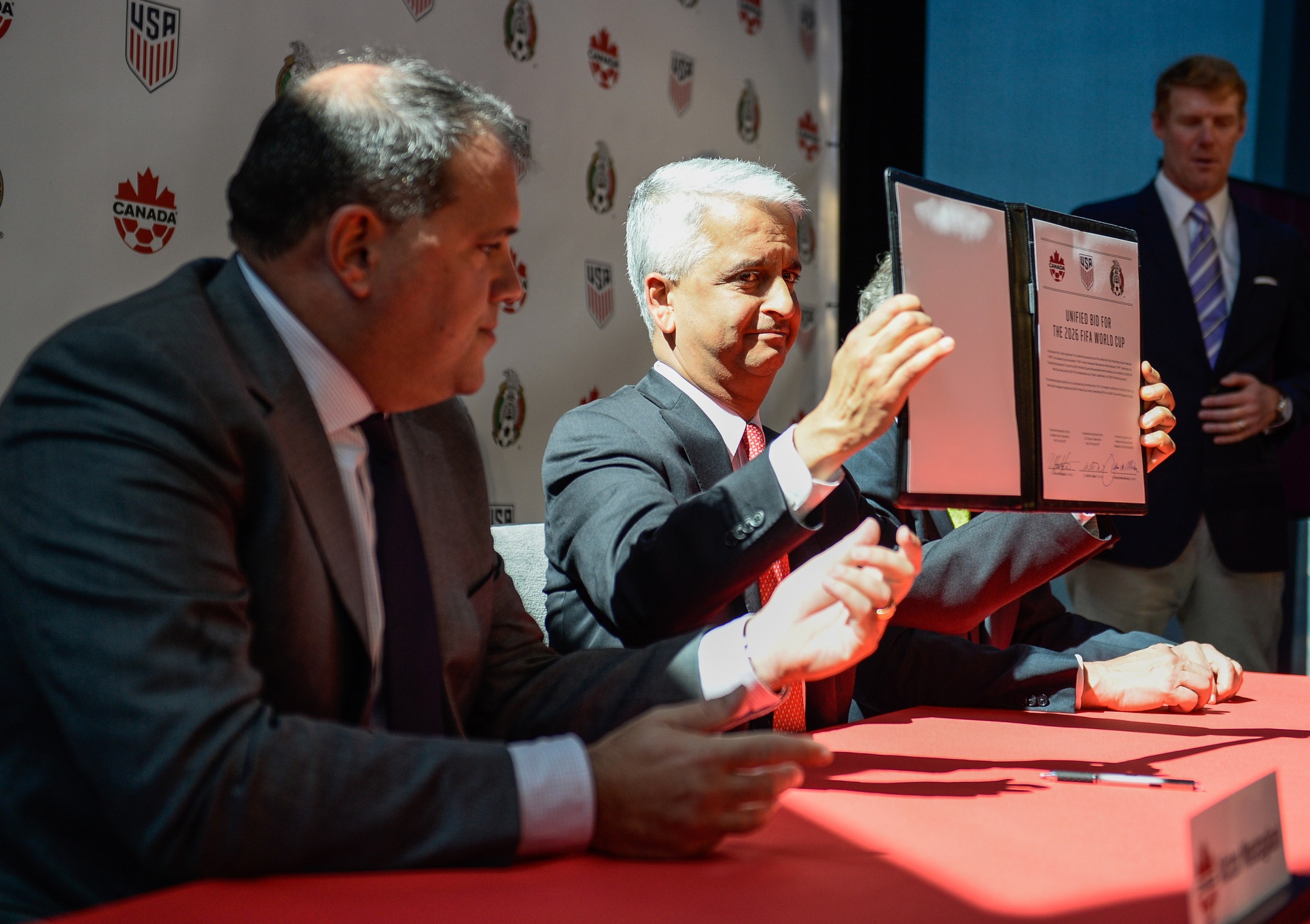 The united North American trio bid is starting to take shape.
On Thursday, the United Bid Committee released the list of 41 cities across the United States, Mexico and Canada officially submitted bids to serve as Official Host Cities for the North American pending bid of the 2026 FIFA World Cup. Of which, the United Bid Committee (UBC) will trim down to shortlist of cities later this fall.
Three cities dropped their contention since July, when the UBC did its first wave of outreach for potential bidding cities, San Diego, Green Bay and Calgary.
"The Host Cities will help define the United Bid, United Bid Committee Executive Director John Kristick said. "Each will offer the best facilities and infrastructure to stage the world's biggest single-event sporting competition, the FIFA World Cup, and together they will play a key role in the development of the sport in North America.
"We're thrilled with the submissions that we have received, especially each city's commitment to innovation and sustainability, and we look forward to bringing the best group of candidate host cities together for our official United Bid."
It expected that only 20 to 25 cities will make the final cut, which should be submitted to FIFA by the UBC come March 16, 2018. And if the United Bid is selected to host the 2026 FIFA World Cup over Morocco's bid, subject to FIFA's specification, a total of 12 cities will be ultimately be named Official Host Cities for the 48-team tournament.
Here is the list of the 41 cities that are in contention at the moment:
City
Stadium
Capacity
Canada (6 cities)
Edmonton, Alberta
Commonwealth Stadium
56,335
Montréal, Québec
Stade Olympique
61,004
Ottawa, Ontario
TD Place Stadium
24,341
Regina, Saskatchewan
Mosaic Stadium
30,048
Toronto, Ontario
BMO Field
28,026
Vancouver, British Columbia
BC Place
55,165
Mexico (3 cities)
Guadalajara, Jalisco
Estadio Chivas
45,364
Mexico City
Estadio Azteca
87,000
Monterrey, Nuevo León
Estadio Rayados
52,237
United States (32 cities)
Atlanta, GA
Mercedes-Benz Stadium
75,000
Baltimore, MD
M&T Bank Stadium
71,008
Birmingham, AL
Legion Field
71,594
Boston, MA (Foxborough, MA)
Gillette Stadium
65,892
Charlotte, NC
Bank of America Stadium
75,400
Chicago, IL
Soldier Field
61,500
Cincinnati, OH
Paul Brown Stadium
65,515
Cleveland, OH
FirstEnergy Stadium
68,710
Dallas, TX
Cotton Bowl
92,100
Dallas, TX (Arlington, TX)
AT&T Stadium
105,000
Denver, CO
Sports Authority Field at Mile High
76,125
Detroit, MI
Ford Field
65,000
Houston, TX
NRG Stadium
71,500
Indianapolis, IN
Lucas Oil Stadium
65,700
Jacksonville, FL
EverBank Field
64,000
Kansas City, MO
Arrowhead Stadium
76,416
Las Vegas, NV
Raiders Stadium
72,000
Los Angeles, CA
Los Angeles Memorial Coliseum
78,500
Los Angeles, CA (Inglewood, CA)
LA Stadium at Hollywood Park
TBD
Los Angeles, CA (Pasadena, CA)
Rose Bowl
87,527
Miami, FL
Hard Rock Stadium
65,767
Minneapolis, MN
U.S. Bank Stadium
63,000
Nashville, TN
Nissan Stadium
69,143
New Orleans, LA
Mercedes-Benz Superdome
72,000
New York/New Jersey (East Rutherford, NJ)
MetLife Stadium
82,500
Orlando, FL
Camping World Stadium
65,000
Philadelphia, PA
Lincoln Financial Field
69,328
Phoenix, AZ (Glendale, AZ)
University of Phoenix Stadium
73,000
Pittsburgh, PA
Heinz Field
68,400
Salt Lake City, UT
Rice-Eccles Stadium
45,807
San Antonio, TX
Alamodome
72,000
San Francisco/San Jose, CA (Santa Clara, CA)
Levi's Stadium
72,000
Seattle, WA
CenturyLink Field
69,000
Tampa, FL
Raymond James Stadium
73,309
Washington, DC (Landover, MD)
FedEx Field
82,000