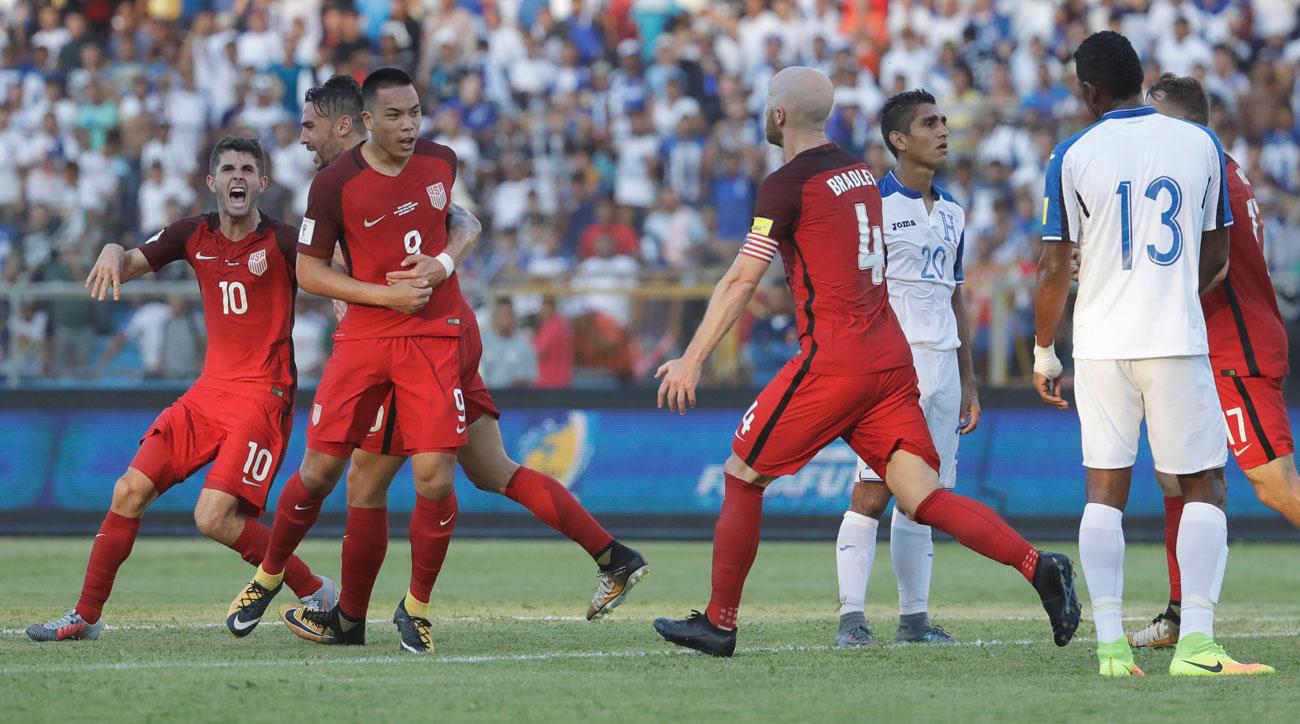 Tuesday's point wasn't enough to send the U.S. Men's National Team to Russia. It wasn't even truly enough to fully get feet back on firm ground. However, it was just enough for the USMNT to help their case in just the slightest bit.
Down a goal with time ticking away, Bobby Wood fired a vital goal in the 85th minute, sealing a 1-1 draw with Honduras in San Pedro Sula. The point keeps the USMNT level with Los Catrachos heading into the final two games, but ahead due to a massive advantage in goal differential. Panama may have leap-frogged the USMNT to take over third place, but the U.S. is on somewhat stable ground heading into the final two World Cup qualifiers.
A loss would have upended any of that, making the final two matches pretty much must-wins mathematically. But, with Tuesday's result. the U.S. can exhale just a little bit after stealing two points away from a team rivaling them for a World Cup berth.
"It's about finding a way to survive and dealing with everything that gets thrown at you and having a group that can hold up in the toughest moments," captain Michael Bradley said after the 1-1 draw. "Taking three points when you can take three, but finding a way to take one and keep other teams from getting three on other days. This is what it's all about."
"We know we have a lot of work left to do," added Jordan Morris. "It keeps it more in our hands now. We have two really, really big games. We have to go back to our clubs and get ready for those games in a month or so."
Were there difficulties on Tuesday? Yes. The conditions were brutal and the heat was crippling. It was a physical match, for both teams, and that physicality led to physical and mental mistakes throughout the opening 80 or so minutes.
The one that hurt the most? Omar Gonzalez's missed slide which opened the door for Romell Quioto's opener. For the second consecutive match, defensive mistakes threatened to doom the USMNT to defeat. Gonzalez's missed tackle put the U.S. in a precarious position both on the day and in the standings, adding a massive amount of doubt from the second the ball hit the post and trickled into the back of the net.
A switch to a three-at-the-back set midway through the second half changed the tone, inserting Geoff Cameron to sturdy the defense while taking away overmatched fullbacks in DaMarcus Beasley and Graham Zusi. Paul Arriola and Wood brought energy, adding a bit of life to a U.S. team that was forced into hoofing long ball after long ball into oblivion.
Eventually, it was Wood that provided the goal as he fired home in the USMNT's most complete and dynamic sequence. Kellyn Acosta's free kick, Matt Besler's header, Morris' flick. It was a team effort, one that produced the goal required to take a point away.
"It was a pretty big goal even though it wasn't the nicest," Wood said. "I'm glad. It would have been very difficult if we didn't come out with a tie. I'm glad that I got to help the team. That's all that matters. I'm just happy that we got a point."
Now, whatever happens in October will determine everything. It will determine a spot in Russia and what the last four years have truly meant for the USMNT. It will determine legacies and futures.
Tuesday's result may just play some small part in that, and it may just play a small part in getting the USMNT back on track and back to where they need to be. A win over Panama would be massive heading into the qualifying finale against Trinidad & Tobago. The U.S. will wait until that final day to learn their fate, one way or another, but they may just look back on Tuesday as a match that helped get them there.
"Clearly this was an important point for the U.S. team today," head coach Bruce Arena said. "The conditions were quite challenging for both teams and I'm really proud of our team and the way we hung in there and battled and walked off the field with a point.
"I'm sure the Honduras team is disappointing. Welcome to World Cup qualifying in CONCACAF."