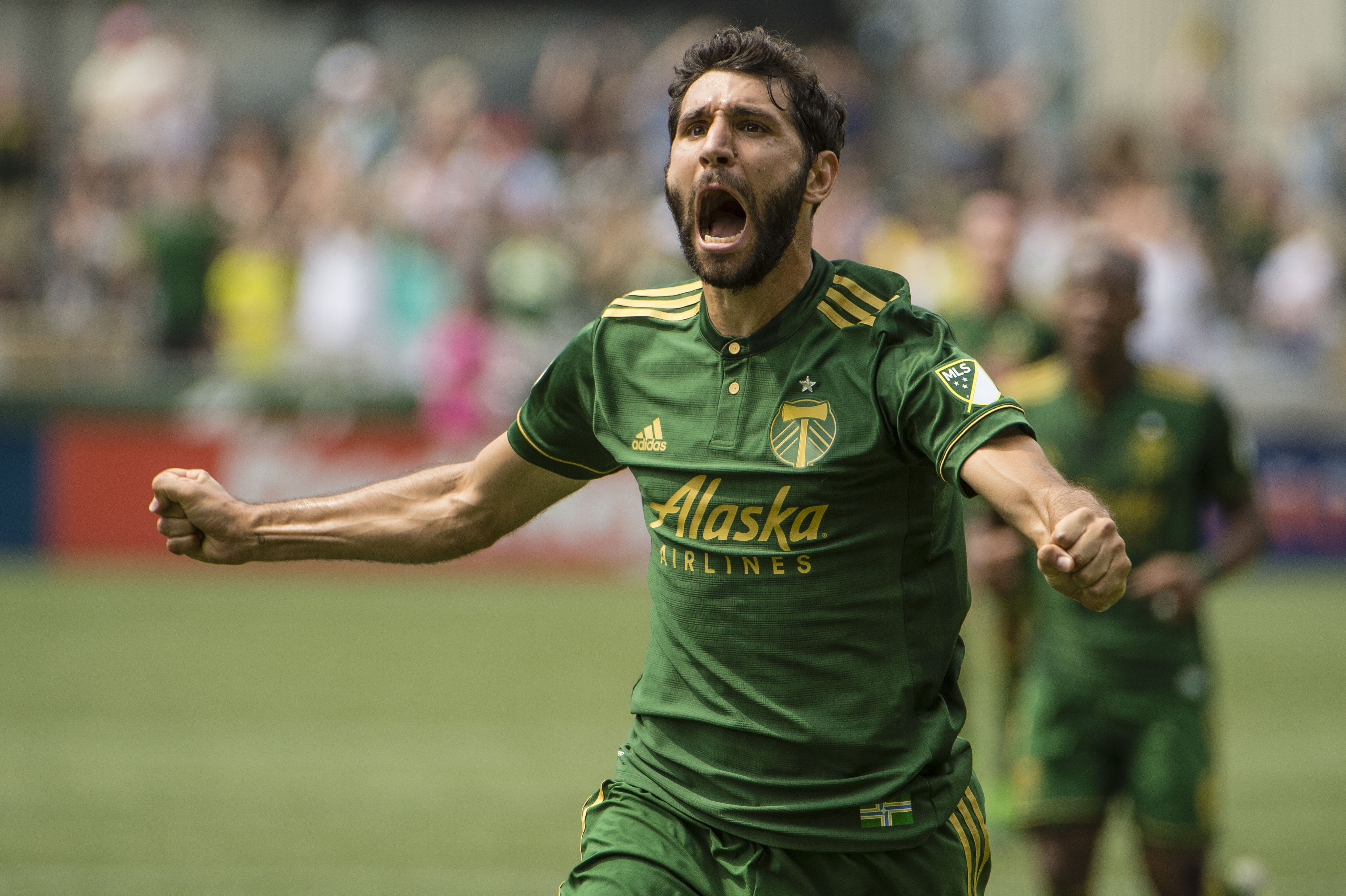 Diego Valeri has been a number of things throughout his time with the Portland Timbers. He's been a creator and a playmaker that's guided the team for several years. He's been a leader and a champion, marking himself as probably the franchise's most vital player throughout its MLS run.
Lately, though, he's had to serve a different role with Fanendo Adi out of the lineup. He's had to be a primary goalscorer, and it's a role he's taken to with ease while tying an MLS record along the way.
Valeri scored in his seventh straight game on Saturday night, leading the Timbers to a 1-0 win over New York City FC. The goal saw Valeri equal the record for the record for consecutive games with a goal, tying Raul Diaz Arce, Carlos Ruiz and Wolde Harris.
Valeri has always been a goalscorer. In his four previous MLS seasons, he'd scored double-digit goals three times. However, this season, Valeri has already eclipsed his previous career high of 14 goals with his 17th goal of the season on Saturday night.
"We have a lot of players in the middle and we have Adi who has been out for a lot of games," Valeri said. "We need a guy in the box running from the middle. I think that role comes from me. I can do that and I did it. The team has helped me create chances and score goals.
"I'm happy about that because of how the team has gotten points at this part of the season, which is the most important," he added. "I'm happy about the position we've gotten to in the table because we want to be in the playoffs. That's our goal. I'm happy about the individual performance but more about the collective performance."
The collective performance features Valeri as a focal point but, as the midfielder pointed out, there's many moving parts. It starts with the Argentinian No. 10, who has adapted to his role as forward-moving playmaker/goalscorer seamlessly in recent weeks while helping to connect the midfield to the forward four.
Diego Chara and David Guzman have developed as a partnership, and Timbers boss Caleb Porter was quick to praise Guzman's play just days after featuring in a pair of big matches for Costa Rica. The two do the dirty work, allowing Valeri and co. plenty of freedom while protected a backline that has been a revolving door throughout the season.
Alongside Valeri, there's Darlington Nagbe and Sebastian Blanco, two players with game-changing abilities in their own right. Nagbe is back in the fold ahead of a big month for both club and country while Blanco proved dangerous throughout Saturday's match.
Then, up top, either Adi or backup forward Darren Mattocks ties it all together. With the hulking Adi out, there's a bit more pressure on Valeri to get forward and provide support up top, and the reintroduction of Adi will only help to add to the bulk of weapons going forward.
Until then, though, Valeri remains the key piece due to both his defensive work and ability to simply provide big goals.
"He's scoring goals, but look at how hard he's working," Porter said. "The ground he's covered on both sides of the ball, if you're going to press, you need your 10 to start that pressure. The nine and 10 are the first line of defense. He buzzes around and when he buzzes around and our team is playing aggressive and on the front foot, we're able to get able to get in front and control games like we have on this run of form we've had, then he comes to life even more.
"He's in the final third more, and when he's in the final third, I don't know if there's a better guy in the league."
On Saturday, it was Valeri and the midfield that dominated the match and helped push the Timbers to victory. With NYCFC missing regulars in Yangel Herrera and Alexander Ring, the midfield area was there to be won. Their replacements, Andrea Pirlo and Tommy McNamara, bring nowhere near the defensive bite, and the Timbers made them pay.
Mattocks's hustle forced a Pirlo turnover, paving the way to Valeri's first half goal. For the next 60 or so minutes, the Timbers repeatedly dominated the midfield as Valeri, Blanco and Nagbe turned in big attacking performances that forced a whopping seven saves from Sean Johnson.
"We are improving a lot in the middle and getting that part of the field stronger. We think that is the way to manage the game," Valeri said. "Adding Chara and Guzman, we have five or six always there trying to press and dominate with the ball, which is important for us. I'm happy about seeing the way the team has played in the way we want.
"I'm happy with that. The pressure and the energy from the attacking guys, it's really important to dominate games and attack the space with aggressiveness. With the ball or without the ball. It comes from us. If I have to become a creator to assist, I can become that too, and I'm happy to do it."
The Timbers will be happy with their play over the last few weeks. They've lost just once over their last eight matches, with the lone defeat coming in a blowout to Supporters' Shield favorites Toronto FC. Other than that, they've taken care of business, even with Adi and Nagbe missing a chunk of matches throughout that run.
Now in first out West, the goal is to stay strong through the final five matches of the season and lock up a favorable postseason spot. That begins against Real Salt Lake as Valeri and the Timbers look to push their run even further.
"We have to think about Salt Lake and live every game as if its the last one," Valeri said. "That's the mindset: every game is the last one. Everyone wants to be in the playoff and we have to manage that. It's taking every game."