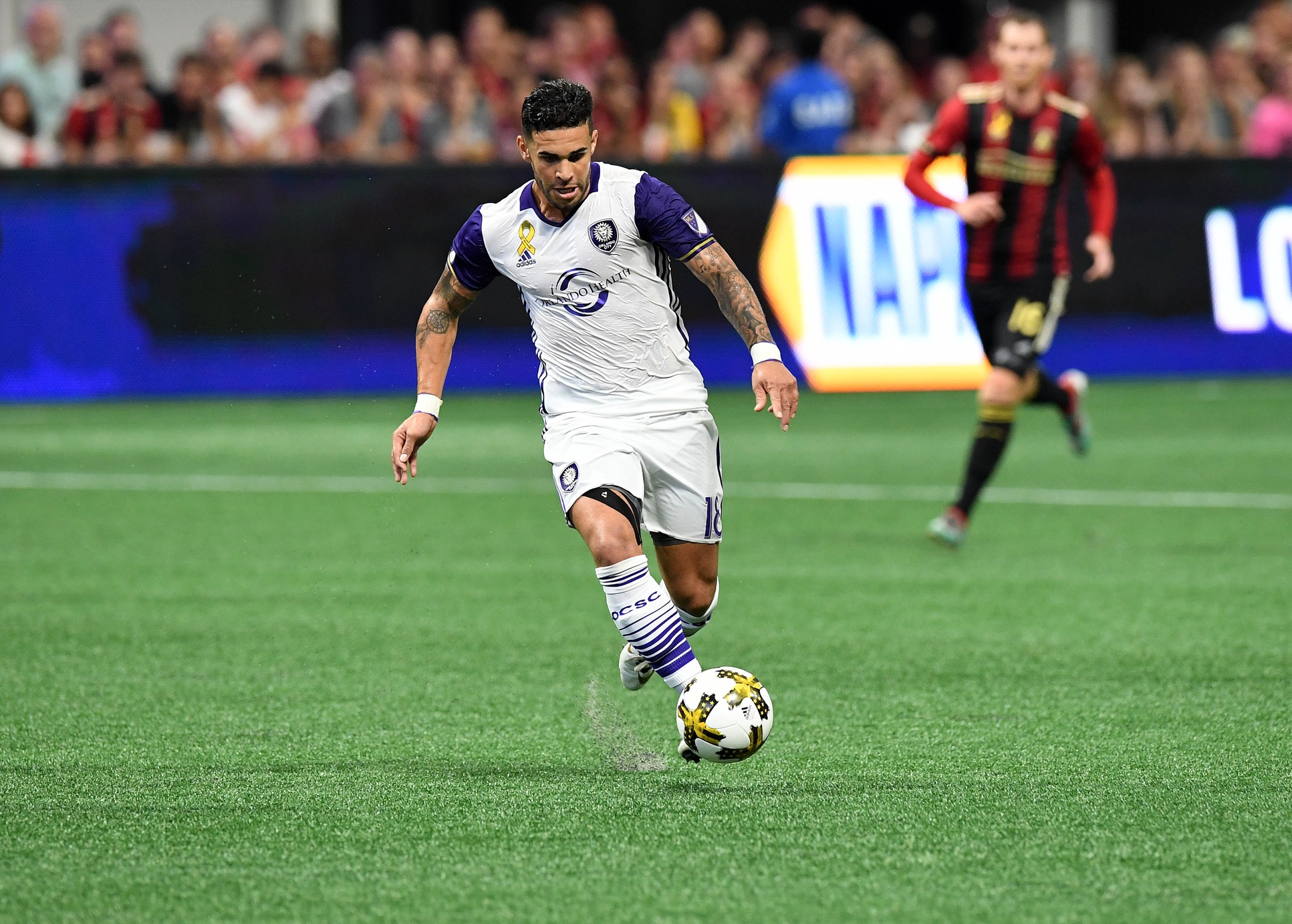 Good news has been hard to come by for the U.S. Men's National Team in recent weeks.
As injury concerns build up ahead of the October World Cup qualifying matches against Panama and Trinidad and Tobago, possible replacements are being looked at for each position.
At the forward spot specifically, Bruce Arena is in need of someone to step up with Jordan Morris out with a hamstring injury and Bobby Wood nursuing a knock to his knee.
Dom Dwyer's two-goal performance for Orlando City on Saturday couldn't have come at a better time for club, country and player. Dwyer ended an MLS goal drought of four months and 13 days with his brace against Atlanta United at Mercedes-Benz Stadium.
Dwyer had been dormant since his arrival from Sporting Kansas City, but he broke out in a major way during the 3-3 draw in which he also picked up on an assist.
And although you might want to point to Dwyer's struggles over the last few months in league play, you have to remember that most of the world's strikers are streaky, and unfortunately for Dwyer, his dry spell lasted longer than most would like.
But now it's time to look at the immediate future. Dwyer, who impressed at the CONCACAF Gold Cup in July before being sent home before the knockout round, has a golden opportunity in front of him and he struck a vein of form that hasn't been touched in quite some time.
From the club perspective, Orlando City is essentially out of the Eastern Conference playoff race, but a three-game stretch in the next week could be perfect for the USMNT as Dwyer has a trio of chances to bag more goals, starting on September 24 in Portland.
If we're being honest, Dwyer doesn't have a ton of competition for a roster spot, even if Wood regains fitness and takes up a spot on the 23-man squad for October. Dwyer was in direct competition with Morris for the final forward spot and October looks like he chance to impress Arena in a big-game situation.
Jozy Altidore and Clint Dempsey are still atop the depth chart, but what Dwyer brings to the table off the bench is something others in the talent pool simply don't have. Dwyer will bang and bruise in the final third against defenders, which is a perfect skill set to have with fresh legs off the bench in two games that will already be physical.
Although Chris Wondolowski has plenty of experience under his belt, he wouldn't do the same amount of damage to an opposing defense that Dwyer would if he got the call to enter a match.
And there's the added motivation that the qualifier against Panama will be played at Orlando City Stadium, which could be a further boost to the forward's confidence.
A lot of variables could go against Dwyer as well since Wondolowski does have the experience and Dwyer has never featured in a World Cup qualifier, which is a completely different type of match than a game in the Gold Cup.
But with the injuries mounting at forward and Dwyer hopefully finding the back of the net once or twice more in the next week, the USMNT could find themselves with a solid forward option off the bench that could make a difference in two must-win contests in October.