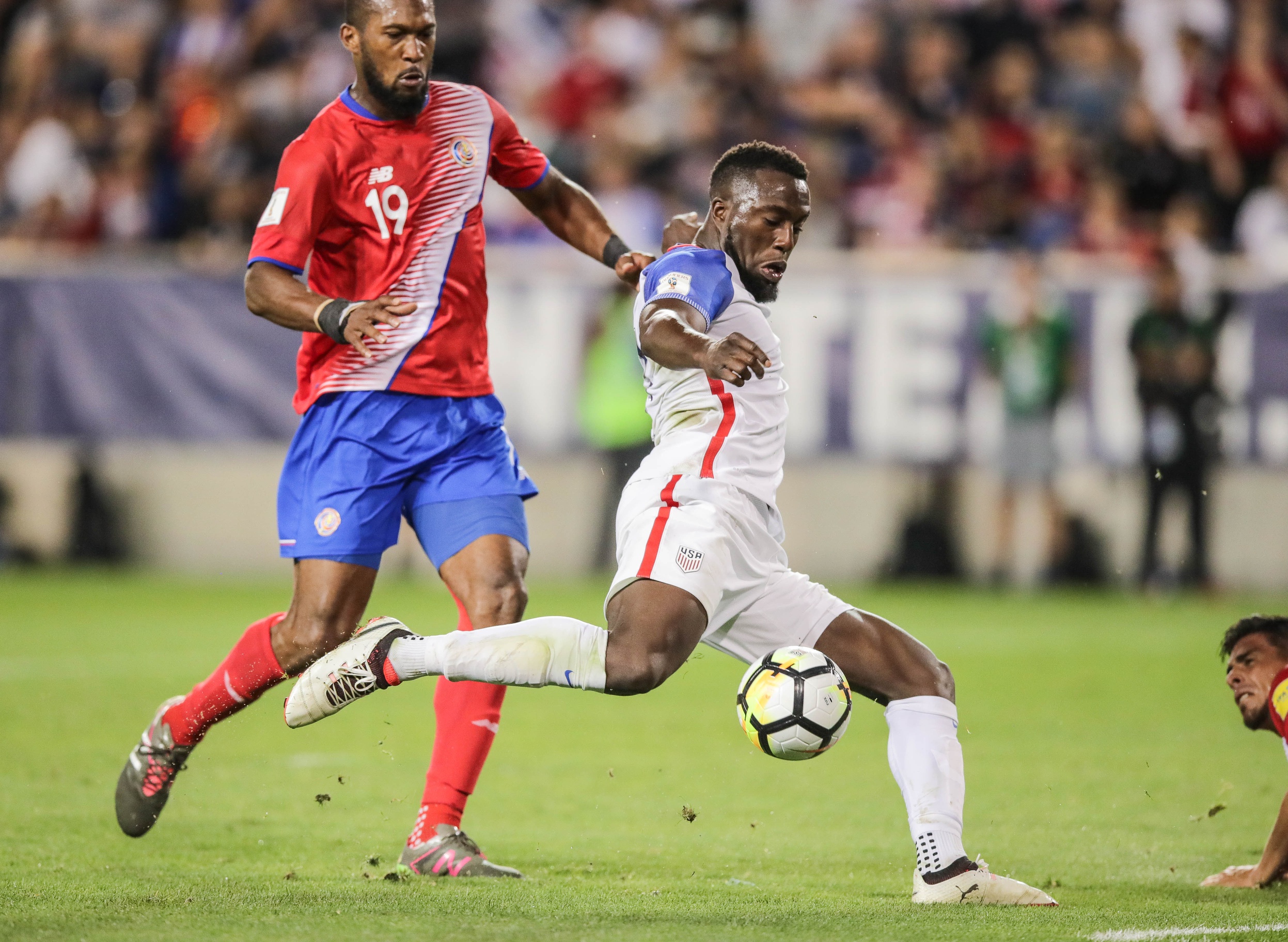 From the referee to the result, from Jozy Altidore's point of view, the U.S. Men's National Team's 2-0 World Cup qualifying loss to Costa Rica showcased classic CONCACAF.
The forward was booked in the 80th minute after an altercation with Johan Venegas and will miss the USMNT's next World Cup qualifier at Honduras on Tuesday. Speaking about the incident, Altidore did not hold back.
"He kicked out at me after the ball and I thought it was really soft. I just went up to him, didn't touch his face, I didn't put my hands up," Altidore said, adding that he did so intentionally,in order to avoid committing a yellow card offense.
Eventually, though, Venegas "goes down grabbing something." Altidore said "stupid things like that happen," but insisted that it was no big issue.
"It was ridiculous," he said. "Nothing happened. There's nothing there."
As for the referee's decision, Altidore found it to be "pretty disgraceful."
"There are key moments where you have to rely on the referee [and] his judgment," Altidore said. "It didn't go our way tonight with some of his calls."
"It is what it is."
On his suspension, Altidore said he's "disappointed," but has confidence in his teammates. The USMNT's forward pool is as deep as it has been in quite some time.
Bobby Wood was held relatively quiet by Costa Rica on Friday, but the Hamburg forward has done well on the club level. Clint Dempsey remains an option, as does Jordan Morris, whose speed could help a bunch against Honduras
"We have a lot of really good talent," he said.
The forward also addressed the result, saying that the U.S. team was "second best." He added that Costa Rica were successful in trying to absorb pressure and then hit  on the break to score goals something he admitted that his team has done in the past. He said you have give credit where credit's due, and Costa Rica deserved credit.
In general, Altidore felt that the result should not be as big a surprise as some might think.
"Whenever anyone says CONCACAF is easy, whatever, it's not as easy as you think," the forward said. "You can never let your guard down."
The result, though, may be a bit shocking considering the fact that this U.S. team had faced Costa Rica just little over a month ago in the Gold Cup, where the scoreline was the opposite.
"We played the same exact team," Altidore said. "We seemed to have no problems then."
Several weeks, though, made a lot of difference for the two sides. Altidore admitted that, in CONCACAF, you have to keep improving. Obviously now improvement is the aim for the USMNT with three matches left to secure qualification to next summer's World Cup in Russia.