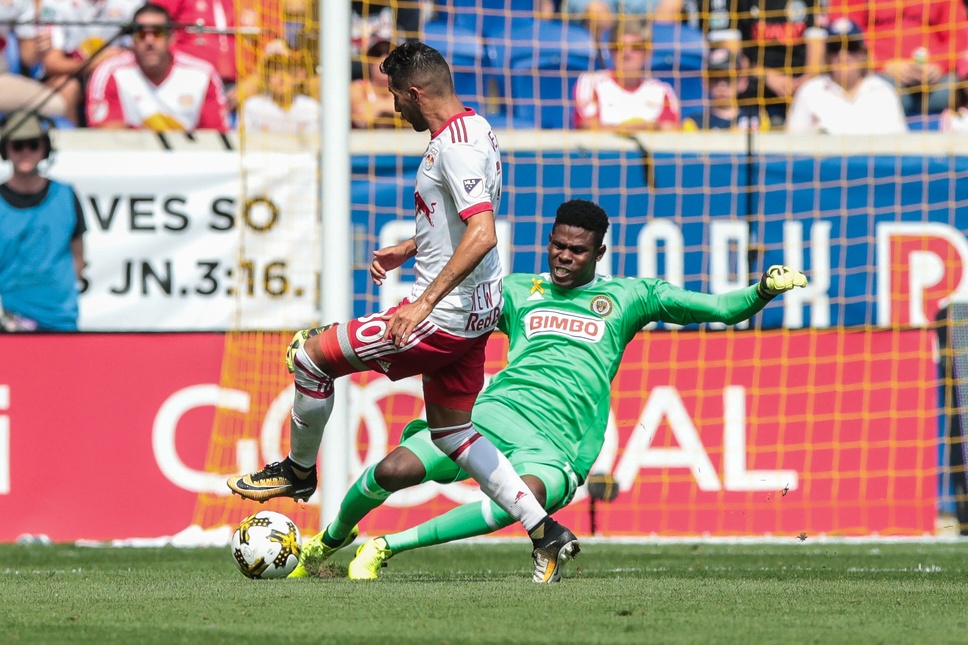 The New York Red Bulls rested a number of first choice players for Sunday's match against the Philadelphia Union ahead of the U.S. Open Cup final this week and failed to pick up the result at home.
With the Red Bulls best playmaker and goalscorer on the bench for much of the match, the Union earned a hard-fought road result 0-0 at Red Bull Arena.
Even with their 'B' squad on display, the Red Bulls dominated the first half of play, outshooting the Union 12 to 1. The attacking trio of Gonzalo Veron, Derrick Etienne, and the newly signed Muhamed Keita played at a breathless pace, causing fits for the Union backline. It was largely the work of Andre Blake in-goal for the Union that kept the match scoreless at the half.
Philadelphia weathered the storm in the first half, then moved up the field to start the second. The increased dalliances into the attacking half led to a greater number of opportunities for the visiting side.
Louis Robles came up big for the Red Bulls in the second half in the 63rd minute. Chris Pontius stripped Michael Murillo in the Red Bulls half and broke in on goal. Robles sprung off his line and stripped Pontius of the ball. (The save preserved the shutout for the Red Bulls.)
In an effort to find a result, Jesse Marsch inserted three regular starters throughout the second half. Sacha Kljestan, Bradley Wright-Phillips, and Tyler Adams entered the game. The Red Bulls attack reawakened with the fresh legs and began to look dangerous again.
With the scoreless draw, the Red Bulls (12-10-6) remain in sixth place in the Eastern conference heading into Wednesday night's U.S. Open Cup final against Sporting Kansas City. The Union (8-12-9) will likely be satisfied with the road point as a bright spot in a difficult season.
Man of the match
Gonzalo Veron worked hard throughout  out his shift and probably deserved a goal for his efforts.
Moment of the match
Andre Blake's double save on a Sacha Kljestan free kick that seemed destined for the back of the net kept the Union from dropping points.
Match to forget
Alex Muyl had ample opportunities to create from the wing but seemed a step off all game long.