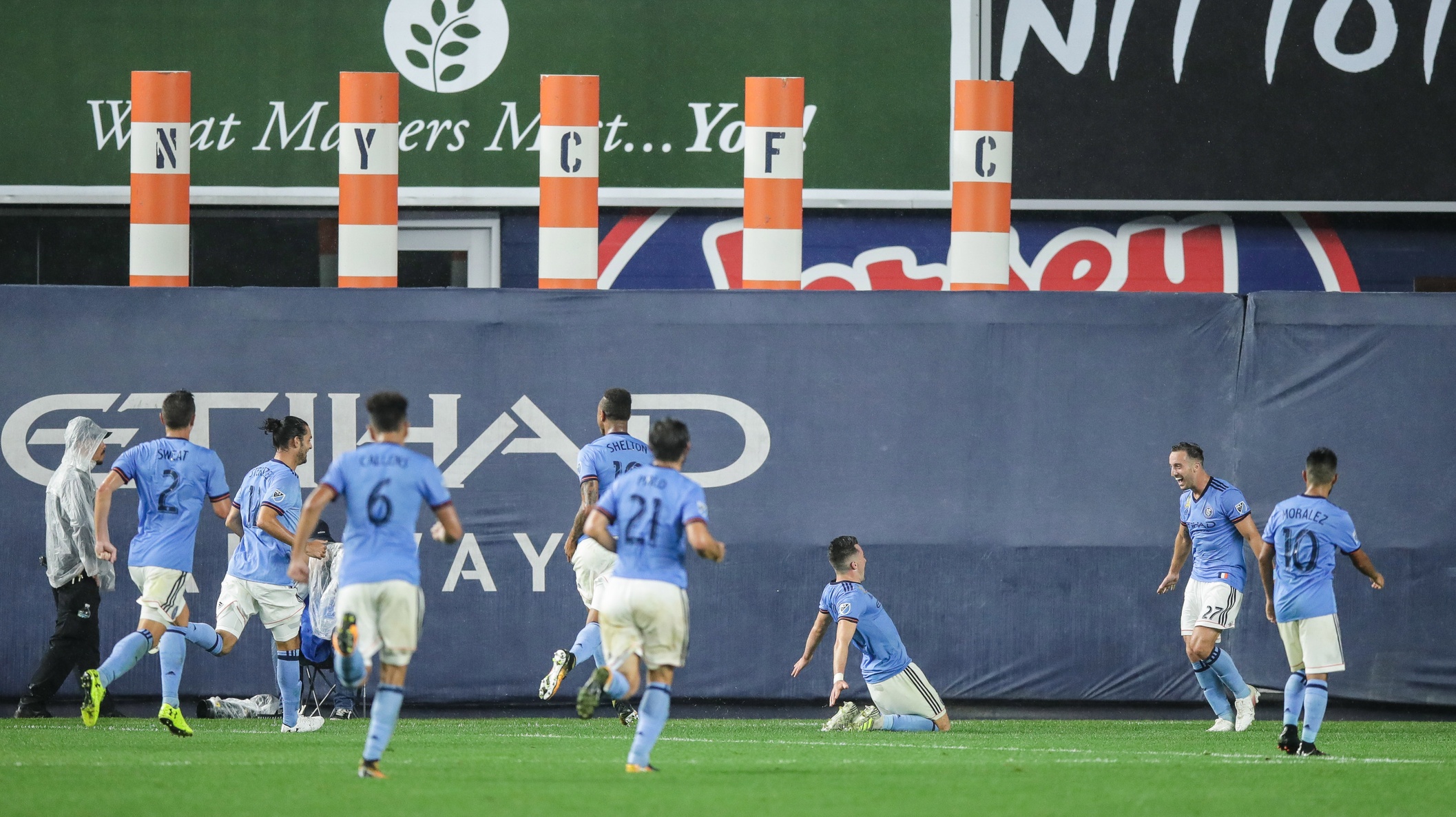 In August, Patrick Vieira conceded the Supporters' Shield to Toronto FC. They were just too far ahead, he said, and catching them this late in the season just wasn't going to happen.
Maybe, just maybe, he spoke too soon.
With Wednesday's win over Sporting KC, the shorthanded NYCFC pulled within six points of TFC atop the Eastern Conference. With seven games left in the season, NYCFC will need Toronto to stumble, and the club hasn't done that since July 1. However, NYCFC's players are holding out hope that wins like Wednesday's can help them keep the pressure on the Canadian club.
"Yeah, I think anything is possible, yeah," said Jack Harrison, who scored the game-winning goal in Wednesday's 1-0 win. "We just want to get as many points as we can going into the end of the season."
"We are not really honestly too focused about the Supporters' Shield race," added goalkeeper Sean Johnson. "If we take care of business and do what we have to do for the next seven games it will put ourselves in a good position come the end of the year."
NYCFC furthered that position with a big performance on Wednesday evening. With David Villa, Alexander Ring and Yangel Herrera headlining a list of players out of action, NYCFC were forced to rely on depth. Two goalkeepers were named to the bench to make up the numbers while younger players like Jonathan Lewis and Sean Ugo Okoli joined the seldom-used Andrea Pirlo in the lineup.
It was a tough task, as they faced Sporting KC's league-leading defense, even if the unit was without Matt Besler and Graham Zusi. The shorthanded NYCFC attack created several chances throughout the match, and should have had a goal if not for an accidental Khiry Shelton clearance off the line.
Eventually, it came, as Harrison fired NYCFC into the lead in the 84th minute, extending NYCFC's home unbeaten run with a 10th consecutive result at Yankee Stadium.
"It took a lot of weight off my shoulders," Harrison said. "Going into tonight a lot of the guys realized that we had to step up because we were missing a few stars. I think everyone did well and we didn't put too much pressure on ourselves and everyone remained calm and tonight was an accumulation of everything we have been working on."
"David is our captain. He's the best player in the league, so obviously we're going to miss that," added Tommy McNamara. "But it is what it is. These things happen in soccer and it wasn't going to be an excuse for us. It was always going to be that the next person comes in and we believe in who we put on the field. And I think that everybody worked incredibly hard and I think that everybody preformed incredibly well today."
Now, the task is replicating that form on short notice. NYCFC host another contender on Saturday when the Portland Timbers come to town, providing yet another test. The good news? Villa may be available, headlining a list of reinforcements that could lessen the physical burden of a double game week.
"David did an exam yesterday and everything's come back clear," said Patrick Vieira. "We just have to see how much he can do in training tomorrow, how much he can do on Friday, to see if he's going to be fit enough to play the game on Saturday."
With or without Villa, NYCFC have to simply keep winning. Even if the Supporters' Shield is out of reach like Vieira previously said, the race in the East is tight, and securing a top two spot would secure a much-appreciated bye when the playoffs start.
Until then, they have seven big matches to navigate, and the players feel that Wednesday's performance shows they have the depth to withstand any late season tests.
"We are not looking too far ahead," said Johnson. "We know that there are seven games left in the year. Every game matters. Everybody knows that we have a strong group. Now we are getting to see the depth and what guys are all about."