For the better part of three years, the New York Red Bulls have been working on a culture change. For years, the club was constructed around big names and international stars but, from the moment Jesse Marsch was hired in January 2015, the shift turned towards youth.
Over the past three seasons, the Red Bulls have tinkered their way towards a vision and, with the 2018 season set to begin, Marsch says the vision is starting to come through.
"Here we are in year four and I feel strongly that this team is, in a pure style perspective in terms of a player pool, this is the closest we've been to being able to having a group of players that can play the way we want to play," Marsch told SBI.
"It may not be the most talented group. I'll be the first to admit that when you start talking about some of the older, talented players that aren't here anymore. We're looking for the blend of hunger, fearlessness, players that play the way we want to play and, overall, chemistry that make us the team that we really want to be."
Finding that blend led to some difficult decisions. For the second straight season, the Red Bulls traded away their captain as Sacha Kljestan was moved to Orlando City. Veteran presences like Sal Zizzo, Mike Grella and Damien Perinelle are also gone.
In their place comes youth and plenty of promise. From big money signing Alejandro Romero "Kaku" Gamarra to MLS imports Tommy Redding and Carlos Rivas or even returning face Amando Moreno, the Red Bulls have rebuilt with one focus in mind. It's a team that's built around energy and, when the time comes, unleashing that energy in pursuit of yet another playoff push.
"As I look at this next generation of players led by Sean Davis and Tyler Adams, it's a very talented group," goalkeeper Luis Robles told SBI. "It's a group that's tenacious and there's a certain degree of fearlessness that, in a way, I envy…When you have those guys and that level of talent in your locker room, it's wise to see if you can unlock it and not only foster it but catapult that group forward."
Here's a closer look at the 2018 New York Red Bulls:
New York Red Bulls Season Preview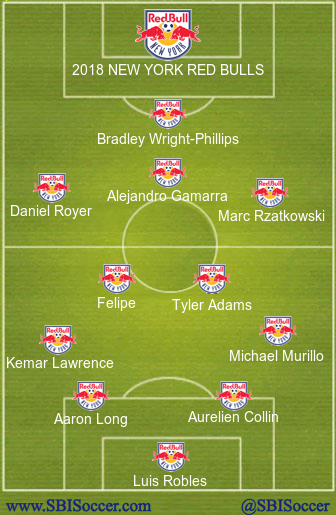 2017 FINISH: 14-12-8 (6th in the East)
KEY ACQUISITIONS: Alejandro Romero "Kaku" Gamarra, Cristian Casseres Jr., Mark Rzatkowski, Tommy Redding, Carlos Rivas, Amando Moreno
KEY LOSSES: Sacha Kljestan, Sal Zizzo, Mike Grella, Gonzalo Veron, Damien Perinelle
NEWCOMER TO WATCH: Alejandro Romero "Kaku" Gamarra
The Argentinian star heads to the Red Bulls with plenty on his shoulders following a prolonged transfer saga. Tasked with taking over the No. 10 role vacated by Sacha Kljestan, "Kaku" is expected to provide a very different presence. The former Huracan midfielder's energy makes him as valuable as his playmaking ability, although he's no slouch when it comes to the latter. He'll need to up his production a bit after scoring eight goals and providing 13 assists in 95 matches with Huracan but, at just 23-years-old Gamarra is one for the present as well as the future.
PRESSURE IS ON: Tyler Adams
2017 was a massive year for the young midfielder, but 2018 promises to be even bigger for a player that just turned 19 years old. Even at such a young age, Adams' mentality and composure have shined just as much as his energy and presence in the heart of the Red Bull midfield. Adams will have to deal with major expectations for both club and country throughout the 2018 season as he looks to take the leap from prospect to bonafide star.
Outlook:
From the moment Luis Robles joined the Red Bulls in 2012, he felt the weight of expectations. For a variety of reasons, the Red Bulls have always been expected to succeed. Whether it's the New York market or a history of star-studded teams featuring global icons like Thierry Henry, Tim Cahill, Lothar Mattheus and Rafa Marquez, the Red Bulls have long played under a different set of guidelines than most MLS teams.
Those stars and the mentality that brought them to Giants Stadium and Red Bull Arena are long gone, but the pressure remains, especially after several seasons of so close and not quite.
"There is an expectation within this fanbase that we're going to do big things. The playoffs is almost like the minimum," Robles told SBI. "Over the years, we've experienced team success in the Supporters' Shield a couple of times, and yet, we continue to fall short when it comes to winning the big one. That hasn't necessarily deterred us or discouraged us. It just leaves us wanting more."
This offseason, the Red Bulls' goal was to get younger, for a variety of reasons. Chief among them was to implement a style of play that the team had been slowly building throughout Jesse Marsch's tenure.
Since Marsch took over in 2015, the Red Bulls have played high-pressure soccer. They've pressed and moved and then pressed and moved some more. The team plays a young man's game, and in 2018, they have the ability to turn the press all the way up to 11.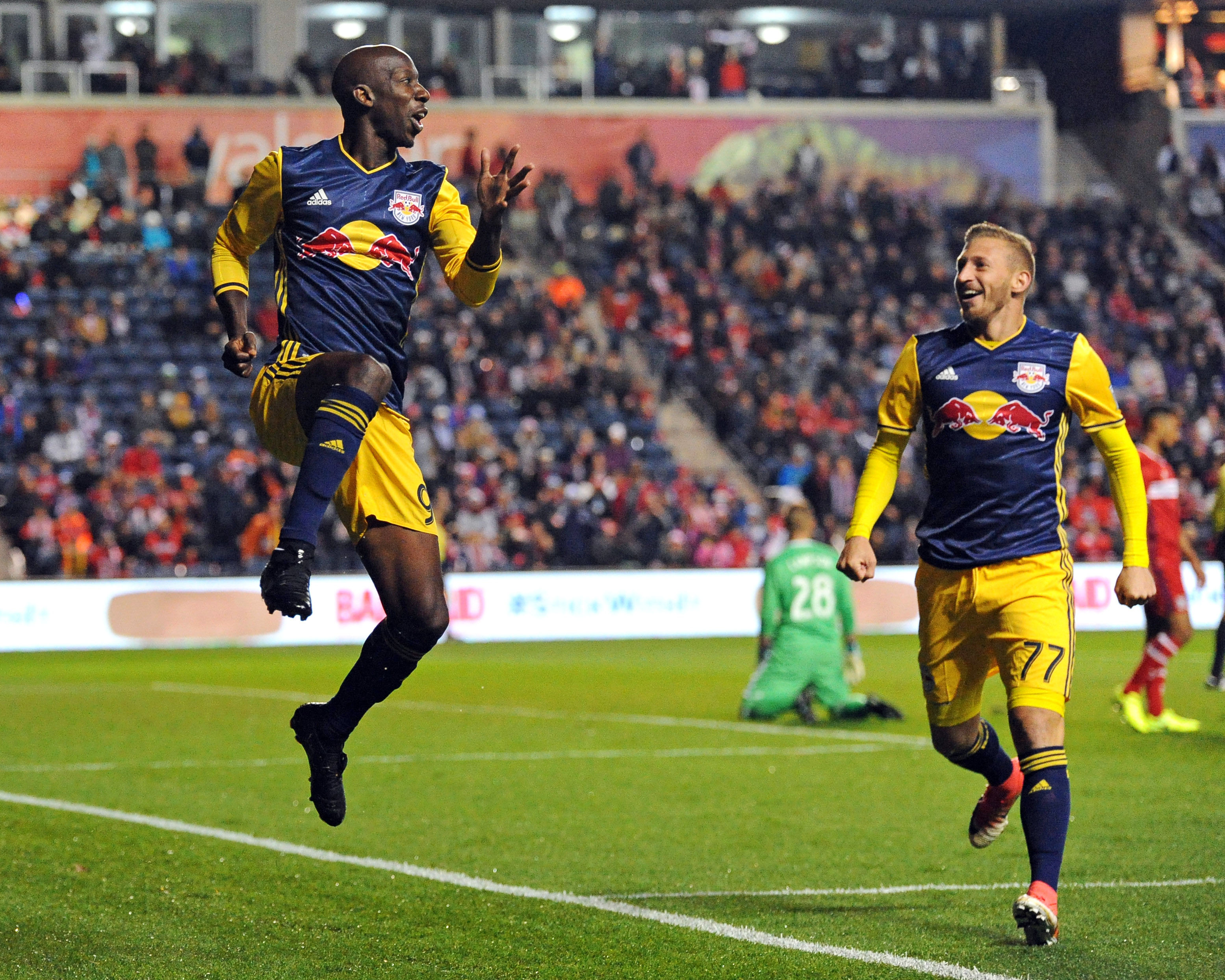 Star striker Bradley Wright-Phillips joins Robles as the veterans of a group that is now heavily reliant on a number of young players. Tyler Adams, for many, is the key. The 19-year-old midfielder is a player that epitomizes the Red Bull way. He's a local, Homegrown product that brings immeasurable energy and pressure to the midfield. Adams is a player that has been built to fit into this Red Bulls system, and he's not the only one.
In Robles eyes, the rest of the Red Bulls' young core is a bit overlooked. Adams is always going to be the star given the accolades he's amassed in his young career, but there are plenty of talented pieces. There's a vital cog in Sean Davis and another bundle of energy in winger Alex Muyl. There's last year's breakout star in Aaron Long, a player that looks like he could be an anchor in defense for years to come.
The key is to grow that young core and develop them in a way that leads to future success. Then it's all about putting the right pieces around it, pieces like Alejandro Romero "Kaku" Gamarra. Gamarra fits the Red Bulls' push perfectly. He's young, talented and full of promise and, after an extended stop-and-start transfer saga, the Red Bulls are confident they found the right piece to connect it all together.
"The job is to find players that inherently want to play the way we want to play, and that's where Kaku joined the conversation," Marsch said. "The more we watched him, the more we saw him run and press and counter-press and make it hard on the opponent, not just through his football but through his work ethic and commitments against the ball. Finding a No. 10 or a playmaker that can do all of the things that normal playmakers do but also add the aspect of doing things without the ball, that's not an easy combination to find. We got really excited when Kaku came onto our radar.
"I'm glad that it's done," he added. "It's much later than we would have liked because we have some catch-up to do with him physically and integrating him into the team, but the bottom line is that he is here and we can start the process."
That process involved some difficult decisions. Veteran Sacha Kljestan, the team's captain last season, was moved to a conference for in Orlando City. With him goes a three-season total of 41 assists, good for the best in MLS during that timespan.
The Kljestan trade, and the Dax McCarty one before it, were major signs of faith. They were signs that the organization felt players were ready to step into leadership roles sooner rather than later.
"Any time you lose a player like Sacha, just like the previous year where we lost Dax, it's going to be a difficult transition because we're talking about a player that is talented and was a big part of what we were doing," Robles said. "He also brought on extra leadership and presence in the locker room. For us, it's not necessarily replacing it or trying to replicate it. It's about focusing on what we have. This is why management was able to make that transition, and it was a very difficult decision.
"You can't just find another Sacha Kljestan, but they looked at the group and felt that they had players that, through different strengths and weaknesses, could carry this group forward. It's not just about losing Sacha, but also this narrative of what is in the locker room. As a veteran, what I'm looking to do is bring wisdom and guidance and empower this next generation."
There are certainly still question marks. The team will only go far if players like Adams and Gamarra take the steps many foresee them taking. But they're far from the only players that need to step up.
If there is one major question mark with the Red Bulls, its likely the defense. Long was a breakout star last season for sure, but he'll need to replicate that form again in Year 2. Aurelien Colin, the defense's main veteran, played just nine games last year. Michael Amir Murillo, the projected starting right back, will likely miss time this summer to join Panama for the country's first World Cup berth.
Players like Tommy Redding will need to step up. Redding, a piece acquired in the Kljestan trade, brings an impressive pedigree of youth national team experience. However, the 21-year-old defender never truly locked down a starting spot in Orlando.
Robles says the key for new pieces like Redding is to take in information day by day. The Red Bull organization plays a style that is unmatched by most teams in world soccer. Marsch says that's a reason the club liked to work with sister clubs in Leipzig and Salzburg on transfers as moving within the organization brings a certain level of familiarity when it comes to on-the-field style.
"In big games, we performed. Open Cup elimination and playoff elimination games, we performed," Marsch said. "We played fearless and we went after it in a manner in which I've tried to build this team for the three years in which I've been here. You'd have to go back to even the USL championship year. When I would watch that team play, I could see there were qualities and players within that team that knew how to rise to the challenge. It made me think then about how to integrate those players into the first team and do it quickly."
There are a lot of things that will need to happen for the Red Bulls to achieve the goals they set out for themselves. The offseason risks will need to be rewarded in a big way. Young players will need to step up and veterans like Robles and Wright-Phillips will need to retain the form that has made them two of the league's most consistent presences.
If everything hits, the Red Bulls expect to find themselves playing deep into the fall once again. For years, the club has rebuilt and reshaped itself to fit a vision, all while coming close to glory along the way. Eventually, that vision will need to manifest itself into something tangible, and the hope within the organization is that something finally shows in 2018.