As the U.S. Women's National Team has collected accolades over the course of 2018, the team's offensive players have stood out. Scoring in each of the team's 19 matches this year, it has almost always seemed like an eventuality that the USWNT would score. The front three has enjoyed as consistent a year as comes, with few players more reliable than Megan Rapinoe.
Head coach Jill Ellis's first choice at left forward, she's enjoyed a career year with the national team, picking up seven goals and 10 assists in 16 matches. Whether providing a frequent outlet on the left flank for her teammates, or through set pieces, the Seattle Reign player has been instrumental to the team's offensive strategy, and perhaps its greatest strength.
The approach is oftentimes intense, as was on display at the Concacaf Women's Championship. The team scored in the opening 10 minutes of each of its five games of the tournament, which Rapinoe said was by design.
"We try to put teams under pressure and make them uncomfortable and just almost generate a false sense of momentum and try to just get on teams right away," the forward told SBI Soccer. "It's difficult to deal with. When you're just starting the game, you want to get a rhythm and want to get a few passes strung together, and not have a bunch of crazy people sprinting at you. It can be difficult to get a rhythm, and I think that's how we try to get our rhythm as well."
The ability to capitalize on set pieces was also easily spotted not just during the tournament, but during the USWNT's 2018 schedule. As the team has started to add it to its repertoire, the players have quickly made a habit of scoring from set pieces, and Rapinoe has been a crucial part of that process. Almost always the starting point of any set piece routine, she has played a part in several of the team's goals from that position.
"I think consistency is probably the most important thing across the board," Rapinoe said about executing an effective set-piece routine. "Consistency of the service — not only good service, but in a predictable area, and then having runs in consistent areas. … It's definitely something we work on a lot. We understand that we're in the final third a lot. We're getting corners. We're dynamic, whether it's fouls or whatever, but we get quite a few corners, so we might as well try to capitalize on those."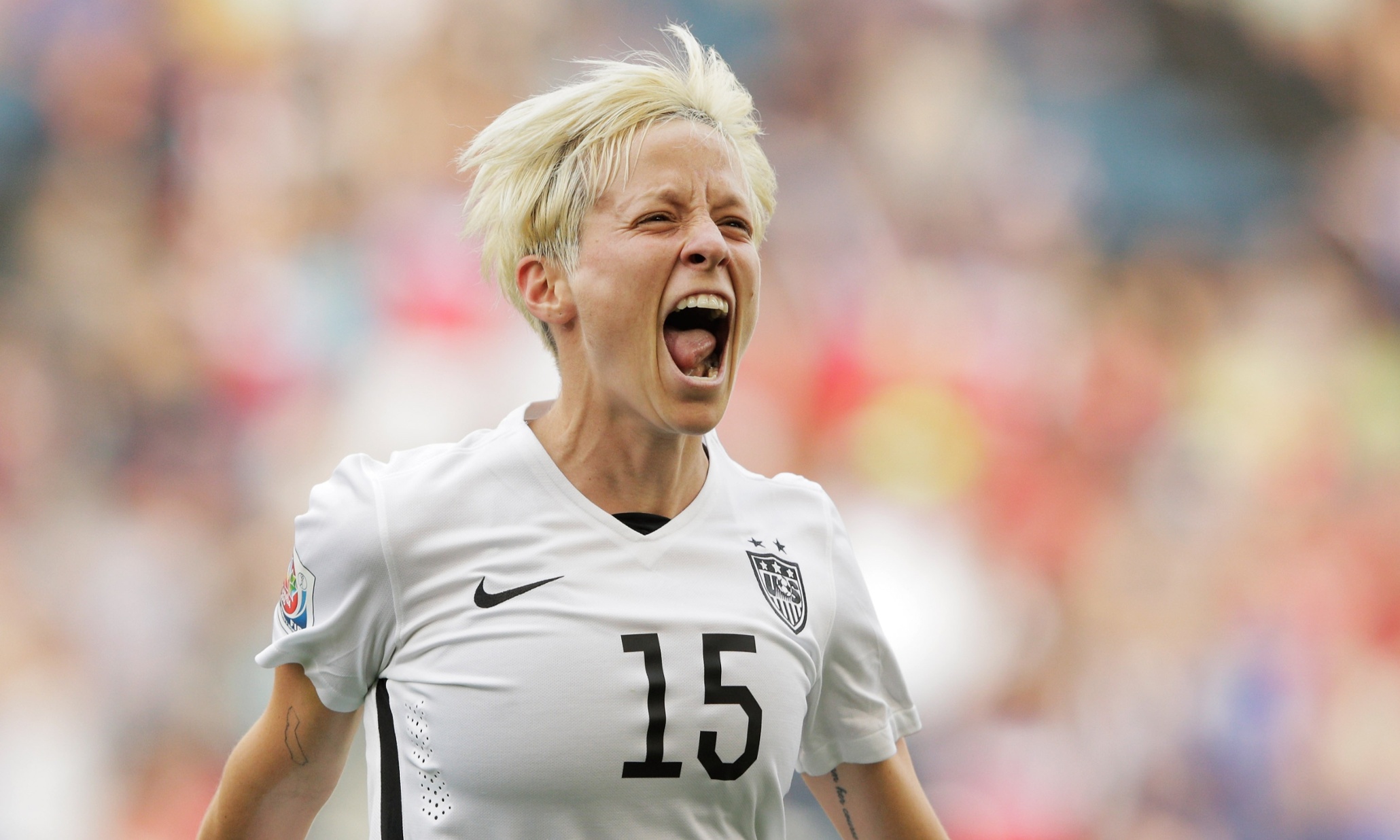 In addition to excelling on set pieces, Rapinoe's year has been marked by a productive relationship with longtime teammate Alex Morgan, who usually plays to Rapinoe's right at the top of the forward line. In 2018, the two have combined for six goals, but have been just as important to each other's goals and to the team as a whole when not recording goals and assists.
"We've obviously played together for a long time, but it's been more fruitful in the past couple of years," Rapinoe said. The forward believes the switch to the 4-3-3 midway through 2017 and having her play closer to Morgan has been beneficial, but "it's not really something we've spoken about," she said.
"Now that it's sort of becoming a thing, I guess we talk about it a little bit, but I think I naturally like to come in and open my body to the field in that way, and she naturally jerks left a little bit, and so I think we're always in those same areas. … I think it's hard for teams, also, to defend both of us on that side because I'm pushing and pulling and trying to get people out of spaces or get in those little half spaces, which makes the defense either have to step or stay, and that gives her the opportunity to play off those gaps that open up a little bit."
While things have gone as smoothly as expected for the USWNT offense, Rapinoe notes that there is a difference between getting through this year's matches the way they did and winning the World Cup in nine months' time. This month's fixtures at Portugal and Scotland, plus another trip to Europe in January to face France and a yet-to-be-determined opponent, will help to work on playing in front of an away crowd, which the USWNT had not done for a year before Thursday's 1-0 victory over Portugal. It also helps to simulate the World Cup experience in other ways.
"I think these games, having two teams that are different back to back is very similar to something that we'll see in the World Cup," Rapinoe said. "You're playing all these different games against two vastly different opponents, so you have focus in on one team, game plan for one team, scout and then two or three days, four days later turn around and you're playing a completely different style or a completely different team. I think that that's useful from just an experience standpoint."
Ultimately, though, the USWNT will have to improve on its own in order to successfully defend its World Cup title, according to Rapinoe.
"I think right now, honestly, probably our biggest challenge is just ourselves," she said, "because we're coming off a long year and trying to stay focused for these last few games and keeping the body all together."
Additionally, there is room for improvement for the team. The results themselves have been positive, but has not meant the performances were perfect, and that the team's famous and productive offense could not get better before June.
"I think we can look back to a lot of the performances and results from the year, and they were good, but we weren't obviously riding through all the best teams, so I think that we probably need to look back at those performances," Rapinoe said.
"I think we need to have more control of the game in different ways. Our possession — we can't just transition every single time and every single play, which is not realistic, especially over a World Cup, six or seven games you're hoping to play in a short period of time. We have to keep the ball more and we have to be able to dominate teams and control games that way. I think that we are very dangerous just going forward, and transition is one of our strong points, but that can also leave you exposed. … That's probably what a lot of teams will do is sit back and then try to hit us on the counter when we're exposed and getting forward."
Additionally, Rapinoe believes improved patience in the final third would help with any problems in transition.
"I think [if we] make better decisions also in the final third, not rush things, that will not give teams as many opportunities to counter us if we're trying to just take the first option," she said. "We need to work on being a little bit more patient, more getting the very best option that we can before getting to take one."
That said, Rapinoe has confidence that she and her teammates can get the job done come summer 2019. When asked if the team can win the World Cup again, she had a quick answer: "Yes."