New ownership, new General Manager, and a new head coach. Will that wave of change lead to new results for the Houston Dynamo?
After missing the playoffs for seven of the last eight seasons and finishing last year at the bottom of the Western Conference for the second consecutive season, just about anything that happens for Houston Dynamo FC this year is likely to be considered a positive start for head coach Paulo Nagamura in his first year in charge.
"We have to change the culture a little bit to rescue that identity that Houston had seven, eight years ago," said Nagamura.
Nagamura joins Houston after three seasons as the Head Coach of Sporting KC II, where he played a pivotal role in furthering the development of homegrown players and academy talent.
He also replaces Tab Ramos who only lasted one year in Houston and failed to turn the Dynamo around, finishing 13th place finish in the Western Conference last season.
"I don't want this to be a disrespect for Tab but it's really about repetitions," Onstad said. "The coaches that have had youth camps and come in for 10 or 12 days, get 10 full days of coaching, and then they go back to the office, and they plan their next camp,.
"When you're living it day to day when you're in a professional environment, no matter what the level, what that does is it gets you repetitions, it gets you thinking on a professional level, and you have to do the day-to-day."
Nagamura's hiring also signals a re-commitment to the youth academy that has failed to produce many first-team players despite Houston and greater Texas being known as a hotbed for young MLS talent.
"From what I've heard, the academy here has made some gigantic strides. It's a great source of talent, so we're not gonna overlook those players and are going to give those guys a chance," said Nagamura in the Athletic.
New ownership led by Ted Segal is also a massive boost to Nagamura's quest to get Houston back into the playoffs, but there is no sugar-coating that Houston is in a rebuild even if they have hopes of being competitive in a loaded Western Conference.
Here is a closer look at the 2022 Houston Dynamo:
---
2022 Houston Dynamo Season Preview
---
2021 Finish: 13th in the Western Conference (6-12-16 30 points, missed the playoffs)
Key Additions: Sebastian Ferreira, Steve Clark, Adalberto Carrasquilla, Daniel Steres, Zeca, Thor Ulrasson, Brooklyn Raines
Key Losses: Max Urruti, Ari Lassiter, Joe Corona, Maynor Figueroa, Boneik Garcia
---
Newcomer to watch: Sebastian Ferreira
---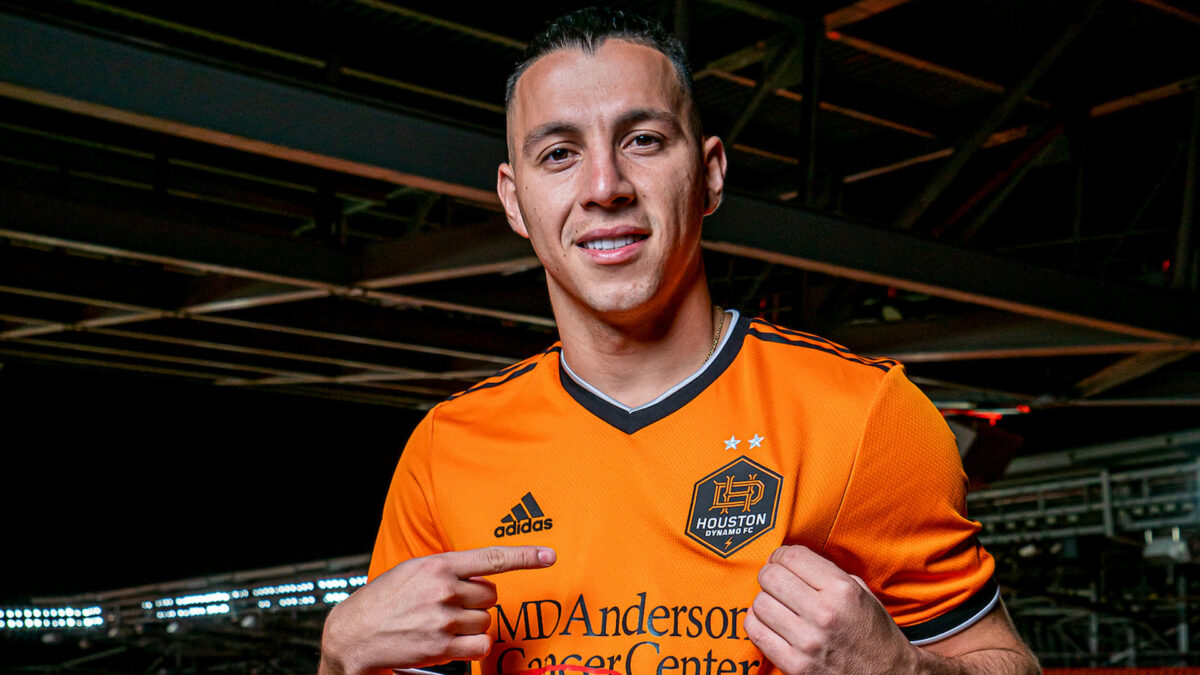 The first sign of new ownerships financial commitment to the Dynamo, Ferreira joined Houston Dynamo FC for a club-record fee of near $4.5 million dollars from Club Libertad in Uruguay.
Ferreira is an experienced goal scorer that is expected to lead the lines for the Dynamo and is coming off a strong 2020 with Libertad where he netted 13 goals in 20 appearances during the 2020 season.
"Our top priority this offseason was to sign a forward who can be a difference-maker," Onstad said. "And it's a huge credit to Ted Segal and the rest of the ownership group to provide us the resources to make the largest player acquisition in club history."
---
Pressure is On: Tim Parker
---
Acquired last off-season in a trade with the New York Red Bulls for 450,000 in General Allocation Money, Parker was brought in to bring in much-needed defensive boost and veteran leadership.
Parker, 29 started 34 matches and earned the captain's armband for the Dynamo but his addition to the defense did not translate to much of an improvement for the backline.
The seven-year MLS veteran is a top-five earner in terms of yearly salary on the Dynamo and the pressure is on him to validate his pricey wages and be the defensive anchor he was brought in to be.
---
Outlook
---
In his first season in charge, Pat Onstad has slowly started to imprint a vision for El Narayana injecting youth and star power to improve the overall depth of the roster.
"I believe the fans are upset with the last few years, and it's going to take work to bring them back," Nagamura told the Houston Chronicle. "No doubt about it — we're going to need to get results on the field to earn their trust and their belief back, and that's what we're going to work for."
After finishing last season with 36 goals the second-lowest in the Western Conference, and the transfer of Christian Ramirez to Aberdeen, adding attacking depth has been an offseason focus for the Dynamo.
Headlined by the aforementioned club-record signing Sebastian Ferreira, the Dynamo also selected Icelandic striker Thor Ulfarsson from Duke University with the 4th overall pick in the MLS SuperDraft.
Ferreira is expected to anchor the front line for Nagamura in a 4-3-3 formation, but having three legit options at striker with Tyler Pasher as the lone holdover from last season's squad at the position is an area of strength coming into the season.
In the midfield, 23-year-old Panamanian international Adalberto Carrasquilla is the only addition to the group and joins in from FC Cartagena in Panama. Carrasquilla is expected to start alongside Derrick Jones or Memo Rodriguez with Matias Vera as the lone defensive midfielder.
"It's a fresh start for the group that we have right now," Nagamura told the Houston Chronicle. "They have a chance to show the coach that they have that if they want to be here. If they don't show those qualities, they're probably gonna have to move somewhere else,"
Nagamura has wasted no time in making changes to the midfield with a buyout being agreed to earlier this month with midfielder Joe Corona who made 19 starts last season.
Reports have surfaced linking the Dynamo to Mexican International midfielder Hector Herrera who currently applies his trade in Spain with Athletico Madrid, where he has been limited to a reserve role this season.
Whether a deal for Herrera comes to fruition or not, reports linking the Dynamo to a big name player like Herrera and breaking the club record fee this summer speaks to the strong backing from the ownership to build a Dynamo team that can return to the playoffs in the near future.
In terms of other moves of note, goalie Steve Clark was signed away from the Portland Timbers on a free transfer, adding much-needed stability between the posts.
"He is a competitor, he is an experienced player, a senior player in this league that played for multiple teams in multiple games," said Nagamura of Clark in the Striker Texas. "He is one of the leaders as well in the locker room. So, we definitely are going to need Steve big time this year in order to succeed."
Improving the backline has also been a focus of the offseason for General Manager Pat Onstad with Daniel Steres, and Zeca being brought in to help one a defense that conceded 54 goals last season.
Steres is a depth piece that was acquired via trade with the LA Galaxy, but Zeca is able to play both outside-back positions and is the favorite to start at left-back after joining from Vasco de Gama in Brazil.
Tim Parker and Teenage Hadebe are expected to once again be the starting center-back pairing, but it will be the first full-season of their partnership after Hadebe joined midseason as a Designated-Player signing from Yeni Malatyaspor in the Turkish Süper Lig.
Using a Designated-Player spot on a defender is a rarity in MLS, but Hadebe has said all the right things this offseason to ensure that this year is going to be an improvement for him and the team.
"This thing is killing me inside, it is boring by the end of November to see other teams in the playoffs and we are way down [in the standings]," said Hadebe. "I believe that we're going make it to the playoffs and that's my wish for this season."
---
Houston Dynamo FC Roster
---
Goalkeepers: Steve Clark, Michael Nelson
Defenders: Tim Parker, Teenage Hadebe, Daniel Steres, Ethan Barlow, Adam Lundqvist, Zeca, Sam Junqua, Zarek Valentin, Griffin Dorsey
Midfielders: Matias Vera, Darwin Ceren, Brooklyn Raines, Adalberto Carrasquilla, Derrick Jones, Ian Hoffman, Juan Castilla, Memo Rodriguez, Marcelo Palomino, Daniel Rios
Forwards: Fafa Picault, Thor Ulfarsson, Corey Baird, Darwin Quintero, Sebastian Ferreira, Tyler Pasher, Daniel Rios, Nico Lemonie