New York City FC heads into the 2022 MLS season in a position they've never been in before, but luckily for head coach Ronny Deila, he has plenty of his key players returning as the club aims to defend its MLS Cup title.
NYCFC lifted MLS Cup for the first time last season and now enters the new season as the lead dog with plenty of hungry challengers chasing them. Defending Golden Boot winner Valentin Castellanos is back and already scoring goals for fun in the early stages of the Concacaf Champions League, while playmaker Maxi Moralez and veteran centerback duo Maxime Chanot and Alexander Callens also return as key figures on and off the field.
Even with a quick turnaround from Wednesday's 4-0 Round of 16 second leg win over Costa Rican side Santos de Guapiles, NYCFC isn't afraid for the early congestion to start the league campaign.
"We love to play games, so it's no problem," Deila said postmatch on Wednesday. "Last year, we played a game every three days and we are used to it. Now actually, it is boring to train so much so we just keep on playing. We want to win.
"If we get to win the Champions League, we will have a lot of games this spring and there's nothing better than that," Deila added. "We are prepared, we are fit, we have good consistency in the team in the staff. We just want to continue. It's going to be a tough game to play on Sunday."
NYCFC will relay on Castellanos, Moralez and others to lead the attack this season, even after losing both Jesus Medina and Ismael Tajouri-Shradi this offseason. The Argentine duo combined for 26 goals and 22 assists in league play last season, leading NYCFC to a strong run in the postseason and an opportunity to bring home a first-ever CCL title.
In addition, Brazilian forward Heber is back to full fitness after missing most of the 2021 season due to a torn ACL. The 30-year-old will be joined by youngsters Talles Magno, Santiago Rodriguez, and Thiago Andrade in the race for minutes in Deila's attack, giving the Scotsman several talented forwards to choose from.
"He's a talented boy, everybody knows that," Deila said about Magno in Wednesday's win. "It takes some time to adapt to a new team and style of play. I feel he's ready to be a big part of the team this season. I think him and Thiago [Andrade] were really good today. They are starting to understand how we want it and then you can add the quality on the ball.
"One of the things we have talked about when he comes in is that he has to be more dangerous in front of goal," Deila added about Magno. "He had more chances today, he had five chances and scored two. He also had two big chances down in Costa Rica. He just needs to keep on working with his finishing and getting into position and we will have a top player."
James Sands is currently on loan with Scottish side Rangers, but NYCFC will have options in midfield. Alfredo Morales and Keaton Parks will continue to pair one another in the heart of NYCFC's midfield, bringing aggressiveness and a strong work rate to the mix. Gedion Zelalem, Andres Jasson, Nicolas Acevedo will also be hoping for opportunities in the starting lineup as the young trio of players will look to prove their worth as consistent starters.
Chanot and Callens will anchor the backline after helping NYCFC concede the fourth-fewest goals in the Eastern Conference last season. Newcomer Thiago Martins and 24-year-old Vuk Latinovich are also depth options at centerback and already logged minutes in CCL play so far.
"We are ready, we have a big squad," Chanot said. "We know everybody can play, so I believe it's going to be more strength, the fact that we already played two games, [rather] than a weakness. I can't wait."
Right back Anton Tinnerholm remains sidelined for the early part of the season due to an Achilles injury suffered last fall, providing 19-year-old Tayvon Gray with more chances to impress after promising moments in 2021. Malte Amundsen will likely start the season at left back, but former U.S. youth national team player Chris Gloster will be pushing for minutes as he tries to get his career on track.
Sean Johnson remains one of MLS' best goalkeepers, registering 10 clean sheets in 2021 and coming up with big saves in the postseason for NYCFC.
NYCFC has everything it takes to repeat as MLS Cup winners, but with plenty of Eastern Conference clubs retooling for another go, the bullseye will certainly be on its back from opening weekend onward.
Here is a closer look at 2022 New York City FC:
---
2022 New York City FC Preview
---
2021 FINISH: MLS Cup Champions. (4th in Eastern Conference, 14-11-9, 51 points)
KEY ACQUISITIONS: Thiago Martins.
KEY LOSSES: James Sands (loaned to Glasgow Rangers), Jesus Medina, Ismael Tajouri-Shradi.
---
Newcomer to Watch: Thiago Martins
---
NYCFC already possesses two veteran centerbacks to lead its backline, but Thiago Martins will provide depth at that position. The 26-year-old Brazilian has spent majority of his career to date in his native Brazil, but recently played for Japanese club Yokohama F. Marinos before moving to NYCFC. Martins logged over 110 appearances in Japan and overall will be a welcomed presence in Deila's defensive set-up.
---
The Pressure is On: Keaton Parks
---
With James Sands on loan in Scotland, Keaton Parks has a golden opportunity to play a leading role in NYCFC's midfield alongside Alfredo Morales. Parks, 24, made 31 league appearances last season, scoring four goals and registering one assist. His physical presence alongside Morales should give NYCFC needed grit in the middle of its formation, but Parks cannot afford to take a step back in 2022 with plenty of players pushing for minutes, including Nicolas Acevedo.
---
Outlook
---
NYCFC already has two victories in its back pocket in Concacaf Champions League play, but knows its main focus is on Sunday afternoon in Los Angeles.
An opening weekend clash with a rejuvenated Galaxy squad will be a good first test of the season for NYCFC before a busy March schedule that includes a two-legged tie with Guatemalan side Comunicaciones FC in the CCL quarterfinals. NYCFC will play five matches in a 14-day span in March before the FIFA international window, giving Deila and his players plenty of opportunities to kick off the season strong.
Castellanos and Moralez will remain one of MLS' best offensive duos heading into the new season and will need to keep the same production as 2021 to have NYCFC among the league's best. Although South American clubs have continued to pluck Castellanos away, the Argentine remains a valuable part of NYCFC's roster and will be happy to continue scoring and helping the Eastern Conference club to victories.
Magno and Andrade bring pace and creativity to the offensive attack and have already partnered nicely in CCL play. The lengthy league schedule will give them both opportunities to continue developing that partnership. Heber and Rodriguez will also bring something different to the attack, giving Deila plenty of tough, but good decisions to make.
The absence of Sands' versatility will be interesting to see who Deila uses in that role, but Parks, Moralez, and Acevedo will all look to carry the load in midfield. Zelalem is also an option who needs more minutes himself to complete his overall game.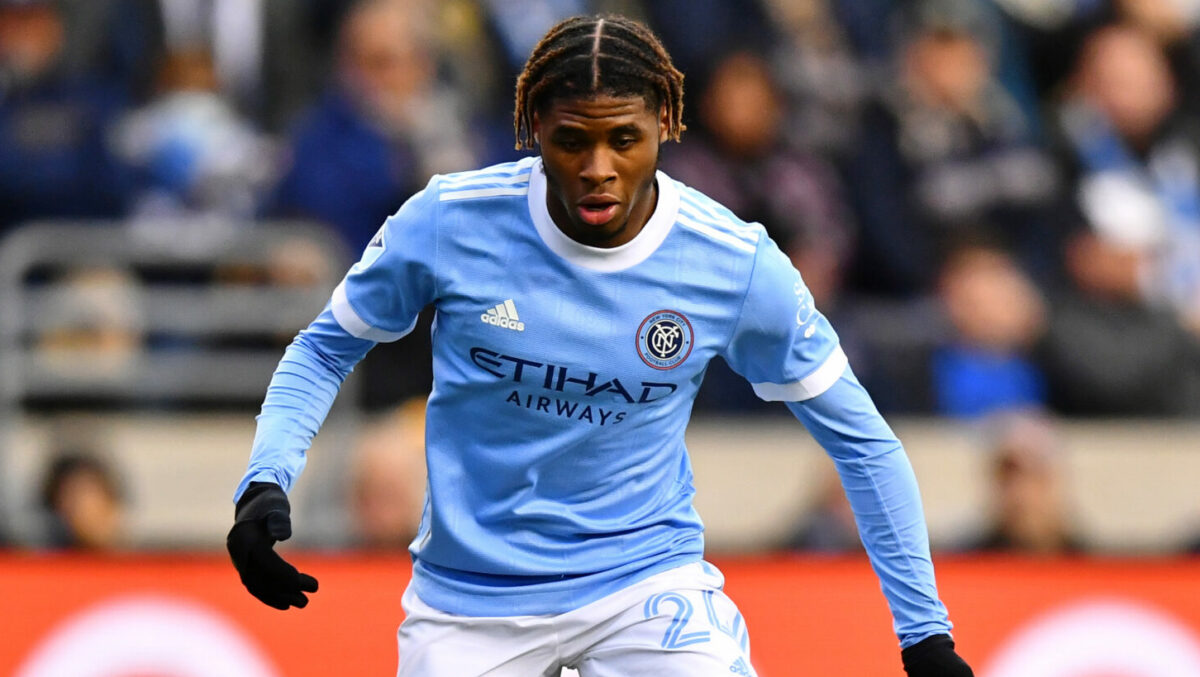 Defensively, NYCFC will remain one of the tougher teams to break down in MLS play, as Chanot and Callens lead the backline. The veteran duo bring leadership and no-nonense defending to the field everytime they play and will make it hard for opposing forwards to get by them. Martins can also play if needed, bringing plenty of international experience to the squad.
With Tinnerholm still on the sidelines, Gray and Amundsen bring a strong defensive work ethic to the backline, but will also be expected to create opportunities on the offensive side of the field.
NYCFC has one of the best shot-stoppers in Johnson and will rely on him to make the big saves when needed. Johnson has only registered one MLS season with 10 or more shutouts in regular season play, but with a strong defensive unit in front of him, 2022 could mark the second.
With MLS Cup and Concacaf Champions League on its mind, NYCFC will need to balance its schedule in the early going, but should everyone stay healthy, the defending champions have everything it takes to run the table in both competitions.
---
NYCFC Roster
---
GOALKEEPERS: Sean Johnson, Cody Mizell, Luis Barraza.
DEFENDERS: Maxime Chanot, Anton Tinnerholm, Alexander Callens, Thiago Martins, Malte Amundsen, Kevin O'Toole, Tayvon Gray, Vuk Latinovich, Nico Benalcazar, Christian McFarlane, Chris Gloster.
MIDFIELDERS: Maxi Moralez, Alfredo Morales, Gedion Zelalem, Keaton Parks, Nicolas Acevedo, Justin Haak, Andres Jasson.
FORWARDS: Valentin Castellanos, Heber, Santiago Rodriguez, Talles Magno, Thiago Andrade.