Paxten Aaronson has been fortunate to work in one of MLS' top academies over his time with the Philadelphia Union and the New Jersey native made sure to make his first full season under head coach Jim Curtin count.
Aaronson, the brother of former Union homegrown and current U.S. men's national team player Brenden, was one of several Union homegrowns to impress during the 2021 season, getting his first taste of life with the first team. The attacking midfielder delivered three goals in 16 combined league appearances for the Union, helping the 2020 Supporters' Shield winners reach the Eastern Conference Final last winter.
It was just the beginning for Aaronson, who has worked his way into Curtin's midfield rotation, and remains one of the key options for the Union this season.
"The biggest thing I took away from last season was just the intensity you have to bring every day, whether it's a game or training," Aaronson told SBI. "I knew how important it was coming in, but you have to try and get everything down perfect. You need to take the extra time to work on things on the field and then also put in the extra work in the gym. A lot of the veteran guys like Ale Bedoya, Joe Bendik, and others also helped play a key role in me being mentally ready to go.
"The season didn't end how we wanted, but we were happy to take another step towards our goal, which is to bring home MLS Cup," Aaronson added. "I definitely put a lot of time in to rewatch film and to get on the practice field this offseason to get even sharper with my skills. I even had Brenden home for a bit so we got to work together and it's great to have someone with his experiences here for me. We try to always work together and I think it shows."
Aaronson spent the majority of his 2020 campaign with Union II in the USL before getting his crack with the first team last season. The 18-year-old scored twice against FC Cincinnati and also found the back of the net against eventual Supporters' Shield winners, New England Revolution. As the season pushed forward, Aaronson continued to be ready for whatever role Curtin asked of him, whether it was in the starting lineup or off of the bench.
The Union's season came to a frustrating ending in the East Final, losing 2-1 to New York City, albeit with majority of their first team players unavailable due to COVID-19 protocols. Aaronson earned plenty of experience in his first full season and has made sure to be ready for whatever comes his way this season.
"We have a lot of belief in ourselves and I think we can go all the way in 2022," Aaronson said. "We've had an exceptional amount of good seasons in a row now and for us it's about putting it all together. Everyone here including myself has high expectations in this group and we know we won't sneak up on anyone. I think the loss to NYCFC just makes us hungrier for this season and I really believe we will have a great one."
"If you look at Paxten from last preseason to now, it looks like two different players," Curtin told SBI about Aaronson's development. "He's put in a lot of hard work and he's improved so much in a quick amount of time. We saw last season in flashes what he can do and he had a great postseason for us as well. If you compare him and Brenden, when Brenden was Paxten's age he was battling through Bethlehem Steel games, where as Paxten has MLS experience under his belt. It's up to us to get the absolute max out of Paxten because there's plenty of potential there."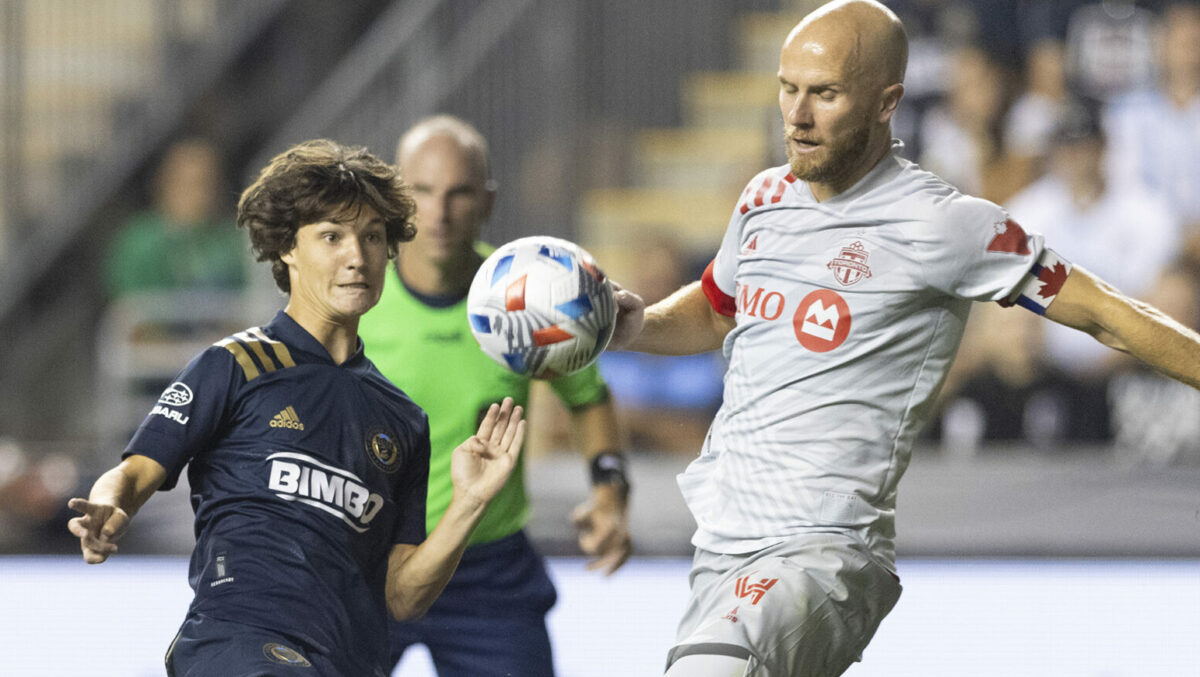 Aaronson isn't the only young player looking to take another step forward in 2022, as forward Quinn Sullivan and midfielder Jack McGlynn are also looking to team up with their fellow homegrown teammate this season. Aaronson, Sullivan, and McGlynn all earned valuable minutes last season, featuring not only in MLS play, but also in the Concacaf Champions League, a great feat for three promising young talents.
The trio has continued to work together in the Union's system, coming up through the academy, Union II, and now with the first team. Aaronson will be competing with both Sullivan and McGlynn for spots in Curtin's squad on a regular basis, but it's a competition he is excited to continue.
"It's definitely special moments right now with those guys because we have played together since we were six-years-old" Aaronson said about his connection with Sullivan and McGlynn. "Quinn had his moments last season with a couple of bangers and Jack continued to get better every time he stepped onto the field. It's great to be able to relay things off of them as well because they are learning just like I am. It's moments I won't forget when I look back on my career."
Aaronson's early impressions in MLS not only put him on the radar within the league, but also earned him a pair of call-ups to the U.S. Under-20 men's national team. Aaronson was called up to Mikey Varas' first two camps as USMNT U-20 head coach, featuring in the Revelations Cup tournament in Mexico last November, before also taking part in a January camp in Florida.
Alongside Aaronson was Union teammates Sullivan and McGlynn, while fellow MLS homegrowns Caden Clark, Cade Cowell, and Obed Vargas also were included in the events. The USMNT U-20's will take part in the Concacaf U-20 Championship this summer, with qualification for the 2023 FIFA U-20 World Cup in Indonesia at stake.
Aaronson's focus remains on the Union, but also has one eye on representing his country later this year.
"It's awesome having a bunch of the young guys competing for the same thing and coming together as a group to hopefully represent our country the World Cup," Aaronson said. "We had some amazing experienced in Mexico and also in Florida to continue working together and I think Coach Varas is implementing a good system for us. I'm happy to be included in the team and excited to see what happens next."
Aaronson's immediate future remains with the Union and continuing his overall development, but he is one of several MLS talents that will be on the radar of European clubs down the road, especially if he continues more goals and assists in 2022. Aaronson has watched Brenden make the most of his opportunity with the Union, eventually earning a transfer to Red Bull Salzburg and experiences of his own in the UEFA Champions League.
A diehard Liverpool fan, Aaronson has dreams of playing abroad someday, but for now the focus remains on getting the job done with the Union.
"The European eye on MLS has definitely grown over the past couple of years and I think it's a credit to the academies here, producing a lot of good young players and providing them with chances," Aaronson said. "You can see with Mark [McKenzie], Brenden [Aaronson], and Auston [Trusty], so as a young player it only gets you more excited. I am fully focused on the season ahead and what my role can be.
"Of course I want to score as many goals and add as many assists as possible, but it's all about the team first and foremost," Aaronson added. "Whether it's scoring, assisting, doing the dirty work defensively, or putting constant pressure on the opponent, I just want to help the team succeed in bringing home a trophy this season. That's my main goal."