An improbable comeback from CF Montreal highlights a deep slate of MLS midweek action. CF Montreal handed the Crew a completely unexpected loss, emerging after a long weather delay to score twice in the final six minutes of the match.
Also on Wednesday, Charlotte FC rolled over D.C. United with a 3-0 win at Bank of America Stadium. Charlotte used an own goal from Steve Birnbaum and two goals off rebounds to hand Wayne Rooney his first loss as an MLS head coach.
On Tuesday, the Colorado Rapids erased a two-goal deficit to shock the New York Red Bulls and earn three points at Red Bull Arena. Diego Rubio led the Rapids' attack, with a goal and two assists. The Sounders overcame the defensive posture of FC Dallas in a 1-0 win at Lumen Field. Nico Lodeiro scored the game's only goal from the penalty spot.
Here are the midweek results in MLS.
---
Quakes 0, Inter Miami 1
(Jean Mota 12′)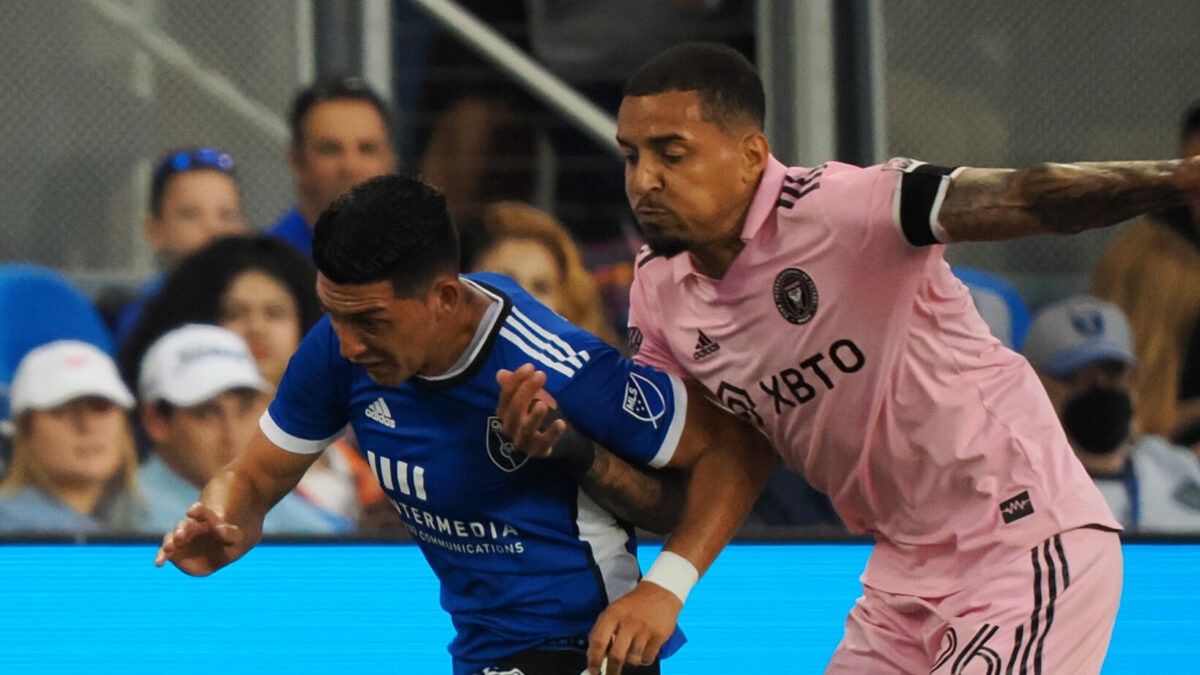 ---
Man of the Match: Inter Miami goalkeeper Drake Callender put in another outstanding performance with five saves. The Quakes peppered Miami with late chances, amassing 22 shots.
Moment of the Match: Jean Mota's 12th-minute strike with the outside of his boot was one of the best goals scored in MLS this week.
Match to Forget: Jeremy Ebobisse struggled in front of goal. The American striker missed a wide open header late in the second half.
---
Timbers 1, Nashville SC 1
(Santiago Moreno 27′) – (Teal Bunbury 20′)
---
Man of the Match: Timbers goalkeeper Aljaz Ivacic kept a poor home showing from the Timbers from becoming worse. His point-blank save on Alex Muyl in the 78th minute sticks out as one of the best plays of the game.
Moment of the Match: Teal Bunbury's 20th-minute goal inspired hope in the visitors and put Nashville in a strong position in a difficult stadium for away teams.
Match to Forget: Sebastian Blanco had an off match, with two shots and none on goal. Blanco was subbed out after 81 minutes.
---
Crew 1, CF Montreal 2
(Lucas Zelarayan 14′) – (Kei Kamara 88, Joel Waterman 90+4′)
---
Man of the Match: Kei Kamara changed CF Montreal's attack when he entered as a substitute. Kamara missed a few chances, but made good with a goal in the 88th minute. He had six shots with two on goal.
Moment of the Match: Joel Waterman secured one of the most unlikely comebacks of the 2022 season, scoring in the fourth minute of stoppage time. CF Montreal came out ready to play after a long weather delay split the second half.
Match to Forget: Steven Moreira couldn't win one last header to prevent Joel Waterman from scoring the winning goal deep into stoppage time.
---
Charlotte FC 3, D.C. United 0
---
Man of the Match: Karol Swiderski provided plenty of issues for D.C. United's defense, with a goal, two key passes and three shots on goal.
Moment of the Match: Karol Swiderski's 64th-minute goal epitomized a frustrating night for D.C. United and gave Charlotte FC a lead that felt sure to hold until the end of the match.
Match to Forget: D.C. United goalkeeper Rafael Romo had an extremely poor match. He failed to make a save in the first half which led to a Steve Birnbaum own goal. He let rebounds slip that led straight to the second and third goals.
---
Tuesday
---
Sounders 1, FC Dallas 0
(Nico Lodeiro (pen) 39′)
---
Man of the Match: Nouhou kept FC Dallas winger Jader Obrian quiet, while contributing to the attack at left back. Nouhou won five of five duels and made four interceptions.
Moment of the Match: Nico Lodeiro's powerful penalty kick sent FC Dallas goalkeeper Maarten Paes the wrong way, handing the Sounders a lead they wouldn't relinquish.
Match to Forget: FC Dallas goalkeeper Maarten Paes knocked into Jordan Morris from a poor position to concede a penalty kick. Paes' rushing out of his goal turned one mistake into a much bigger one.
---
Red Bulls 4, Rapids 5
(Dru Yearwood 6′, Aaron Long 9′, Lewis Morgan (pen) 28′, Tom Barlow (pen) 90+7′) – (Diego Rubio 21′, Keegan Rosenberry 38′, Collen Warner 77′, Michael Barrios 80′, Dantouma Toure 89′)
---
Man of the Match: Diego Rubio powered the Rapids to keep fighting, despite the early deficit. Rubio scored a goal himself, and assisted two more.
Moment of the Match: Collen Warner's 77th-minute goal off a corner kick brought the Rapids level and showed how woeful the Red Bulls' second-half defending had gotten.
Match to Forget: Cristian Casseres committed a poor giveaway that led straight to Diego Rubio's goal to open scoring for the Rapids. The Red Bulls couldn't put their opponents away early, despite three goals in the first half.