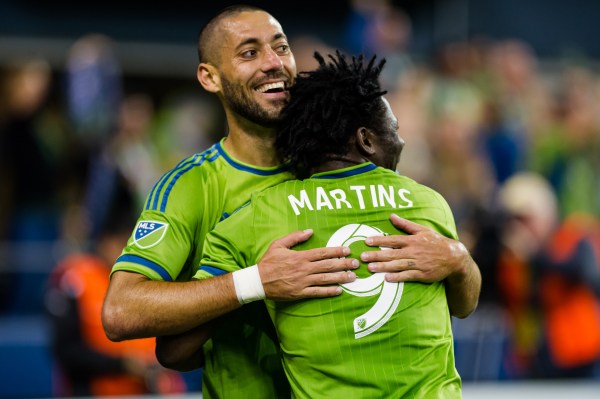 Photo by Jane Gershovich/JaneG. Photography
By JASON MITCHELL
If conventional wisdom says the Seattle Sounders will go as far as Clint Dempsey and Obafemi Martins can take them, the 2015 season is looking ever so promising for the men in Rave Green.
In a battle of shorthanded heavyweights, Dempsey and Martins lifted the Sounders to a 3-0 win over the New England Revolution in front of 39,782 at CenturyLink Field on Sunday night.
Dempsey opened the scoring in the 25th minute, earning a penalty after Juan Agudelo tripped him up in the box. Dempsey then easily beat goalkeeper Bobby Shuttleworth, driving his shot into the upper right corner of the net for the 1-0 lead.
Martins added the insurance goal in the 41st minute, soaring to head home a cross from newcomer Tyrone Mears. Dempsey was credited with a second assist on the play.
Dempsey capped the scoring in the 68th minute after a beautiful through-ball from Marco Pappa put both Dempsey and Martins behind the Revs back line. Martins had the ball at point-blank range but tapped a pass to his fellow forward for the easy score.
The Revs, missing Jermaine Jones and Lee Nguyen to injury, clearly missed both players. The visitors actually outshot the Sounders 8-6, but never really managed a clean look on goal.
Perhaps the closest the Revolution came to scoring was a 39th-minute long distance shot from Kelyn Rowe that goalkeeper Stefan Frei managed to finger away for a corner kick. Brad Evans, making his first appearance as a converted center back, committed a bad turnover that led to the opportunity.
The Revolution now have just one win in five visits to Seattle.
Nguyen, who finished last season with 18 goals and 5 assists, was listed as questionable on the injury report but was sidelined by a right-groin injury. Star midfielder Jermaine Jones did not travel with the team as he recovers from sports hernia surgery.
For their part, the Sounders were without Designated Player Osvaldo Alonso as he recovers from groin surgery.
Both teams are back in action next weekend. The Sounders host San Jose (0-0-1) while the Revolution visit New York City FC (0-1-0).