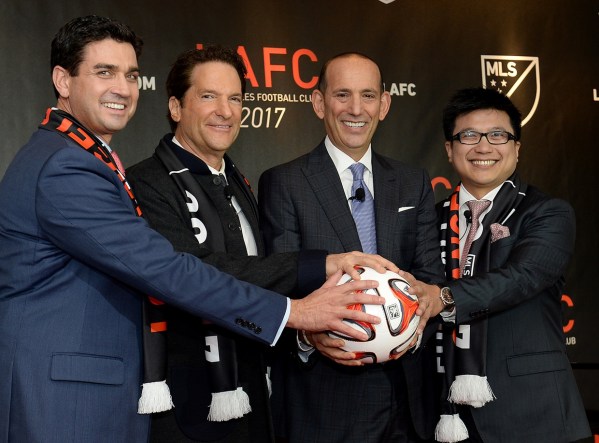 Photo by Jayne Kamin-Oncea/USA Today Sports
By RYAN TOLMICH
It appears Los Angeles FC's ownership group has decided where it wants to build a soccer stadium.
The LA Times reported Thursday that the start-up club is solely focusing on the site of the Sports Arena in Exposition Park. Anonymous sources told the LA Times that they would be "surprised" if LAFC pursued any other site, while owner Tom Penn acknowledged that there have been negotiations but said nothing is finalized yet.
"We do not have a deal with them or anyone else," Penn told the LA Times. "There's never any way to be close to a deal. You either have a deal or you don't.
"From the beginning," Penn added, "the Sports Arena site has been a site of high, high interest."
The Sports Arena would have to be torn down to make room for a proposed state-of-the-art stadium. An environmental impact study for the site has reportedly been completed already and USC — which was granted ownership of the site 18 months ago — has stated it intends to tear down the arena in favor of a new MLS stadium.
LAFC is planning to build a 25,000-seat, $150-million stadium, and the ownership group has already chosen Southern California-based architect Gensler to construct the club's home after five firms submitted stadium bids.
LAFC is expected to begin play in MLS in 2017.
—
What do you think of the proposed stadium site? Like the location? Should the club look elsewhere?
Share your thoughts below.