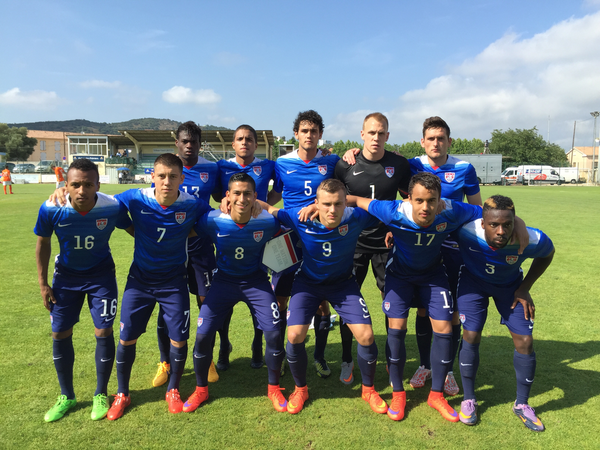 By RYAN TOLMICH
Down a goal early and entering on the heels of a lackluster performance, the U.S. Under-23 Men's National Team was in need of a major turnaround.
That's exactly what the U.S. got in what ended up as a dominant performance, culminating in a 3-1 victory over the Netherlands behind goals from Jerome Kiesewetter, Alonso Hernandez and Will Packwood.
After goalkeeper Cody Cropper allowed a 10th minute shot from Brahim Darri to slip through his hands, the U.S. took control, highlighted by goals from Kiesewetter and Hernandez.
Kiesewetter, who dominated the Dutch defense throughout the afternoon, provided the equalizer in the 20th minute, as the U.S. forward followed up on a blocked shot to pounce. After chesting the ball down, Kiesewetter struck on the volley, smashing a shot past the near post to level the scoreline at one apiece.
Hernandez's go-ahead goal came just five minutes later, as the U.S. capitalized on the Netherlands' inability to clear their lines.
After a Julian Green free kick struck the top of the wall, Jordan Morris was able to put the ball on a platter for Hernandez. The 21-year-old midfielder tapped a shot in from close range, giving the U.S. the lead going into halftime.
The second half started much like the first, with the U.S. adding yet another goal via the head of Packwood.
The centerback's finish came from a corner kick, as Packwood rose above the Dutch defense to head home Green's cross to give the U.S. a 3-1 lead in what turned out to be a powerful performance.
With the victory, the U.S. picks up its first win of the tournament after dropping a 3-1 contest to France last time out.
The U.S. will take the field for the third contest on May 31 and face Costa Rica, who fell, 3-2, to the Netherlands in their opening game.