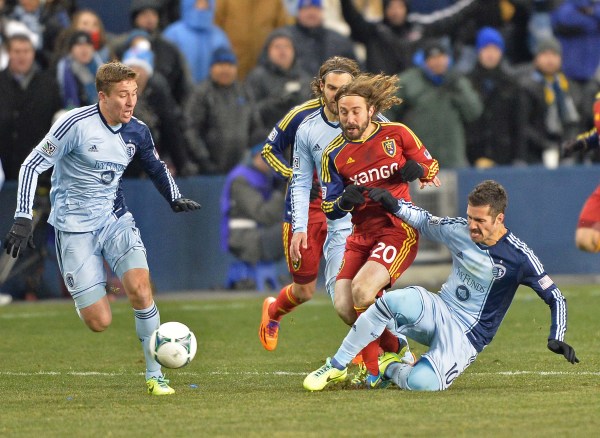 photo by Peter G. Aiken/USA Today Sports
By FRANCO PANIZO
When the U.S. Men's National Team takes to the field at a sold-out Sporting Park on Monday night, two experienced players that call the stadium home will not be in uniform.
Sporting Kansas City's Matt Besler and Benny Feilhaber were left off the the U.S. roster for the ongoing CONCACAF Gold Cup last month, with Besler failing to make it past the provisional 35-man squad and Feilhaber not even making the cut for that. Their absences have left some observers and plenty of local fans scratching their heads, but U.S. head coach Jurgen Klinsmann finally provided some answers on Sunday.
In Besler's case, it was just a matter of being behind two other left-footed centerbacks in John Brooks and Tim Ream who made their way up the depth chart with strong performances for their European clubs this past season.
"He's part of our roster and he had to swallow the pill that he's not in the 23 right now," said Klinsmann. "We talked through that, we've been in touch with each other, so it's no problem at all. It is a constant competition going on in our extended squad.
"If you look at the two left centerbacks with John Brooks – who made a huge stamp in the last year – and Tim Ream – who played a tremendous season with Bolton – we felt that both deserved to be in here at the expense of Matt for right now."
While Klinsmann added that Besler could be called in as one of six available U.S. replacements after the group stage concludes, Feilhaber cannot. The 30-year-old midfielder, who is having a career year in Kansas City, is not eligible to be summoned due to the fact that he was not on the provisional squad.
"The simple answer is that there are other ones ahead of him," said Klinsmann when asked about Feilhaber's omission.
Additionally, Graham Zusi is currently dealing with an injury, meaning that there might be no Sporting KC representation for the U.S. against Panama.
Here are more USMNT notes:
KLINSMANN BACKS ALTIDORE AGAIN
Jurgen Klinsmann already gave Jozy Altidore a vote of confidence after the U.S.'s 1-0 win over Haiti on Friday.
That still did not stop Klinsmann from vocally supporting his striker again on Sunday.
Altidore has started each of the Americans' two games at the Gold Cup so far, but has failed to make much of an impact in either. The 25-year-old forward is trying to work his way back from the hamstring injury he suffered in May while playing for Toronto FC, and admitted after the game vs. Haiti that he felt "slow".
Klinsmann sounds like he has no intentions to give up on Altidore, however.
"He's the type of player that can always make a difference, that has to work himself into a rhythm," said Klinsmann. "He obviously knows his body the best because you always know yourself the best, so that's where we have to go. We have to give him minutes, give him the chance to come through, and pick up a higher tempo and a higher pace.
"There's that risk that comes along and in the long run it will be a very positive one. He's a little bit frustrated as well, but you have to go through those moments."
KLINSMANN IN FAVOR OF PLAYING FINAL GOLD CUP GROUP GAMES SIMULTANEOUSLY
In several international tournaments across the world, the final round of group games are played simultaneously. The idea is that having all four teams in each group play at the same time makes for a more fair approach, as no one can strategize their gameplan for a different result based on what happened in the other group match.
The Gold Cup does not employ that method, and Klinsmann is not a fan of that.
The two final group stage games at the Gold Cup have in recent years been played one after the other in the same stadium instead of simultaneously in different venues like is done in competitions like the World Cup, Confederations Cup, and European Championships.
While that does not affect the Americans this year due to their guaranteed first-place finish in Group C after just two games, Klinsmann still believes it would be better to have the final pair of group matches played at the same time. That way, a nation like Panama would not potentially have competitive advantage over others like Haiti and Honduras, as could be the case on Monday.
"I think it's also not ideal to play one team before the other because Panama knows what they need then," said Klinsmann. "I think they should play at the same time in two different stadiums. It's just the way it should be, but we'll take it the way it is."
The Gold Cup is not the only tournament to have final group games played in preceding fashion. The recently-concluded Copa America in Chile also closed out group play with matches being played at different times.
—–
What do you think about Klinsmann's comments regarding the omissions of Besler and Feilhaber? Like that Klinsmann is sticking with Altidore here? Agree that the final Gold Cup group stage matches should be played simultaneously?
Share your thoughts below.