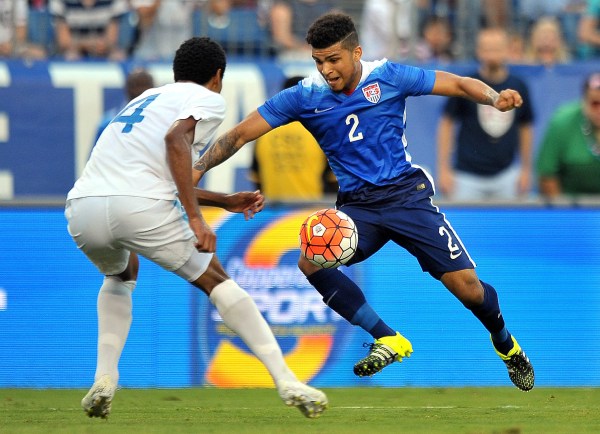 photo by Jim Brown/USA Today Sports
By FRANCO PANIZO
The blowout scoreline was something the U.S. Men's National Team was proud about.
The performance? Not so much.
The U.S. wrapped up its CONCACAF Gold Cup preparations on Friday night by recording a 4-0 victory over Guatemala at Nissan Stadium in Nashville, Tennessee. Three different Americans found the back of the net in the friendly, but those tallies came only after Carlos Castrillo scored an ugly own goal in the 20th minute of a poor first half for Jurgen Klinsmann's side.
For large stretches in the opening stanza, Guatemala looked the team more comfortable in possession. The Americans had their moments, but looked largely out of sync when they had the ball. Jozy Alitdore even had a poorly-taken penalty kick saved in the 18th minute, a play that was symbolic of the U.S.'s rough opening 45 minutes.
Things improved in the second half for the U.S., but the overall showing still was not good enough for a nation that is looking to successfully defend its Gold Cup title this month.
"I'm not happy with that performance," said U.S. head coach Jurgen Klinsmann. "I'm kind of disappointed with a couple things: movement off the ball, speed of play, urgency. Things that we talked about before were not executed the way we wanted them to be executed.
"We were lucky to not get a tie, certainly at the beginning of the second half. If it's 1-1, it's a whole different ball game. It looks really nice at 4-0, but we have a lot of work ahead of us."
Klinsmann repeatedly made it clear during his postgame press conference that he was unhappy with the way his attack performed, but he was also critical of the defensive performance.
While the Americans posted their second shutout in their last four games, Klinsmann believed the U.S. gave away some easy scoring opportunities that it cannot afford to repeat. Even as Timmy Chandler, Clint Dempsey, and Chris Wondolowski scored in the second half to pad the lead, Guatemala created decent chances that it found ways to squander.
Better teams like Honduras, the U.S.'s first opponent at the Gold Cup, will punish the Americans if they make similar mistakes over the course of the next few weeks. Klinsmann knows that, and so do his players.
"It's always good to win, always good to get goals, always good to get a shutout, but we expect a lot of our team," said Dempsey. "We know that we can be better. We know that we're going to have to be sharper to win the Gold Cup and make sure we hit the ground running the first game against Honduras."
As critical as Klinsmann and the Americans were about their performance, they also took away positives from the match. The players were pleased to extend their winning streak to four games while also recording a cleansheet, and Klinsmann also singled out some individuals that he thought looked sharped, focused, and ready for the challenges that lie ahead in the Gold Cup.
"I think Fabian Johnson had a couple very positive runs down the left," said Klinsmann. "Timmy Chandler had a good game. John Brooks is growing. He's becoming far more mature, he's becoming a leader. Ventura Alvarado, when he came in, played a solid game.
"Michael Bradley was all over the place trying to connect the pieces. Gyasi Zardes had a lot of good energy going forward, but defensively we try to teach him, which is a work in progress. There are definitely good things. and there are things we need to work on."
The U.S. will not have much time to address what needs fixing. The Americans are flying to Dallas on Saturday afternoon to begin gearing up for Tuesday's Gold Cup opener against Honduras, a talented and tough team that just held Mexico to a scoreless draw in a friendly on Wednesday.
Defeating the Hondurans and starting out the tournament with three points is the goal for the U.S., but improvements are needed in order for that happen.
"I think all of us as players, we're not naïve to think that we were unbelievable tonight," said goalkeeper Brad Guzan. "We know there are areas where we need to sharpen things up. We know there are areas where we need to clean things up."