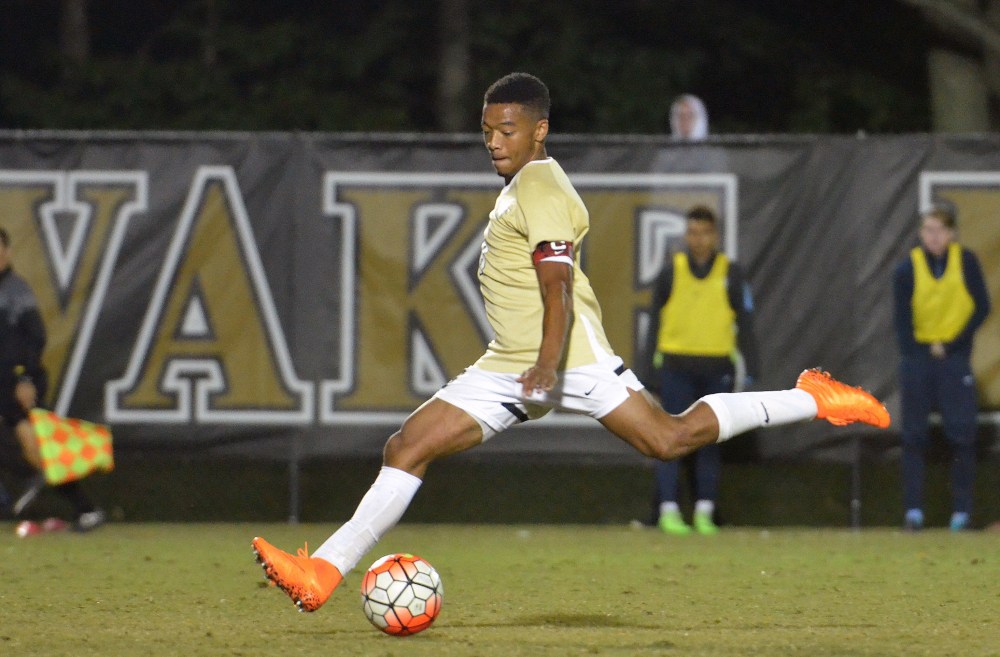 Only two unbeaten teams remain after the seventh weekend in college soccer.
That's because SBI No. 5 Wake Forest handed No. 2 North Carolina its first loss of the 2015 campaign Saturday.
In an end-to-end affair that saw both sides put multiple shots on target, seven in total for the Demon Deacons, Wake Forest was the only one to find a breakthrough, thanks to a left-footed finish under pressure by junior midfielder Jacori Hayes in the 17th minute at Spry Stadium.
Freshman Jack Harrison was involved in yet another Demon Deacons goal, as he assisted Hayes' strike, which brings his total to eight this campaign.
Meanwhile, No. 1 Creighton and No. 9 Denver both handled their respective opponents, Marquette and Omaha, to remain the country's last two unbeaten teams.
No. 3 Stanford looks likely to move into second in the next edition of the SBI College Soccer Top 25 after claiming two wins in the seventh weekend of the college season.
Friday, the Cardinal took down UCLA, 2-1, while they easily handled San Diego State, 3-1, on the road Sunday.
U.S. Under-23 Men's National Team forward Jordan Morris tallied the game-winning goal against the Bruins while also adding another goal Sunday. Freshman Amir Bashti scored the first goal for Stanford Friday, and sophomore midfielder Corey Baird tallied a brace vs. the Aztecs.
In the powerful ACC, No. 4 Clemson continued to look impressive, this time taking down No. 13 Syracuse, 1-0, Saturday. Redshirt senior Kyle Murphy scored the game-winning goal with only 51 seconds left in regular time to give the Tigers their 11th win in 13 games this season.
Here are the results from this weekend's top teams in college soccer:
FRIDAY
UCLA 1, (3) Stanford 2. (RECAP)
Virginia Tech 0, (6) Notre Dame 0. (RECAP)
(14) Virginia 3, Pittsburgh 1. (RECAP)
(16) Seattle 3, CSU Bakersfield 1. (RECAP)
Louisville 2, (18) Boston College 1. (RECAP)
Duke 6, (22) North Carolina State 2. (RECAP)
(25) Maryland 0, Indiana 0. (RECAP)
SATURDAY
Marquette 1, (1) Creighton 3. (RECAP)
(5) Wake Forest 1, (2) North Carolina 0. (RECAP)
(13) Syracuse 0, (4) Clemson 1. (RECAP)
(7) Akron 4, Northern Illinois 0. (RECAP)
DePaul 0, (8) Georgetown 1. (RECAP)
(9) Denver 1, Omaha 0. (RECAP)
Florida International 2, (10) Old Dominion 1. (RECAP)
(11) Coastal Carolina 1, Liberty 0. (RECAP)
Memphis 0, (12) South Florida 0. (RECAP)
(15) Elon 2, James Madison 1. (RECAP)
College of Charleston 1, (17) Hofstra 0. (RECAP)
Cincinnati 0, (19) SMU 1. (RECAP)
Cal Poly 3, (20) UC Santa Barbara 2. (RECAP)
William & Mary 1, (21) UNC-Wilmington 2. (RECAP)
Army 0, (23) American 0. (RECAP)
Radford 2, High Point 1. (RECAP)
SUNDAY
San Diego State 1, (3) Stanford 3. (RECAP)
(16) Seattle 1, San Jose State 0. (RECAP)
(24) Ohio State 2, Wisconsin 0. (RECAP)
Kentucky 1, South Carolina 0. (RECAP)
Washington 1, Oregon State 0. (RECAP)