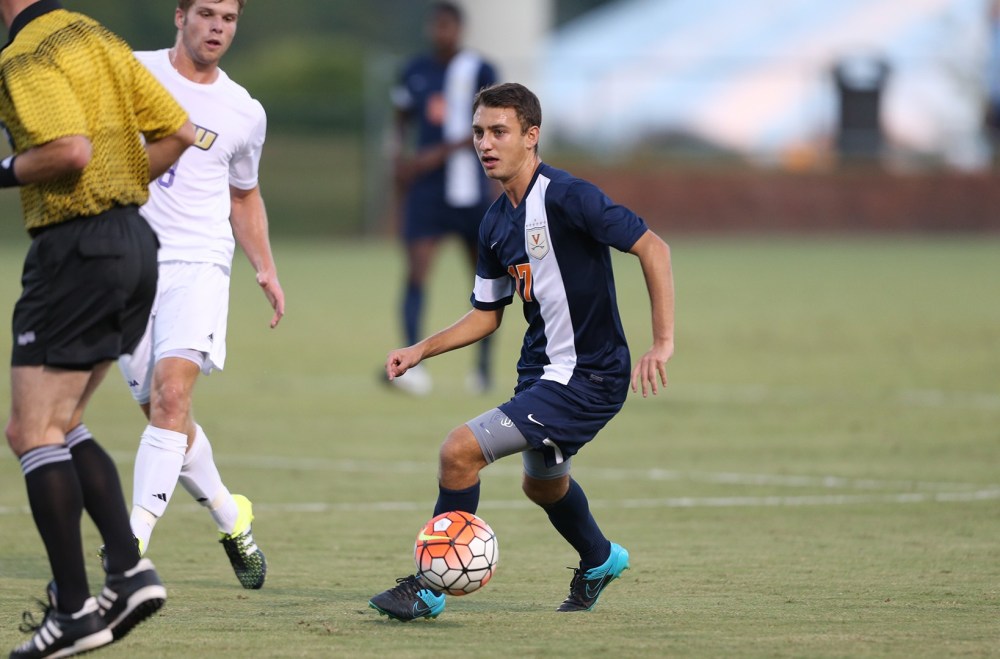 Jake Rozhansky wants to be a part of the U.S. Men's National Team picture, and he hopes that working on reaching next-level fitness helps him achieve his aspiration.
Rozhansky is one of college soccer's most intriguing prospects because of his ability to be creative and combine in the attacking third of the field. He helped Virginia to a national championship in the 2014 season, and he currently has a team-leading three goals in the 2015 campaign. His movement with the ball at his feet is one of his biggest assets.
The sophomore midfielder was called into the U.S. Under-23 Men's College Identification training camp before the 2015 season with Virginia. He was one of only three underclassman present in the midfield roster comprised of 10.
While he felt like he belonged as a member among college's best players, he said the camp taught him that fitness and energy are arguably the most important keys to success not only in the NCAA but at the next level and beyond.
"Andi Herzog and (Jurgen) Klinsmann were speaking to us, and the trainings were pretty hard, like after training you would feel sore, tired, and we also trained twice a day, so it was pretty hard on your body," Rozhansky said. "I remember one thing they said was, 'we are doing 50 percent of what the national team did when they left to go to the World Cup,' and that just made me realize how hard you have to work to get to the highest level, to get to the biggest stage like the World Cup.
"I thought I was working, all of the guys thought they were working pretty hard and were doing a lot of stuff, but we were only doing 50 percent of what the full team was doing, so just to imagine that was pretty crazy."
Ever since then, Rozhansky has focused on maintaining and improving that aspect of his game, citing it as being the most important and vital, especially if he wants to achieve his desire of representing the U.S. internationally.
"One of the big parts of my game is my mobility and energy," Rozhansky said. "I'm able to run all day, and that's part of the reason why I've scored a couple of goals already so far this year. It's because I would pass and just continue to run and never think the play is over. I think my energy just allows me also dictate the game for the whole game because I'm not going to be tired when it gets close to an end."
He scored one of his three goals this season by beautifully combining with junior Nicko Corriveau. He made a darting run into the box, latching onto a backheel pass from his teammate before shrugging off a defender to blast the ball into the back of the net.
"I think I can dictate games," Rozhansky said. "I love to get on the ball, being on the ball, and when I get on the ball, I can continue to get it. I pass and move, and I like to get the ball back a lot. So I feel like I can dictate the attack with my passing and vision."
Cavaliers head coach George Gelnovatch said that Rozhansky will have no issue reaching that level of fitness, especially once he enters the professional sphere. He, however, does see room for improvement in another area.
"He's an unbelievable footballer," Gelnovatch told SBI. "He's quick, he's — I would even say — fast, he's extremely gifted technically and elusive with the ball, got a great mind for the game — a great, young professional who takes care of himself.
"He has everything. He has a good engine, good mentality, but if you had to ask me the one thing right now, it's this robustness — strength, power, sturdiness that is required in those positions (of a top-level No. 10 or box-to-box midfielder)."
Gelnovatch said that time will help Rozhansky in that department, so for now, he says that focusing on reaching next-level fitness and being a consistent goal-scorer will only improve his stock.
"Although many players don't want to admit it or they just don't like fitness, it's a huge part of the game, and the more you can play, the longer you can play at your highest level, the better player you're going to be," Rozhansky added. "And I think that's a huge thing."
Rozhansky has yet to decide if he will forgo his remaining two years with the Cavaliers in favor of an early move to the professional ranks. Born a son of parents who immigrated from the Soviet Union in 1991 — his father from what is now Belarus and his mother from Ukraine — Rozhansky says he does not hold and highly doubts he can attain a passport from either country, as well as Russia.
The inability to secure one means that a move to play in Europe may not be as simple, so for now, he hopes that wherever he goes, he just sees consistent minutes.
"I want a place where the team likes to play, it's a good environment for young players, so I won't just be sitting on the bench not playing games," he said. "Because I think playing games is the most important thing."