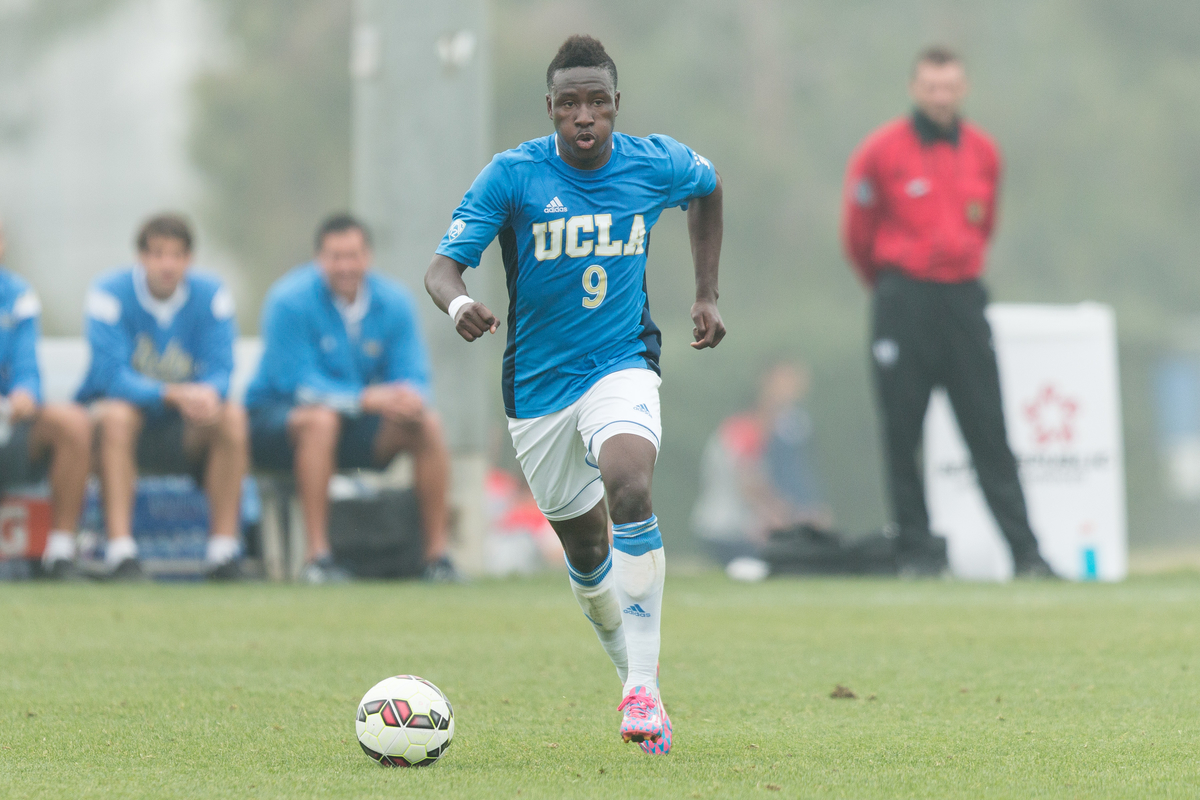 The 2016 MLS Draft is less than three weeks away, and while we still aren't sure which top underclassmen will be available in the draft, we can start to think about just what the draft will look like when teams start choosing from the talent likely to be available.
The Generation adidas class is key to any MLS Draft, and right now there are major question marks surrounding several of the top targets for the class. Georgetown defender Joshua Yaro has yet to sign with MLS and there are rumblings that he could be heading to Europe. The same rumors abound for UCLA forward Abu Danladi as well.
Then you have Wake Forest freshman sensation Jack Harrison. The British-born midfielder was expected to be one of the top targets of this Generation adidas class, but has reportedly become the subject of a Homegrown Player claim by New York City FC. NYCFC is trying to claim Harrison because of the fact he has spent part of the past three years with Manhattan Soccer Club, which NYCFC signed up as a youth affiliate in April of 2014.
That leaves three of the top potential draft talents having very uncertain draft futures, but for now we will project all three as taking part in the upcoming draft.
As we present our first MLS Mock Draft, we remind everybody that the first go-round is usually more about where players are valued by the consensus around the league along with consideration for potential specific team need. We are fully aware that trying to predict what 20 front offices are going to do is never easy, but the hope is to give readers a sense of where players are being valued ahead of the draft, and in the case of this Mock Draft, ahead of the MLS Combine.
There are always surprises who emerge, either boosting their value in the MLS Combine, or potentially hurting their stock, but our hope is to offer as good a sense of draft values as you will find anywhere else. As a matter of reference, you can check out our past initial mock drafts, such as the 2015 SBI MLS Mock Draft, which saw 10 of our top 16 picks go in the top 16 (with one of the six misses (Tyler Miller) having signed a deal in Germany before the draft).
In 2014, our initial MLS Mock Draft pegged 12 of the 19 first-rounders (with two of our initial picks, Cyle Larin and Leo Stolz, ultimately staying in school before being first-round picks a year later). A total of 22 of the players we projected to go in the top 34 picks of our initial mock draft went in the Top 34.
In 2013, our initial MLS Mock Draft pegged 14 of 19 first-rounders, and placed five first-round picks on the teams they would eventually be drafted by.
We will release three more Mock Drafts before Don Garber announces the first name in Baltimore next month. One will drop next week, before the MLS Combine, and another will be unveiled during the MLS Combine. Our final Mock Draft will drop on Wednesday, Jan. 13, the day before the 2016 MLS Draft.
Now, without any further ado, here is the first 2016 SBI MLS Mock Draft:
1- CHICAGO FIRE – Joshua Yaro, Right Back/Centerback, Georgetown
Though he is the consensus top talent in the draft, Yaro isn't everyone's top pick and it is unclear just where Chicago's new regime stands on rating him. The previous regime didn't rate Yaro as top-pick worthy, but he could step in and start in year one for the Fire. The big question is whether he will actually sign with MLS.
2- COLORADO RAPIDS – Abu Danladi, Forward, UCLA
The Rapids can use help in plenty of places, but adding a dynamic forward like Danladi would boost an attack that needs help. He may still need time to develop, but in terms of potential, there may not be a more appealing attacking player in the pool. Has yet to sign a Generation adidas deal.
3- PHILADELPHIA UNION – Jack Harrison. Central Midfielder, Wake Forest
Harrison is reportedly the subject of a Homegrown Player claim by New York City FC, which for the moment is leaving his draft availability in question. Considered one of the most talented Generation adidas targets around, Harrison has been left off the league's list of GA signing targets for the time being. If NYCFC's questionable homegrown tag is rejected, Harrison should be one of the first players off the board. If Harrison isn't available, the Union could definitely grab Jonathan Campbell.
4- NEW YORK CITY FC – Jonathan Campbell, Central Defender, North Carolina

If Claudio Reyna succeeds in scooping up Harrison, then NYCFC will be playing with house money at this pick, and whether or not Harrison is granted a Homegrown Player tag, look for Patrick Vieira's team to grab defensive help here. Campbell could be a first-year starter on an NYCFC defense that was atrocious in 2015, though Stanford left back Brandon Vincent would also be an enticing option as well.
5- REAL SALT LAKE – Richie Laryea, Attacking Midfielder, Akron
Having just lost midfielder Luis Gil to a free transfer, we can see Jeff Cassar grabbing the talented Laryea, who can fit in a number of midfield positions in the attack. He's coming off an outstanding season at Akron that showed his creativity and ability to break down defenses. Has yet to sign a GA deal.
6- PHILADELPHIA UNION – Brandon Vincent, Left Back, Stanford

The Union would be happy to grab Jonathan Campbell here, and could wind up taking him with the third overall pick, but if Campbell is gone, then Vincent would be a good grab. The Union have yet to re-sign Brazilian left back Fabinho, and even if they do, Vincent is still the type of talent who could be groomed into a long-term starter.
7- ORLANDO CITY – Omar Holness, Right winger/Forward, North Carolina
New leadership in Orlando will hope to do as well with this pick as the Lions did with last year's No. 1, which landed eventual Rookie of the Year Cyle Larin. Holness is versatile enough to help give Orlando City some depth on the wing, as well as at forward. Could be tempted to grab Tim Kubel here to help address the right back position, though recently-acquired Kevin Alston should help that.
8- SAN JOSE EARTHQUAKES – Fabian Herbers, Forward, Creighton
Though he could very easily wind up in the top four if certain things shake out, Herbers shouldn't fall beyond this pick, where the Earthquakes can look to add some forward depth. Herbers was the most productive attacking player in college soccer in 2015, and has the maturity to contribute in year one.
9- TORONTO FC – Tim Kubel, Right Back, Louisville

Despite having just signed Steven Beitashour to help address the right back position, TFC can use some depth at the position, as well as some cap relief in the form of a Generation adidas contract. Kubel has yet to sign a GA deal, but is considered a Top 10 talent by several teams.
10- NEW ENGLAND REVOLUTION – Jordan McCrary, Right Back/Left Back, North Carolina
The Revs aren't going to find a replacement for Jermaine Jones in the draft, but could find a player capable of helping address the right back position. McCrary is versatile enough to play either fullback position well, and boasts the speed and attacking qualities to be a first-year starter.
11- SPORTING KANSAS CITY – Ben Polk, Forward, Syracuse
You could make the argument that Polk might be too similar to current Sporting KC forward Dom Dwyer, but the fact remains SKC can use depth in its forward pool and Polk is one of the best available.
12- LA GALAXY – Kyle Fisher, Central Defender, Clemson
It would be just like Bruce Arena to manage to scoop up one of the top central defenders shortly after selling Omar Gonzalez, and since LA is a mid-round pick for the first time in a while, Fisher could be available. The Clemson standout is a no-nonsense defender who boasts poise and maturity along with excellent positional sense, which could help him step in and play significant minutes as a rookie, though he may not need to on a team like the Galaxy.
13- D.C. UNITED – Julian Buescher, Central Midfielder, Syracuse
Ben Olsen's side are expected to lose Perry Kitchen this winter, as he hits the open market after his contract expired, and that leaves a gaping hole in central midfield. Buescher is coming off a standout season that saw him help lead Syracuse to the NCAA Final Four. A box-to-box midfielder with good attacking qualities, Buescher would be a Generation adidas signing if he's in the draft, though he has yet to accept the offer MLS has already made to him.
14- MONTREAL IMPACT – Michael Salazar, Forward, UC-Riverside
The Impact have more important things to worry about than the draft (like Didier Drobga potentially leaving after just a half season in Montreal), but Montreal could use some attacking depth whether Drogba stays or not. Enter Salazar, who has been capped four times by the Belize national team.
15- SEATTLE SOUNDERS – James Moberg, Central Midfielder, Washington
An injury-hit senior season cost Moberg a chance to show why some saw him as one of the top seniors in this draft class before the college season began. The Sounders should know Moberg's work, and ability, better than most, and Seattle just so happens to need some central midfield depth after the departure of Andy Rose and Gonzalo Pineda.
16- VANCOUVER WHITECAPS – Keegan Rosenberry, Right Back, Georgetown

The Whitecaps traded away starting right back Steven Beitashour to Toronto FC, leaving the position a bit short. Carl Robinson's side could do worse than snagging Rosenberry, who enjoyed a stellar college career and has the maturity to step in and start as a rookie.
17- FC DALLAS – Zach Carroll, Central Defender, Michigan State
Oscar Pareja's side isn't exactly loaded with major needs, but defensive depth is always a good commodity to have. Finding some forward depth is another option, but Carroll is a 6-foot-3 centerback who could provide some depth, and eventually be developed into a starter.
18- NEW YORK RED BULLS – Andrew Tarbell, Goalkeeper, Clemson

The Red Bulls recently signed six Homegrown Players, leaving Jesse Marsch with a bunch of rookies to incorporate into his team (or into Red Bulls II in USL). One position not addressed by that recent Homegrown haul is Tarbell, the highest-rated goalkeeper in the draft. We could also see the Red Bulls trading this pick.
19- COLUMBUS CREW – Michael Gamble, Forward/Winger, Wake Forest
The Crew are another team that doesn't have any really glaring needs, but taking a dynamic attacker like Gamble, who reminds some people of Ethan Finlay, wouldn't be a bad move. A late-season injury cost Gamble a chance to really impress scouts during the NCAA Tournament, but he had a strong enough career to remain in the late-first round conversation.
20- PORTLAND TIMBERS – Todd Wharton, Defensive Midfielder, Virginia
The Timbers could use a young goalkeeper, and Callum Irving is an intriguing prospect here, but short of trading up for an Andrew Tarbell, we can see Portland looking for some more central midfield depth. Last year's top pick, Nick Besler is still around, but we can see the Timbers taking Wharton, who impressed with the Timbers Under-23 team last summer.
SECOND ROUND
21- COLUMBUS CREW – Patrick Hodan, Attacking Midfielder, Notre Dame
22- COLORADO RAPIDS – Andrew Souders, Right Back, Akron
23- PHILADELPHIA UNION- Timo Pitter, Attacking Midfielder, Creighton
24- MONTREAL IMPACT – T.J. Casner, Right winger/Forward, Clemson
25- REAL SALT LAKE – Tony Alfaro, Central Defender, CSU-Dominguez Hills
26- HOUSTON DYNAMO – Hadji Barry, Forward/Winger, Central Florida
27- SEATTLE SOUNDERS – Cole Seiler, Central Defender, Georgetown
28- SAN JOSE EARTHQUAKES – Max Lachoweki, Left Back, Notre Dame
29- VANCOUVER WHITECAPS – Cole Missimo, Right Winger, Northwestern
30- NEW ENGLAND REVOLUTION – Ben Strong, Central Midfielder, Louisville
31- COLUMBUS CREW – James Nortey, Forward/Winger, Marquette
32- ORLANDO CITY – Callum Irving, Goalkeeper, Kentucky
33- D.C. UNITED – Eric Verso, Right Winger/Central Midfielder, Stanford
34- MONTREAL IMPACT – Vincent Keller, Central Defender, Creighton
35- SEATTLE SOUNDERS – Liam Doyle, Central Defender, Ohio State
36- VANCOUVER WHITECAPS – Calvin Rezende, Forward, St. Francis (PA)
37- FC DALLAS – Zach Mathers, Central Midfielder, Duke
38- NEW YORK RED BULLS – Dennis Castillo, Right Back, VCU
39- MONTREAL IMPACT – Femi Hollinger-Janzen, Forward/Left Winger, Indiana
40- PORTLAND TIMBERS – Zach Bennett, Goalkeeper, Michigan State
41- COLUMBUS CREW – Emir Alihodzic, Right Back, Omaha