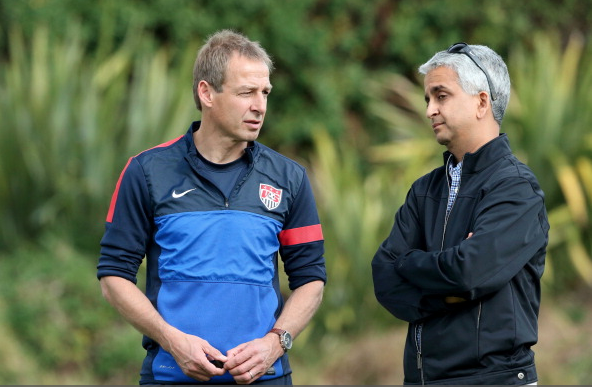 One question popped into everybody's mind following the U.S. Men's National Team's putrid loss to Costa Rica: Is this the end of the road for head coach Jurgen Klinsmann?
The U.S. suffered an embarrassing 4-0 road defeat to Costa Rica on Tuesday night, prompting media members and fans across the United States to wonder afterwards if this was it for Klinsmann. The result and performance in San Jose would have likely sparked the discussion on their own given how poor they were, but that all of this came a mere four days after the Americans suffered their first qualifying loss to Mexico in the Columbus.
The reality of the situation for the U.S. right now is that it has zero points from its first two qualifiers in the Hexagonal round of CONCACAF's campaign. That type of start might be enough to warrant an immediate firing in some other countries, but U.S. Soccer does not plan to provide a verdict with regards to Klinsmann's future until things can be discussed.
"We won't make any decisions right after games," U.S. Soccer president Sunil Gulati told on-site reporters following the lopsided loss in Costa Rica. "We'll think about what happened today and talk with Jurgen and look at the situation. Obviously it's not a good start to the Hex, and today in particular was not a good performance."
Gulati had given Klinsmann a vote of confidence this past Friday, saying that he expected the German to finish the Hexagonal as U.S. head coach. The comments came before the Americans suffered a 2-1 loss to arch-rival Mexico, however, and that defeat combined with Tuesday's abysmal game could lead to a potential change of opinion.
Conversely, the future could still very well include Klinsmann on the U.S. sidelines. His hefty contract runs through the 2018 World Cup, and there are still plenty of qualifying matches that could help him turn things around.
"When you lose two games, there's obviously some concern," said Gulati. "But Mexico qualified (for the 2014 World Cup) with 11 points. There's a lot of points left on the board, 24 to be exact. As I've said the last two cycles, the sequence of games matters a lot, and we've had what one would consider our two toughest opponents early."