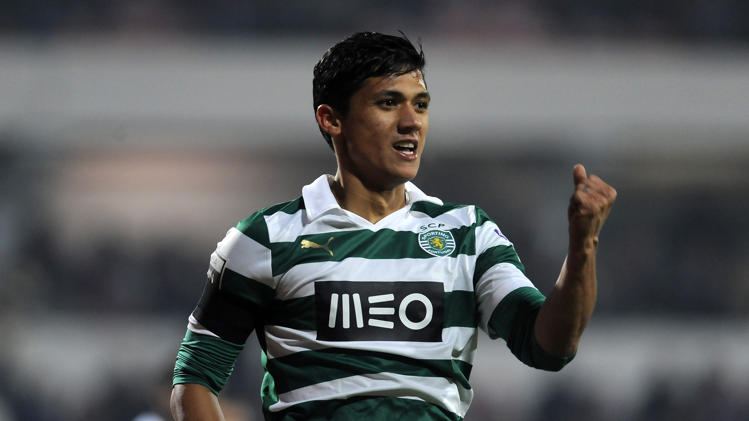 Fredy Montero scored his last MLS goal with the Seattle Sounders on Oct. 7, 2012. Fittingly, that match was against the Portland Timbers in a 3-0 win.
The loss eventually led to the Timbers missing out on the MLS playoffs, with the Sounders qualifying as third-place finishers in the Western Conference.
Five seasons later, both the Sounders and Timbers are MLS Cup winners. The Vancouver Whitecaps are coming off a disappointing 2016 campaign and once again, struggled to score. Now Montero, the man who recorded four goals in five games against Vancouver, has been tasked with helping the Whitecaps capture the club's first MLS Cup.
Montero was acquired on loan from Tianjin Teda in the Chinese Super League last Wednesday. The Colombian is thrilled to be back, but he is also flattered that Vancouver was willing to bring him into the team.
"Obviously I was looking forward to getting another opportunity to come back to MLS," Montero told reporters on Sunday. "Vancouver did everything possible to get to my contract, and they picked my option, and I'm just very happy to stay here."
The 29-year-old's affiliation with the Sounders is a hot topic, especially considering his past scoring record against the Whitecaps. However, Montero is aware that a player's destination can be out of his control.
"Sometimes you don't get to pick the teams," said Montero. "We all know the rules in MLS and that is the main reason. Players are not just able to decide where they are going to. However, I'm just happy that Vancouver did a lot and I know what kind of work and money they gave up just to get me here and I'm happy to be here."
The rivalry was reignited last week after Brad Evans tweeted that he would "never go to a rival team" just hours after Montero was unveiled by the Whitecaps.
Despite the stupid ass MLS player acquisition mechanism, I'd never go to a rival team.

— brad evans (@brad_evans3) February 16, 2017
The first meeting of the season between the Sounders and Whitecaps will be at BC Place on April 14. Montero wasn't phased by Evans' tweet and claims that it is "irrelevant" to him, but also said that he still keeps in touch with a lot of his former teammates.
"It's definitely going to be a special game," said Montero. "However, I'm on the Whitecaps now and I'm going to give my best to win that game and every other game. For me, it's just about playing soccer. That's it. Inside the field, we are rivals. Outside, I still have many friends on that team."
Those games will only be three of many on the regular-season schedule for the Whitecaps and the team will need consistent scoring to improve on a disappointing 2016. Pedro Morales was the club's top scorer with nine goals, but the majority of those were penalties and free kicks.
Now the Whitecaps have a player in Montero who scored at least 10 goals in each of his four seasons with the Sounders. He also contributed 34 assists in his 119 appearances playing as a second striker. Head coach Carl Robinson said that he will play as a No. 9 this year, but that should not be an issue for the forward.
"When I went to Europe, I got to play No. 9 with Sporting," said Montero. "I scored a lot of goals as well. When I had an opportunity to play second striker, I used that opportunity to assist or to even score goals outside the box. Any place that I am on the field, I'm going to feel happy because I'm an attacker.
"As long as I have opportunities to score, I will. That's what I've been doing my whole career. When I had to play in Colombia, when I went to Europe, when I went to Asia, that's what I do."
Unfortunately for the Whitecaps, Montero won't be match fit in time for the first leg of the CONCACAF Champions League quarterfinal against the New York Red Bulls on Wednesday. He could be ready for the second leg next week at home, though.
As for Montero's future after the season, he isn't focusing on it right now, but he is open to making his stay in Vancouver a permanent one.
"Right now I'm just happy to have my contract with Vancouver this year," he said. "I will do my best to score a lot of goals to help my team get the goals. After that, we can sit down and see what the future is holding for me and my family. But right now, I'm just thankful and blessed to have this opportunity."