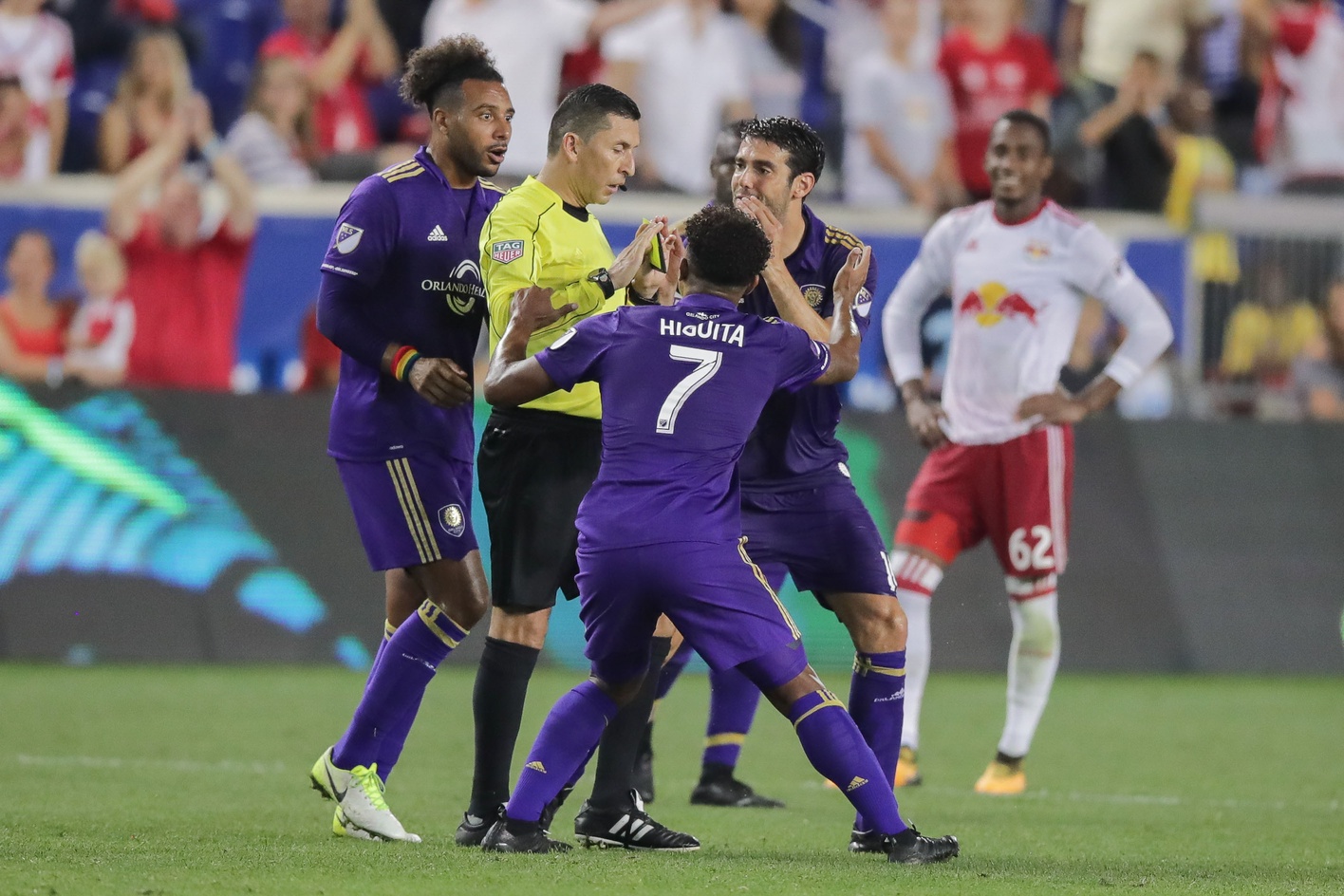 By the time the fourth official had indicated that there would be four minutes of stoppage time, the crowd at Red Bull Arena had already been entertained. They had already seen four goals, one of which was a curler from distance by Sean Davis, and with the New York Red Bulls up 3-1 on Orlando City, the match seemed to be just about over. The video assistant review system, though, had something to say about that.
Well into the fifth minute of stoppage time, referee Jorge Gonzalez drew a rectangular shape with his fingers, and the stadium announcer called, "Ladies and gentlemen, the play is under review." After about a minute of deliberation, Gonzalez made his decision: at the end of a scuffle between the teams, Orlando captain Kaka was sent off following an incident where he touched Aurelien Collin's face. The only problem was that the two were in the middle of a joke, visibly laughing throughout the exchange.
"I was really surprised," Tommy Redding said post-match, a sentiment many shared about the bizarre incident.
Collin, one of the two men at the center of it all, confirmed the light nature of the event. "He was playing with me. We [are] very good friends," as the two were teammates in Orlando from 2015 to 2016.
As for the actual decision, the Frenchman was a bit noncommittal. Though he did not think of Kaka's action as anything to worry about, he felt the referee had to do his job. "You cannot touch another player['s] face," he said, "and that's why he gave him the red card."
Collin did admit that he would review the footage himself, something many said following the match, and he did so, tweeting, "We see that he is joking we are brothers !!!!" in response to a video Major League Soccer posted of the incident.
Red Bulls captain Sacha Kljestan was one of the players nearby during the controversy, and said some players "were trying to help" Kaka. "Three or four of us on our team were telling him to stop because even though he was joking around, it's a red card offense," he said.
The Red Bulls' head coach Jesse Marsch, admitted that, from the touchline, it was difficult to see anything. He instead chose to highlight an incident just two minutes earlier after which Kljestan, Richie Laryea, and Cristian Higuita were all booked.
In the first minute of stoppage time, Laryea fouled Kljestan. After getting back on his feet, Higuita approached Kljestan's neck, and Kljestan shoved back, leading to the two teams getting into a big huddle that eventually was broken up.
Marsch, a day after getting fined for criticizing referees, did so again. "I thought Laryea's tackle on Sacha was dirty," the coach said. "Sacha's one of the premier attacking players in this league, and I feel like if that were [David] Villa and [Sebastian] Giovinco, they'd probably see red, right? And I think that Sacha should be protected the same, and so I think that it could be a red card. You give a red card in that instance, it stops all of the inciting of players."
Kljestan agreed that the tackle was "pretty hard," though the rest of the incident he could care less about. "There was a lot of talking afterwards — a little too much talking," something that could have been said about the entirety of stoppage time, which extended all the way to the 98th minute.
Despite criticism by many, Kljestan does not find the conclusion of the match an indictment on VAR. "I think in the end, it's going to help get a lot more calls correct. … There's probably going to be growing pains with it and it's going to slow the game down a little, but in the end, I think it's good for the sport."