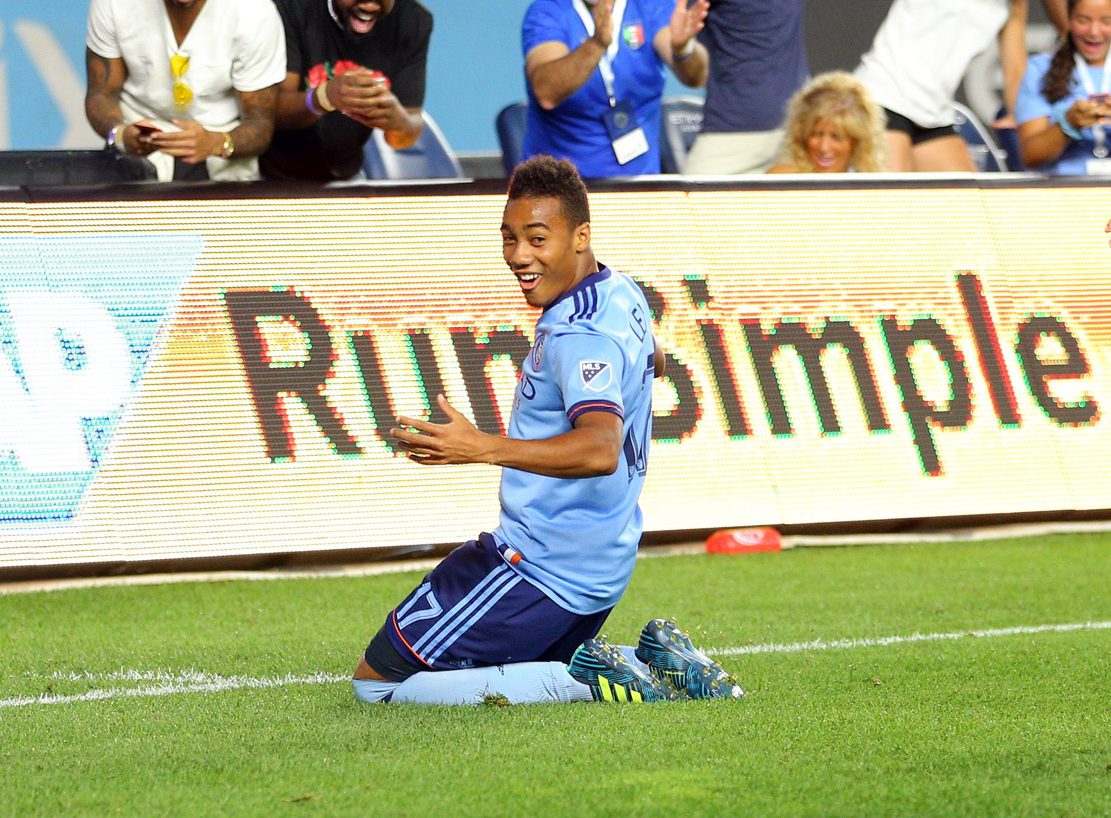 David Villa knows a thing or two about young players. A decade-and-a-half ago, he was one himself, fighting to break through at Sporting Gijon. He rose to prominence with a group of several young Spanish up-and-comers at Valencia, battled with eventual stars at Barcelona and led an upstart Atletico Madrid group to a UEFA Champions League final.
Throughout his time, Villa has learned what to expect of young players and how to teach them and nurture their games at this type of level. The most important characteristic Villa requires? Fearlessness, and he sees that in abundance in NYCFC rookie Jonathan Lewis.
Over the past two weeks, that fearlessness has been on full display as Lewis has bagged his first two MLS goals. On Sunday night against the New England Revolution, Lewis showed the poise of a veteran, slotting home a stoppage-time winner to earn a vital three home points.
"He is a guy who is not afraid," Villa said, "and that's very important because sometimes I see guys with a lot of qualities, a lot of power but they go to the pitch and are afraid. It is normal, I was afraid when I was 18 years old and they put me in front of 20,000 people so it's normal in this situation but he doesn't have fear. He plays the same way he trains so that's a good point for us. He is a great player but he needs to play games because he has only played five or six games as a professional but the most important is that he is not afraid."
"Of course I feel more confident," Lewis added, "but I feel like every day is the same. We've just got to all go in and push. Whether you're at the top of the depth chart or at the bottom, you have to push. People who are at the bottom, we work hard. It helps the starters. Same thing where the people at the top work hard so that the people at the bottom have someone to look up to. So I feel like we all have to just work hard."
Lewis' hard work has been paying off of late, even if it did take some time. At the beginning of the season, Lewis needed time to adjust after missing a chunk of training with his new club to join the U.S. Under-20 Men's National Team. He's faced the typical rookie adjustments and, on a team as loaded as NYCFC, those adjustments can see you fall by the wayside quickly.
Saturday's appearance was just his seventh of the season as he appears to be finding a rhythm. He's played in each of the club's five matches with three starts while providing a pair of vital goals as NYCFC makes a push for the Supporters' Shield.
"Jonathan just needs to keep working hard in training," said head coach Patrick Vieira. "When you come in as a rookie, you always need time to adapt to the quality of the MLS, the tempo of MLS, and try to understand the game better because of the players you are surrounded by. He's been working really well, he's been working really hard, and all the good things he's been doing on the field are because, since the very first day, he's always got his focus right.
"When you work hard and you work well, you get rewarded."
Now, the rewards are falling to NYCFC as the club has put faith in some of its younger stars. Sure, David Villa will always be the straw the stirs the drink, but younger talents will need to play their part as well.
Jack Harrison has been key throughout the year as has rising midfield star Yangel Herrera. Khiry Shelton and Ronald Matarrita remain involved while defender Alexander Callens, the oldest of the bunch at 25, is a stalwart in central defense.
NYCFC will probably go as far as Villa takes them. He's the MVP for a reason and his 19 goals this season have been paramount to any success the club has achieved. But Villa knows that, in both the short and long term, the team will need to trust its younger players with the postseason looming.
"It's really important. In this league, I've been here for three and a half years, it's difficult to sign players here. The best way for clubs is to build players, young players," Villa said. "Believe in those young players, build players and build your stars. Signing a star is difficult. You only have three spots on the roster to pay a transfer or a salary for a star.
"For this, you need to work a lot in the academies. NYCFC is three years old and they're working hard in the academies. We believe in the guys in the college draft. Jonathan is one of them and we try to help him because it's the best way to create a star."
Lewis is far from a star in present form. He's just a few games into a rookie season, a few months into professional life. He isn't expected to be one in the here in now. Rather, he's expected to help in certain situations, much like Sunday's late-game scenario.
When called upon, Lewis feels ready, prepared to compete. He's young and inexperienced, sure, but he's happy to play his part in guiding his team towards the postseason.
"I mean, it was a good feeling, but the most important thing is that we've gotta win," Lewis said. "So if it's going to help the team win, then I'll try to do it. But we're winning and we're in a good period right now, so I think definitely we're going to catch Toronto soon. That's our goal and we want to be the best team, so that's our ultimate goal."